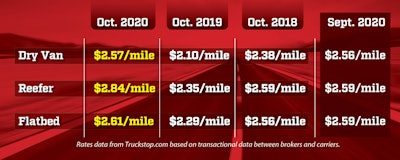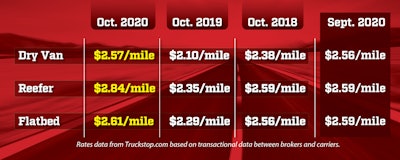 Though certain economic and trucking-focused indicators pointed to slowed growth in October as the economic recovery dragged on from second-quarter shutdowns, per-mile spot rates further accelerated in the month, according to data from Truckstop.com. Its averages are based on transactional data between brokers and carriers.
Reefer in October continued to be the stand-out segment, with its per-mile rates average climbing another 25 cents a mile to $2.84. That's 49 cents higher than the same month last year and 72 cents higher than this April — the segment's rates bottom.
Flatbed's average grew 2 cents a mile in October, to $2.61. That's 32 cents higher than October 2019 and 40 cents higher than in May, flatbed's recent bottom.
Lastly, dry van rates hit $2.57 a mile — a penny higher than September but 73 cents higher than van's May trough. It's 47 cents higher than last October.