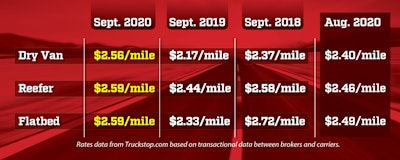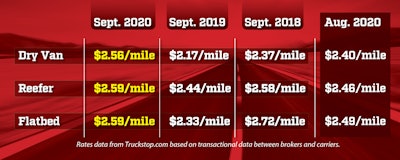 Per-mile rates paid to motor carriers on Truckstop.com's board last month reached the highs of 2018 — largely considered one of the best years on record for spot market rates activity.
According to monthly average rates data provided by Truckstop.com, flatbed and reefer rates hit $2.59 per mile on average, while van rates hit $2.56.
Those averages are far cries from the depressed rates environment just months earlier, when rates cratered in April and May amid the COVID-19 shutdown orders. A boom in retail spending and goods-heavy consumption, however, has caused spot rates to rally since June.
Shifting freight patterns and consumer demand habits have caused continued supply chain disruptions, diverting many unanticipated loads to the spot market delivering the rates upturn with volume. It's unclear as to the how the broader freight market — loads mostly hauled under contract — is faring. But it is clear that the spot market rally has sustained, benefiting carriers that feed off that freight.
Flatbed's $2.59 a mile average is its strongest since September 2018. It's 10 cents higher than August 2020 and 38 cents higher than May's average.
Reefer's $2.59 a mile average is the segment's highest since December 2018. It's 13 cents stronger than last month and 47 cents higher than April's 2020 low.
Lastly, van's $2.56 hit its highest mark since July 2018. Its average climbed 16 cents from August 2020 and a whopping 72 cents a mile since April 2020.