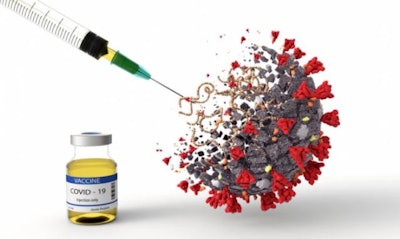 Trucking news and briefs for Wednesday, Dec. 23, 2020:
Post-vaccine stand-down order not in the offing for professional truckers
Guidance issued by the Federal Aviation Administration's medical programs turned the heads of some in the trucking community recently. The FAA announced it would require pilots who were administered either Pfizer or Moderna COVID vaccines to "observe a period of 48 hours following the administration of each dose of this vaccine before conducting safety-sensitive aviation duties, such as flying or controlling air traffic."
The issue at hand is a worry over potential side effects within that 48-hour post-vaccination window, and thus a potential compromise of in-air safety.
Some readers asked: Could professional truckers be facing such an order eventually, too?
Queried about this, a Federal Motor Carrier Safety Administration official speaking on background said that the agency continued to follow recommendations of the Centers for Disease Control and Health and Human Services in all things safety- and health-related when it comes to COVID-19.
"At this time," the official noted, "no similar stand-down recommendations for CDL holders, following receipt of a COVID-19 vaccination, has been proffered by HHS/CDC."
Side effects for most vaccine recipients have been mild, generally speaking (for some including fever and chills), though there have been several reports of more alarming allergic reactions in people with a history of such. FAA noted it would monitor post-vaccination reactions and could revise its 48-hour stand-down order for pilots as a result when more is known.
Transportation workers, including professional truckers, are included in the third-priority group to receive the COVID-19 vaccine, when available.
OOIDA chastises Congress over COVID relief bill
The Owner-Operator Independent Drivers Association penned a letter to Congress Wednesday condemning legislators over the lack of aid for trucking in the recently-passed COVID relief bill. (The bill has yet to be signed by the President, amid administration/Congressional back-and-forth over the size of direct payments to most Americans.)
"We've heard them praising truckers all year as essential heroes during the pandemic," said Lewie Pugh, OOIDA executive vice president. "And now here we are with a spending package that benefits nearly every other sector of transportation except those that have been keeping goods moving this whole time."
The letter describes how transit, motor coaches, airlines and others are getting billions of dollars in aid, while small-business truckers were seemingly left out.
"This is shameful," Pugh added. "Some of these industries already received tens of billions of dollars earlier this year."
The letter clarifies that truckers aren't looking for a handout. However, OOIDA said Congress "could have suspended the federal fuel tax, or the heavy-vehicle use tax, or even the Unified Carrier Registration tax to help truckers' cash flow."
"Or you could have tossed in a few hundred million dollars for truck parking projects, so more truckers would have a safe place to park while they work long hours. These are just a few of the ideas that we have conveyed to Congress to provide relief to small-business truckers."
Several states sign onto cap-and-trade program
Massachusetts, Rhode Island, Connecticut and Washington, D.C., Monday became the first jurisdictions to sign on to a program that hopes to cut emissions roughly 30% between 2022 and 2032 by charging companies hauling fuel into the states.
Fuel importers would be required to buy emissions allowances at auction based on how much on-highway gasoline and diesel they sold in each state. The states would in turn use that money – currently a minimum of 35% of each jurisdiction's proceeds – to combat climate change and pollution and improve transportation infrastructure.
Three trade groups representing the retail fuels industry — NATSO, representing the nation's truck stops and travel plazas, the National Association of Convenience Stores and the Society of Independent Gasoline Marketers of America — Tuesday encouraged Northeastern states to reconsider the regional Transportation and Climate Initiative (TCI) and instead focus on policies that will achieve more meaningful environmental benefits without imposing added costs on consumers.
Estimates of between 9 and more than 50 cents per gallon could be felt at the pump over the program's first decade should diesel fuel wholesalers pass the added costs onto customers.
As currently constructed, the group said the TCI program will not work and will result in higher costs "acutely felt by the northeast region's low-income communities without any meaningful environmental benefit."
While only three states and Washington, D.C., have currently signed onto the program, Delaware, Maryland, New Jersey, New York, North Carolina, Pennsylvania, Vermont and Virginia have participated actively in developing the TCI and have the opportunity to join the program in the future.
St. Christopher Fund receives donation from TA
TravelCenters of America raised $88,000 for the St. Christopher Truckers Relief Fund through the company's "Be a Champion of Change" register roundup campaign that ran from Sept. 16-Nov. 30.
During the campaign, TA, Petro and TA Express customers were able to round up the dollar amount on purchases at points of sale in the stores, restaurants and fuel buildings.
ContainerPort Group acquires small fleet, opens new terminal
ContainerPort Group acquired FSI, Inc., earlier this year and will formally welcome the company's 120 independent contractors into CPG on Jan. 1, bringing CPG's total truck count to over 1,300 independent contractors.
FSI operated several terminals in the Carolinas. These facilities, and the independent contractors that operate out of them, will consolidate and transition to the CPG brand as of Jan. 1.
Additionally, CPG announced the opening of a new terminal in Minneapolis on Jan. 4. The two-acre facility features secure storage and specialized equipment such as private 40-foot chassis and triaxles.