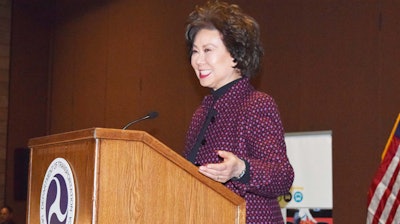 Transportation Secretary Elaine Chao, who has been part of President Trump's cabinet since his first weeks in office, is resigning in wake of the riots at the U.S. Capitol on Wednesday. Chao announced her departure on Twitter on Thursday, adding that she would help transition her presumed successor, Mayor Pete Buttigieg, into the role of Secretary of Transportation and head of DOT.
Chao said she circulated an email to staffers announcing her resignation, which will become effective Monday. She posted that message to Twitter, too.
"Yesterday, our country experienced a traumatic and entirely avoidable event as supporters of the president stormed the Capitol building following a rally he addressed. As I'm sure is the case with many of you, it has deeply troubled me in a way that I simply cannot set aside," she wrote.
"I am tremendously proud of the many accomplishments we were able to achieve together for our country and I will never forget the commitment you have for this department and the United States of America," she continued. "We will help my announced successor Mayor Pete Buttigieg with taking on the responsibility of running this wonderful department."
Chao has served in various roles at the federal level under the last four Republican presidents, including a more than two year stint as U.S. Deputy Secretary of Transportation under George H.W. Bush. She's married to Senator Mitch McConnell.