Trucking news and briefs for Thursday, March 25, 2021:
Cargo theft saw year-over-year uptick in 2020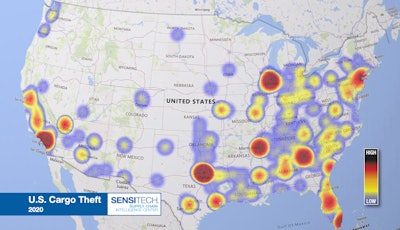 Cargo theft volumes and values in the U.S. increased in 2020 over the previous year and also hit a five-year high, according to cargo theft recording firm Sensitech's annual report.
The firm notes that its data is an indirect representation of the overall cargo theft footprint and not a direct reflection. It uses data from transportation security councils, insurance companies and law enforcement organizations, which may not represent 100% of all thefts but does provide a cross-section of thefts to identify trends, the firm notes.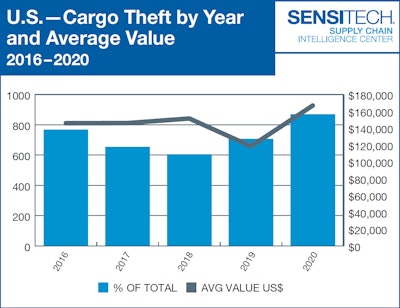 Sensitech recorded 870 cargo thefts throughout the U.S. in 2020 – 222 in the first quarter, 230 in the second quarter, 185 in the third quarter and 233 in the fourth quarter. The average value of 2020 thefts was $166,854.
These numbers represent a 23% increase in volume and a 41% increase in average value when compared to 2019. The numbers also represent the highest recorded volume and average value in the last five years, Sensitech adds.
2020 represents a second consecutive year with an upward trend in reported cargo theft volume, which prior to 2019 had been in decline since 2011.
Notable cargo theft trends in 2020 include pandemic-influenced product targeting and a record-breaking year for pilferage. Primarily, the rise in pilferage has fueled the increase in thefts, Sensitech says, as large-scale pilferage events accounted for 43% of total thefts. Pilferage is the theft of small portions of a load rather than stealing a full load.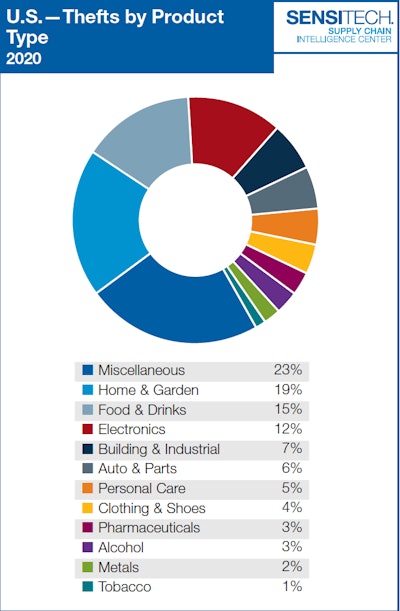 Additionally, product targeting in the pandemic was specific to merchandise that was already in shortage, ensuring quick liquidation and easy resale for the thieves. These products included toilet paper, disinfectants, personal protective equipment, ventilators and more. This is in line with Sensitech's data showing miscellaneous products being the most stolen for the year for the first time, accounting for 23% of all thefts.
Sensitech found that 48% of all recorded thefts in 2020 occurred in just three states – California (20%), Texas (18%), Florida (10%).
Cargo theft by month in 2020 was more volatile than typical years in which the fourth quarter normally ranks highest. Last year, April was the busiest month for cargo theft, logging 11% of the annual total. December, with 10% of the year's total, was the next busiest month. 
Kenworth Mid Atlantic Adds New Parts and Service Dealership in Bel Air, Maryland
Kenworth Mid Atlantic opened a new parts and service dealership in Bel Air, Maryland. This third location in Maryland joins the existing dealerships in Baltimore and Westminster.  
The 24,800 square-foot facility features 10 service bays to help maximize customer uptime, an 800- square-foot parts display area, and a 5,500-square-foot parts warehouse. It's all located on a four-acre site off State Route 1 near I-95 between Baltimore and Philadelphia. The location marks the further expansion of Kenworth Mid Atlantic into the medium and heavy duty commercial truck, service, and parts markets in the region. 
The address: 1704 Conowingo Road in Bel Air. Hours of operation are 7 a.m.-5 p.m., Monday through Friday, and 9 a.m.-1 p.m. on Saturday. 
Trucker Tools, ERoad ELD partner on data-share integration
The Trucker Tools company announced has made an agreement with the ERoad electronic logging device, the latest of several Trucker Tools has made with such providers to share real-time truck location data generated by vehicles so equipped to brokers utilizing Trucker Tools to connect with owner-op/small fleet users. Trucker Tools and EROAD are currently building out the integration, designed with opt-in permission-based rules, which enable drivers and fleets to control their data sharing, noted Norm Ellis, North American president  for EROAD.
 Ellis cited proactive outreach from customers as the incentive for the collaboration. "We have many shared customers who asked us to pursue this integration," he said. "Real time freight visibility is absolutely top of mind with shipper and brokers. The demand for constantly updated insights into delivery status and load sourcing is more intense than ever.." 
Currently, Trucker Tools-participating brokers and carriers collaborate over the Trucker Tools Mobile Driver App, launched in 2013. Among the app's features is a visibility function that, utilizing the embedded GPS capabilities of the driver's smartphone, provides automated in-transit location updates as frequently as every 15 minutes. With the EROAD integration, truckers and fleets that have installed EROAD devices will be able to choose between the ELD and the Trucker Tools app as the platform for transmitting tracking data.