Trucking news and briefs for Thursday, April 8, 2021:
Fleet owner pleads guilty for role in two fraud schemes
Draper, Utah-based trucking company owner Hubert Ivan Ugarte pleaded guilty recently for his role in two separate fraud schemes, according to the Internal Revenue Service.
Ugarte first pleaded guilty to charges related to a federal bribery case involving the procurement of FedEx Ground contracts worth $24 million of profit. He also pleaded guilty to fraudulently obtaining a federal Paycheck Protection Program (PPP) loan for other trucking companies.
In the bribery case, Ugarte was convicted of fraud and money laundering charges for his involvement in a pay-to-play trucking scheme where prosecutors alleged that Ugarte was one of 10 defendants who paid approximately $1 million in bribes to the Utah FedEx Ground hub manager to exploit his position and improve their own businesses.
In the plea agreement, Ugarte admitted to bribing the FedEx Ground senior linehaul manager, Ryan Lee Mower, with approximately $490,000, which netted his trucking companies more than $24 million over a seven-year period between 2012 and 2019. In exchange for the bribe payments, Mower awarded Ugarte's companies with several routes from FedEx Ground that Ugarte would not have qualified for under FedEx's established policies.
In the second case involving PPP loan fraud, IRS says Ugarte pleaded guilty to submitting a fraudulent loan application to the Small Business Administration through the Coronavirus Aid, Relief, and Economic Security (CARES) Act. Ugarte admitted that he fraudulently obtained $210,000 in PPP loans after failing to disclose that he was under federal indictment for his role in the fraudulent trucking scheme.
Sentencing is set for June 3,2021, in both matters.
[Related: Easy cash: New and repeat borrowers among owner-operators, small fleets consider reopened PPP]
Interstate closure planned in Minnesota this weekend
Drivers traveling on or near I-694 and I-35W in the northern Twin Cities metro area will encounter several closures beginning Friday night, April 9.
Minnesota DOT crews will close westbound I-694 between I-35W and Long Lake Road in New Brighton beginning at 10 p.m. Friday through 5 a.m. Monday, April 12. The closure is needed for crews to replace a drainage pipe beneath the westbound lanes of I-694.
Westbound I-694 traffic will be detoured around the closure via southbound I-35W to westbound I-94.
Crews will also close three ramps as part of the project: northbound I-35W to westbound I-694; southbound I-35W to eastbound I-694; and County Road 96 to Southbound I-35W.
MnDOT is encouraging truck drivers to avoid the area and use alternate routes as much as possible this weekend.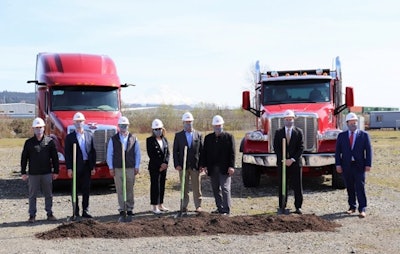 New TA Express open in Wisconsin
TravelCenters of America is expanding its network with a new TA Express in Osseo, Wisconsin. The former Osseo Truck Stop is converting to a TA Express through a franchise agreement, and it is the first TA Express to open in Wisconsin.
The truck stop is located along I-94 between Madison and Minneapolis.
It features 125 truck parking spaces; a Hunt Brothers Pizza and Osseo Family Restaurant; six showers; eight diesel fueling positions with DEF on all lanes; and more.