Trucking news and briefs for Monday, April 19, 2021:
Union workers strike at Volvo Trucks plant
The United Auto Workers (UAW) union went on strike Saturday at Volvo Trucks North America's New River Valley (NRV) truck assembly plant, another significant hurdle in truck production that was already facing headwinds from supply chain shortages.
NRV Vice President and General Manager Franky Marchand noted the company was "surprised and disappointed that the UAW decided to strike," adding that progress was being made in negotiations with the union "and we had offered substantial increases in our employees' compensation."
UAW Secretary-Treasurer Ray Curry, Director of the UAW Heavy Truck Department, said the union was "disappointed that Volvo Truck has failed to present a substantial offer by the March 16 contract deadline despite a contract extension," adding that more than 2,900 UAW members at NRV are seeking a new agreement "that protects their families through job security, adequate wages and benefits and protects their health and safety."
The UAW has proposed a future bargaining date of Monday, April 26.
Union members previously voted by a margin of almost 97% to strike if a new agreement was not reached by the March 15 expiration of its five-year contract, but UAW opted to keep employees on the job as work toward an agreement continued, signing a 30-day extension that expired Friday.
UAW previously went on strike at NRV in February 2008, and an agreement was reached the following month.
UAW members in October 2019 went on strike at Volvo sister company Mack Trucks for roughly two weeks, impacting operations at Mack's Lehigh Valley truck plant, the Hagerstown, Maryland, powertrain plant, the Mack Customer Care Center in Allentown, Pennsylvania, Mack's Middletown, Pennsylvania, remanufacturing facility, and parts distribution centers in Baltimore and Jacksonville. –Jason Cannon, Chief Editor, CCJ
IRS temporarily expands restaurant meal deduction for businesses
The Treasury Department and the Internal Revenue Service this month issued guidance that temporarily increases the amount that businesses can deduct for food and beverages from restaurants from 50% to 100%.
Beginning Jan. 1, 2021, through Dec. 31, 2022, businesses can claim 100% of their food or beverage expenses paid to restaurants as long as the business owner (or an employee of the business) is present when food or beverages are provided, and the expense is not lavish or extravagant under the circumstances.
Under the temporary guidance, restaurants include businesses that prepare and sell food or beverages to customers for immediate on-premises and/or off-premises consumption. Grocery stores and convenience stores that sell pre-packaged meals are not included.
[Related: IRS' meals deduction change doesn't apply to truckers' per diem]
Community grieves around FedEx Indianapolis facility targeted by gunman
Following the late-Thursday killing of eight at a FedEx facility in Indianapolis, police have not come to a conclusion publicly about the motive of the killer, a former employee of the facility who ultimately turned his gun on himself. In the wake of the murders, however, eight Indianapolis-area houses of worship for the Sikh community issued a joint statement that hoped for peace and success for families of those traumatized on the "long path to physical, mental and spiritual healing."
At least four of those killed were Sikhs, according to the Sikh Coalition advocacy group.
[Related: Into the limelight: Sikh truckers in America]
The targeted facility is "well-known for having a large Sikh workforce," according to the joint statement. "Given everything our community has experienced in the past -- the pattern of violence, bigotry, and backlash we have faced -- it is impossible not to feel that same pain and targeting in this moment. We expect that the authorities will continue their full investigation and share what they learn when they can, and they will take this into account."
Yet the community there also issued thanks for the "messages of love and support coming from around the state, country, and world. Now, we must all work together not just to heal, but to take action and confront the terrible plague of hate and acts of mass violence like this that threaten us all."
Two truckers named TA-Petro Citizen Drivers
TravelCenters of America on Monday announced its eighth annual Citizen Driver Award honorees – Dan "Dusty" Porter, of Acton, Ontario, Canada, and Don Talley, of Muncie, Indiana. Chosen from 85 nominations, the two truckers have a combined 73 years of hauling freight, with nearly six million accident-free miles. TA President Barry Richards announced the Citizen Driver honorees live on the Dave Nemo Radio Show on Sirius XM's Road Dog Trucking Radio.
As a Citizen Driver Award recipient, drivers may choose a TA, Petro or TA Express location to be dedicated in their honor. To celebrate their career and contributions, a bronze historical marker with the driver's image and story is installed on front of the building, and a dedication ceremony is held with 30 of their closest family and friends.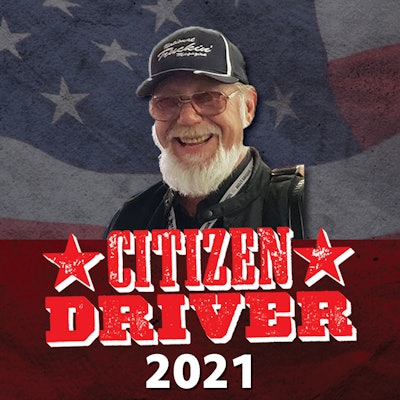 Porter, a driver for Werner Enterprises, has amassed 3.8 million accident-free driving miles in his 52-year trucking career. He chose the Petro in Glendale, Kentucky, to be dedicated in his name and is going to split his $2,500 donation between St. Christopher Fund and Truckers United for Charities.
Porter has served on the Driver Advisory Committee and regularly attended safety meetings during his time driving for Hyndman Transport. He is well-known at truck shows for freely photographing different non-profit groups, such as Women in Trucking, Trucker Buddy International, St. Christopher Truckers Relief Fund and more. He has also volunteered with the Special Olympics Truck Convoy, Convoy for a Cure, and more.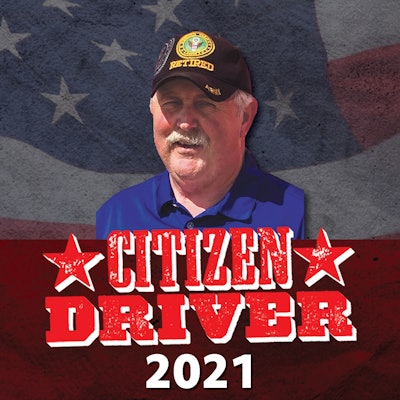 Talley is a U.S. Army veteran who drives for Carter Express. He has been driving for 21 years, logging 1.95 million accident-free miles. He chose the Petro in Gaston, Indiana, to be dedicated in his name. The St. Christopher Truckers Relief Fund will receive his $2,500 donation.
Talley received a Master Truck Driver Award from the Indiana Motor Truck Association and was named the association's Driver of the Month for May 2018 by their Safety and Maintenance Council. Carter Express has also recognized Don's safety achievements over the years, including being named Carter Express Driver of the Month for June 2018 and receiving the Carter's 1 Million Mile Safe Driver Award. Last year, Talley formed the Road Dog Crew to promote funding and representation of the St. Christopher Truckers Relief Fund and Truckers Against Trafficking. He also volunteers with Feed my Sheep, a Muncie non-profit with a mission to ensure all families in the area have a meal to share at Thanksgiving. He is an active member of his church and its food pantry with his wife.