Trucking news and briefs for Thursday, April 22, 2021:
IRS' 100% meal deduction does not apply to owner-ops' per-diem deductions

When the second big Congressional COVID-relief bill was signed in December, there was some uncertainty about what appeared to be a per-diem-deduction sweetener. The hope in trucking was that the change in the deductible for business meal expenses would rise from 80% to 100% of the amount of the per diem that is tax-deductible.
When the IRS announced regulatory changes detailed in this story earlier this week, that clarification arrived, in essence. To clear up confusion some readers have voiced, ATBS Tax Manager Michael Schneider explained that the temporary regulations the IRS issued do not apply to the section of the tax code that specifies the per diem for truckers federally regulated by the hours of service rules.
"In short," Schneider said, "the regulations do not adjust or address per diem as it relates to over-the-road drivers. Per diem is still 80% deductible" -- that's 80% of $66 per day, or $52.80.
For an owner-operator, it's most likely going to be most beneficial to claim the per-diem rather than the new 100% meals deduction for business, he added. The per diem will most often provide the largest deduction helping them to save the most in taxes, yet "there are a few examples of when a business meal may be justified and deductible in addition to per diem," Schneider said. If an owner-op provides a business meal to a student driver, say, that meal is currently for 2021 and 2022 fully deductible.
[Related: Pre-tax or after tax? In the per-diem weeds with company drivers]
An "ordinary and necessary business meeting" could also be considered a business meal in addition to per-diem. Schneider offered this example: "For example, an owner-operator interviewing drivers for their fleet may pay for a meal to discuss employment opportunities. Additionally, if an owner-operator .... already has a fleet and wants to treat ... employees to a meal for meeting a quarterly earnings goal that meal would be considered a 100% business purpose meal."
To claim meals at 100% through 2022, be sure to keep receipt copies, document the individuals at the meal and the cost, date, location and business purpose. "The IRS wants to know Who, What, When, Where, and Why a business expense was incurred," Schneider offered as a rule of thumb. "Most of this is captured on a receipt, but the Why is most often forgotten documentation."
[Related: The scrum over truckers' meal per diem]
Love's to begin producing, marketing renewable diesel with new partnership
The Love's Family of Companies and Cargill have entered into a 50/50 joint venture to produce and market renewable diesel.
The venture is called Heartwell Renewables and will result in the construction of a new production plant in Hastings, Nebraska. The plant will have the ability to produce approximately 80 million gallons annually of renewable diesel.
As part of the partnership, Cargill will provide feedstock in the form of tallow. Once the diesel is produced, Musket, the commodity trading and logistics arm of Love's, will transport and market the product in the United States.
Heartwell Renewables will be the only entity of its kind to both produce and market renewable diesel all the way to the retail pump.
[Related: New truck stop and CNG-power push coming to Savannah port]
Driver honored for helping locate missing elderly man
Kirk Szecsodi, a truck driver for 64-truck Len Dubois Trucking, has been recognized as a Highway Angel by the Truckload Carriers Association for his alertness that led to successfully locating a missing elderly man.
Szecsodi saw a Silver Alert, which are intended to help locate vulnerable adults who go missing, on a digital highway sign on U.S. 287 near Waco, Texas. The alert Szecsodi saw said there was an elderly man missing driving a black Dodge Charger, so he jotted down the vehicle make, model and license plate number.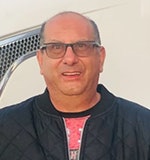 A few hours later, when stopped at the Love's Travel Stop in Quanah, Texas, for his 30-minute break, an elderly man held the door open for Szecsodi, then walked out toward a black Dodge Charger. Szecsodi said the license plate number rang a bell, so he ran back inside and grabbed a piece of paper. "I only got part of the license plate number," he said. "But I thought that might be the guy."
After getting back in his truck, Szecsodi saw that the license plate number matched what he had taken down earlier. "I called the police and told them I had seen him in a black Charger heading toward Amarillo," he said.
The police called him back about 20 minutes later to thank him and said they found the man and that he was safe. Szecsodi is still in disbelief about his luck.
"It's incredible that the very person on the Silver Alert was standing right there holding the door for me. That was the most bizarre part," he said.
TCA has presented Szecsodi with a certificate, patch, lapel pin and truck decals. His employer has also received a certificate acknowledging their driver as a Highway Angel.
[Related: OOIDA petitions Buttigieg to address parking shortage]