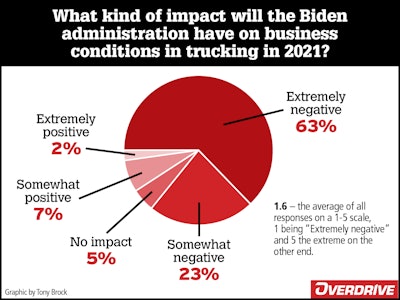 Signs and signals in the early days of the Biden administration have no small number of owner-operators and very-small fleet owners worried about potential business impacts through the rest of the year, that much is clear. The survey, delivered to carriers owning fewer than 10 trucks, including one-truck independent owner-operators, showed a majority (63%) see "Extremely negative" business consequences to come. Worrisome issues called out by respondents ranged from inflationary fears in all manner of cost areas as government spending injects money into the economy to the prospects that a nationalized ABC independent contractor test like that being litigated in California might limit opportunity.
"I think the price of fuel and wages will grow faster than freight," noted one respondent on the subject of inflation. Since the survey was taken, at once, spot market rate averages, at least, have come close to pacing the fuel hikes that have been seen. A sudden shift in freight availability – or slower growth than inflationary curves, as the respondent suggested – could easily change that, a piece of uncertainty others also worried over.
[Related: Independents worry fuel prices will keep rising]
With Democrats in control of both Congress and the White House, as another respondent pointed out, favor for "more stringent environmental and safety regulation of trucking" could be expected to be front and center. "Biden will be under pressure from the left to reduce dependency on fossil fuels, push unionization, make it more difficult to use independent contractors and roll back flexibility of hours of service."
The last item, the hours of service particularly, was modified under Trump last year with a degree of additional flexibility in mind for operators. It has not in fact been targeted directly for rollback by the administration itself, but Biden's emphasis on environmental concerns has been obvious. And the administration did endorse the Protecting the Right to Organize (PRO) Act in the text of its broad infrastructure-plan outline. The PRO Act, which has passed the House but seems unlikely to pass muster in the Senate, includes a provision for a nationalized ABC independent contractor test, which around a fifth of readers earmarked as one of their top concerns about the changeover in government.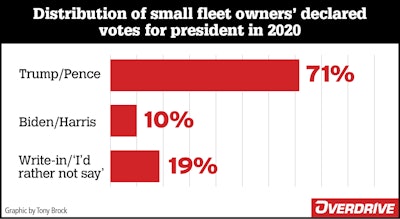 Potential new regulatory cost burdens could take years to materialize, though it's clear owners are worried in particular about renewed advocacy noise around speed limiters, which quieted considerably under Trump – and Congressional moves toward liability insurance-minimum increases.
A big hike in liability minimums, one respondent believed, "would put me out of business. Even if that doesn't go through, fuel [cost hikes] and a slowdown of the economy will hurt me quite a bit." The owner's specialized van business depends on a "thriving economy, so businesses are remodeling and building new stores."
Economic activity metrics are certainly looking better today than they were a year ago in the depths of the lockdown, but fear of excessive government stimulus policies is real – it was the second-most-chosen worry indicated in a follow-up survey at OverdriveOnline.com based on feedback delivered in the original survey (find full results below).
Yet there was also some hope for upside when it comes to Biden administration policy and economic activity. About 1 in 10 respondents signaled favor for changes in tariff policies that might get import/export freight markets humming right along, likewise infrastructure and other spending measures to create new opportunities. At the same time, though, the pay-for side of big spending efforts had a four-fold larger share worried about tax implications for small trucking businesses.
Access detailed results via the infographic below.

[Related: From Biden DOT, owner-operators look for parking, highways, FLSA reforms]