Trucking news and briefs for Wednesday, July 28, 2021:
Biden visits Mack Trucks plant to tout Buy American Act reform proposal
President Joe Biden, on a tour of Mack Truck's Lehigh Valley truck plant Wednesday, revealed proposed changes to the Buy American Act that would increase U.S. content in the products the federal government buys, thereby supporting the domestic production of goods.
With $600 billion in annual procurement spending – almost half of which goes to manufactured products like trucks – the Federal government is the single largest purchaser of consumer goods in the world.
The Buy American statute currently requires for "substantially all" of a product bought with taxpayer dollars to be made in the U.S. Products could qualify if just 55% of the value of their component parts were manufactured stateside. Wednesday's notice of proposed rulemaking, revealed by President Biden at Mack's Pennsylvania plant, would immediately increase the threshold to 60% and phase-in an increase to 75% by 2029.
The NPRM proposes applying enhanced price preferences to select critical products and components identified by the Critical Supply Chain review, mandated under Executive Order 14017, and the pandemic supply chain strategy called for under E.O. 14001. These preferences, once in place, would support the development and expansion of domestic supply chains for critical products by providing a source of stable demand for domestically produced critical products, the administration said.
The NPRM also proposes to establish a reporting requirement for critical products, requiring the disclosure of the total domestic content they contain. The new reporting requirement would bolster compliance with the Buy American Act and improve data on the actual U.S. content of goods purchased, President Biden said.
[Related: Higher costs, reduced opportunity -- worries dominate small fleets' Biden administration outlook]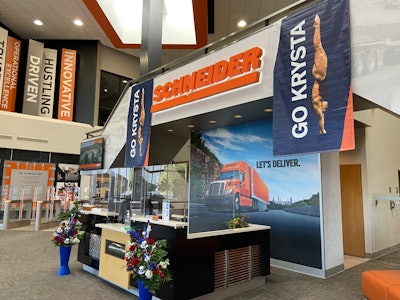 FMCSA extends emergency declarations in three Western states
The emergency declarations previously issued by governors in Oregon, Idaho and Montana have been extended by the Federal Motor Carrier Safety Administration's Western Service Center. The extensions waive hours of service regulations for truck drivers hauling relief supplies related to the wildfires in the states.
The waivers apply to drivers providing the transportation of supplies; goods; equipment; fire retardants; and fuel for generators, equipment, vehicles and aircraft related to fire suppression activities, including aviation fuel.
As FMCSA recently clarified, truck drivers can continue operating under the waiver as long as they are providing direct assistance to the emergencies, which includes backhauls to other states to pick up more goods to bring to the affected states.
Following FMCSA's extension of the waivers, the declarations in Oregon, Idaho and Montana are now in effect through Sept. 30.
[Related: FMCSA clarifies how such emergency declarations apply to round trips, more]
I-40 bridge in Memphis set to partially reopen
The Tennessee Department of Transportation announced Wednesday that the I-40 Hernando DeSoto Bridge over the Mississippi River will reopen to limited traffic while contractors finish the work.
Contractors will have completed all of the phase three plating by Friday, July 30, TDOT says, at which point crews will begin removing equipment and barriers.
As of July 28, the reopening plan is as follows:
Monday, Aug. 2 by 6 a.m. – All I-40 Eastbound lanes will open
Friday, Aug. 6 (time to be announced) – All I-40 Westbound lanes will open
The reopening schedule is barring any complications, and another update will be issued Friday, July 30.
Truckstop.com adds Meadow Lark to Book It Now service
Truckstop.com announced its latest Book It Now integration with Meadow Lark, an asset-based third-party logistics (3PL) company headquartered in Billings, Montana. Book It Now integrates with Meadow Lark customers through its TMS partner, Transport Pro.
Book It Now loads are available to a preferred list of approved carriers within Truckstop.com and allows owner-operators and small fleets to instantly book loads without negotiations.
"With Truckstop.com's Book It Now solution, carriers can see exactly what they are being paid for the job without calling the broker, and brokers have the peace of mind that the carrier hauling their loads is an approved carrier," said Eduardo Avila, senior director of integrations, Truckstop.com. "This brings a whole new level of transparency between carriers and brokers. We are pleased to partner with companies like Meadow Lark and provide technology to help simplify and facilitate freight movement."