Trucking news and briefs for Wednesday, July 21, 2021:
Emergency declarations in two western states suspend hours regs for certain haulers
Governors in South Dakota and Wyoming have issued emergency declarations that suspend hours of service regulations for certain haulers in the states.
The declarations apply to drivers hauling gasoline, diesel and aviation fuel. In South Dakota, Gov. Kristi Noem's order points to low inventories and outages of fuel, while the "return of normal supply flows to fuel terminals in South Dakota is not expected until early fall."
The Wyoming order from Gov. Mark Gordon notes increased travel following the relaxation of COVID travel restrictions and an early and severe wildfire season in the region both contributed to fuel shortages in the state.
Drivers transporting gasoline, diesel and jet fuel to either of the two states will be exempt from hours-of-service rules. The Federal Motor Carrier Safety Administration also clarified its emergency declaration rules, noting that the HOS waiver continues to apply to a driver after he or she has delivered the load, as long as he or she is returning to pick up more emergency relief supplies.
"For example, if the Governor of the State of Wyoming issues an emergency declaration for the transportation of aviation fuel for wildfire suppression, and a driver picks up aviation fuel in Nevada to be transported to Wyoming for wildfire suppression and the trip goes through Idaho into Wyoming, the trip is covered by the emergency declaration," the agency said. "If the driver then heads back to Nevada to pick up more aviation fuel to deliver to Wyoming, the trip is still covered by the emergency declaration. But once the driver is no longer providing direct assistance to the state emergency, in Wyoming in this example, such as deadheading back to Nevada to pick up cargo not related to the Wyoming emergency, or later transporting aviation fuel again from Nevada to be delivered to a state not subject to a specified emergency declaration, the driver is no longer covered by the emergency declaration."
The South Dakota waiver will expire no later than midnight, August 16, and the Wyoming waiver will expire no later than August 20.
[Related: Feared summer shortage spurred by tank drivers, not fuel availability]
Kenworth adds new Hendrickson suspension option
Kenworth is now offering the Hendrickson Haulmaax EX as an option for the Kenworth T880, W990, T680 and T480 models.
The Hendrickson next-generation heavy-duty lightweight rubber suspension is designed for vocational applications such as dump, concrete mixer, refuse, logging, crane/boom, platform, and fire/rescue. The new suspension replaces the Hendrickson Haulmaax family of 40,000- and 46,000-pound capacity suspensions and also adds a new 52,000-pound capacity.
In addition to the increased capacity range, the Haulmaax EX provides a higher site rating and maintains the same weight and durability compared to its predecessor. The suspension uses a unique rubber spring design that balances empty-ride quality and loaded stability. Angled bolster springs and a unique progressive load spring provide extra stability for demanding applications such as refuse, concrete mixers and dumps.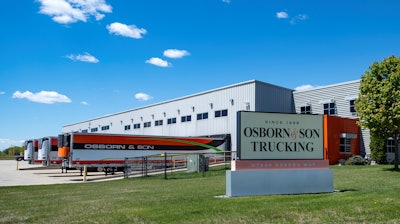 Driver who stopped at multi-vehicle accident honored
Robert Thompson, a truck driver based in Tombstone, Arizona, has been named a Highway Angel by the Truckload Carriers Association for stopping at the scene of a multi-vehicle accident and securing the area until first responders arrived.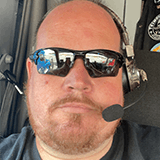 One evening in early April, Thompson was traveling through Memphis on U.S. 78 with a load bound for Georgia. He was sitting in the right lane at a red light waiting for the light to change when a car came up on his left and drove right into the intersection.
"He didn't even hit the brakes before he hit two other vehicles, pushing one into a third vehicle," Thompson said. "He caused a four-vehicle accident across three lanes of traffic."
Once it was safe, Thompson maneuvered his truck across three lanes of traffic to block oncoming vehicles. He turned on his strobe lights and then jumped out and went to check on the other drivers. Luckily, no one was injured.
"The driver that caused the accident was dazed and confused," he said. "Apparently, he had reached down to get something and wasn't paying attention to traffic in front of him."
Thompson then ran back to his truck and pulled out traffic cones to help divert traffic around the scene as he called 911. Traffic was still fairly heavy at that time of the evening and began backing up quickly. A Memphis police officer was just a couple blocks away and arrived on the scene in a matter of minutes.
"I've been (driving) over-the-road for 13 years and have come across many accidents," Thompson said. "This (one) is a lesson in not driving distracted because you never know what you could quite literally run into."
One of the officers that night repeatedly thanked Thompson for securing the accident scene and helping prevent a much worse situation.
For his willingness to help, TCA presented Thompson with a certificate, patch, lapel pin and truck decals. His employer, Clark Transfer, also received a certificate acknowledging their driver as a Highway Angel.