Trucking news and briefs for Monday, July 19, 2021:
Tennessee-based trucker shut down after violating OOS order
The Federal Motor Carrier Safety Administration has effectively shut down Tennessee-licensed truck driver Kristopher Anthony Adams following a crash that occurred after he was placed out-of-service.
On June 9, Adams was driving a truck in Adair County, Kentucky, when his vehicle drifted into the opposing lane and collided with another vehicle. At the time of the crash, Adams was operating in violation of an out-of-service order he had received less than 24 hours earlier.
On June 8, while operating in Branch County, Michigan, he bypassed an open weigh station. Stopped by a Michigan State Police officer, Adams admitted to the use earlier in the day of a Schedule II drug and was immediately ordered out-of-service.
Despite the Michigan OOS order, Adams continued operating his truck leading up to the June 9 crash in Kentucky.
In March 2020, during a federally mandated pre-employment drug and alcohol screening test, Adams tested positive for methamphetamine and amphetamine, and thereby became disqualified from operating a CMV until he completed a required return-to-duty process overseen by a Substance Abuse Professional.
In a blatant disregard of federal controlled substances prohibitions, Adams continued to operate a commercial motor vehicle, and in August 2020, he was involved in a single-vehicle crash in Kentucky. Three months later, he was subjected to two separate unannounced roadside inspections in Georgia and received citations for safety violations on both occasions.
Failing to comply with the provisions of the federal imminent hazard order may result in civil penalties of up to $1,951 for each violation. Knowing and/or willful violations may result in criminal penalties.
Owner-operator wins truck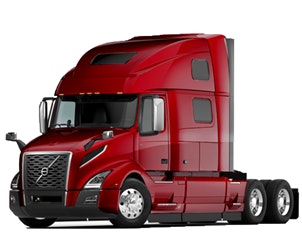 Landstar-leased owner-operator Dennis Bramblett has been running a 2000 Western Star he put together with associates for the past five years, after the rig sat for another five before that.
As of last week, however, he's the proud owner of a 2022 Volvo VNL64T like the one pictured that he won July 13 as part of Landstar's annual All-Star Truck Giveaway.
This year's All-Star Truck Giveaway finalists were randomly drawn from a pool of Landstar's 1,102 active 1 Million Mile, 2 Million Mile and 3 Million Mile Safe Drivers and Roadstars. The Roadstar designation is the company's highest honor for truck owner-operators awarded to the "best of the best" based on their high levels of safety, productivity and excellence in customer service.
Bramblett, of Hannibal, Missouri, is a 1 million safe mile honoree.
I-16 reopened early after dump bed bridge strike
All lanes of Interstate 16 in south Georgia reopened Friday, July 16, following the fast demolition of a bridge that had been severely damaged when hit by a truck Thursday.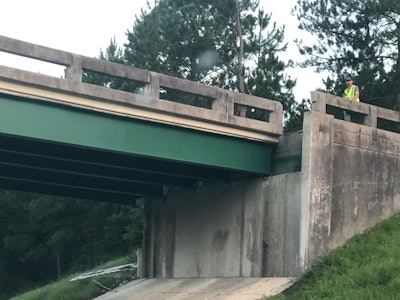 The Georgia Department of Transportation said both westbound lanes of I-16 were reopened to traffic just after 5 p.m. Friday. Both eastbound lanes opened only a few hours later, according to GDOT. The overpass bridge at Georgia Highway 86 was damaged early Thursday morning when it was hit by the elevated dump trailer on a truck. The impact moved the overpass nearly six feet from its supports, leaving it suspended above the interstate.
Seven miles of I-16 between Macon and Savannah were closed beginning early Thursday morning. It was originally believed the interstate would be closed for most of the weekend.
Private carrier among businesses named 'best place to work'
Jackson's Food Stores and its private fleet running fuel to 200-plus convenience stores out west was recognized for its workplace environment, pay, benefits and more with designation among the 2021 Top Companies to Work for in Arizona. The program, a project of the Arizona Capitol Times, recognizes business excellence across categories delineated by number of employees.
Jackson's fleet hauls with company equipment and drivers only.