Trucking news and briefs for Wednesday, July 14, 2021:
Missouri guv vetoes bill with towing protections
A bill that would have, in part, allowed lawmakers in Missouri to regulate the commercial vehicle towing industry in the state was vetoed earlier this month by Missouri Gov. Michael Parson.
The bill, which was passed by the state legislature in May and included a number of other transportation-related provisions, would have required the Joint Committee on Transportation Oversight to establish rules regarding the towing of commercial vehicles to "ensure towing companies charge fair, equitable and reasonable rates for services rendered in connection with the towing of commercial motor vehicles."
In his veto letter, Parson said towing-related sections of the bill are "legally problematic" because it "over-regulates rates and practices in an open market," that are already addressed by Missouri law; it would create "separation of power and attainder problems beyond the constitutional authority" of the legislature; and that it doesn't "establish sufficient due process protections for towing companies."
Specifically, the bill would have:
Established a process for complaints against towing companies
Established factors used in determining whether a rate charged for towing a truck is fair, equitable and reasonable
Established a process for suspending or removing a towing company from a tow list
Established information required to be included on invoices or notices associated with commercial vehicle towing
At the Truckload Carriers Association's Safety & Security Division annual meeting in June in St. Louis, Mo., Missouri Trucking Association President Tom Crawford was at least somewhat confident the bill had the backing of the governor and would be signed into law; rather than directly regulating towing rates, he noted, the bill would have established a committee charged with determining adjudicating disputes over rates to prevent abuses specifically in "nonconsensual towing," as he characterized it.
Additionally, if a towing company was found to have committed a violation of the new rules, the company would have been removed from the Missouri Highway Patrol's tow list for six months for the first violation, a year for the second violation and permanently for a third violation.
[Related: Parking perils: The increasing cost, and risk, of booting and towing]

Women in Trucking seeks award nominees
The Women in Trucking Association and Freightliner Trucks are seeking nominations for the 2021 Influential Women in Trucking award.
Over a decade ago, the award was created to honor women in the transportation industry who make or influence key decisions in a corporate, manufacturing, supplier, owner-operator, driver, sales or dealership setting, have a proven record of responsibility, and mentor and serve as a role model to other women in the industry.
Nominations will be accepted through Sept. 1. The winner will be announced at the WIT Accelerate! Conference & Expo in Dallas on Nov. 7-9. Each finalist will be asked to serve as a panelist for the "How Remarkable Women Unleash their Leadership Potential" panel discussion.
Last year, in an unprecedented tie, Kristy Knichel, CEO of Knichel Logistics, and Jodie Teuton, vice president, Kenworth of Louisiana/ Hino of Baton Rouge and Monroe, received the recognition in honor of their outstanding commitment and service to the industry.
Trucker recognized for helping at accident scene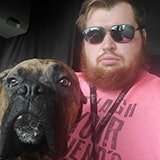 The Truckload Carriers Association has named Logan Hughes, a truck driver from Jacksonville, North Carolina, a Highway Angel for stopping to help at the scene of an accident after a driver crashed into a highway median.
Hughes had just merged onto I-40 outside of Knoxville, Tennessee, early one evening in late April on his way to Nashville.
"I'm cruising in the middle right lane when a car comes up on the entrance ramp and hits the guardrail and goes through three pillars," he said, "and then when he hit the fourth, the car went up on its nose and fell on its right side and then landed on its tires."
Hughes quickly moved to the shoulder, put on his flashers and grabbed his first-aid kit and fire extinguisher and ran back to the accident.
He found that two other vehicles had sustained damage from flying debris from the first vehicle. "It looked like the drive axle came flying and popped their tires," he said.
After checking on the drivers, he hurried over to the first vehicle.
"The driver was rubbing his head and groaning," Hughes said. "He was trying to get out of car. I told him not to move – not his head, not his big toe or anything because he could have a serious spinal injury and not even know it."
The driver told Hughes he had looked down at his phone for a moment and before he knew it, he had hit the metal guardrail. Hughes stayed with the driver to keep him calm until first responders arrived on the scene just a few minutes later. Hughes credits his mother for teaching him first aid.
"My mother was an ER nurse for over 20 years and was adamant about teaching me and my brothers so that if there was an accident, we would know what to do," he said. "I've seen a lot of messed up stuff out here, and I'm glad I can do something to make the roads a little safer."
For his willingness to assist, TCA has presented him with a certificate, patch, lapel pin, and truck decals.