Trucking news and briefs for Wednesday, April 21, 2021:
OOIDA urges Buttigieg to address truck parking shortage
In a letter sent to DOT Secretary Pete Buttigieg on Wednesday, the Owner-Operator Independent Drivers Association urges the Biden Administration to make investments to address the nationwide truck parking shortage.
"The lack of safe truck parking is a national safety crisis, documented as far back as the 1990s," OOIDA President and CEO Todd Spencer says in the letter. "A lack of parking makes it challenging for truckers to rest when they are tired, makes it difficult to comply with hours-of-service regulations, and often forces them to park in hazardous locations."
Spencer adds that OOIDA has been working on the issue "for a long time, but so far we've not been able to get much more than studies and reports telling us what we already know – more capacity is needed."
The letter says the bipartisan Truck Parking Safety Improvement Act that was proposed earlier this year proves that there is broad support for addressing the issue.
[Related: What's at stake for truck parking advocates, states in dedicated federal funding]
Spencer asks Buttigieg, with President Biden putting together the American Jobs Plan, to "include dedicated money for truck parking in the Administration's infrastructure proposal."
"It is far past time that the federal government make a significant investment in addressing the truck parking shortage, and the American Jobs Plan is one of the best opportunities we have seen to take meaningful action," the letter states. "Dedicating funding for truck parking would directly help our nation's truck drivers, and the inclusion of this proposal would demonstrate President Biden's support for hard-working Americans. For essential workers who have worked throughout the pandemic, making their day-to-day work safer and easier is the least that you could do for them."
[Related: From Biden DOT, owner-operators look for parking, highways, FLSA reforms]
[Related: Congress again eyes funding for truck parking expansion]
Volvo, Mack opening new EV training hub
Volvo Trucks and Mack Trucks will open on June 1 a new training facility in Hayward, California, that will focus on electric trucks.
According to the companies, the facility will be the West Coast hub of Volvo Trucks Academy and Mack Trucks Academy, which provide technical vehicle knowledge, dealer operations training and provides customers with exclusive access to expert training. The location will also support battery-electric training efforts for the Volvo VNR Electric and Mack LR Electric, supplying programs for company employees, technicians, dealer sales staff and aftermarket personnel, as well as owner-operators and fleet customers.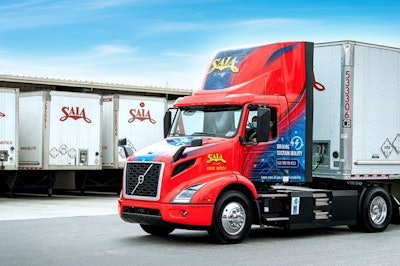 With the addition of this new facility, the Mack Trucks Academy and Volvo Trucks Academy now have six training locations throughout the U.S. and Canada. Mack operates training facilities in Allentown, Pennsylvania; Atlanta; Grand Prairie, Texas; Joliet, Illinois; and Toronto, Canada. Volvo operates training facilities in Atlanta; Grand Prairie, Texas; Hagerstown, Maryland; Joliet, Illinois; and Toronto, Canada.
[Related: Don't let push toward electric powertrains turn into a green monopoly]
Pilot company hosting National Hiring Day event April 27
The Pilot Company, operator of Pilot and Flying J truck stops, is hosting a hiring-day event on April 27 with intentions of filling more than 5,000 positions, the company said. That includes 300 driving positions for a mix of CDL company drivers and independent contractors hauling fuel, diesel exhaust fluid or crude oil. The positions include:
More than 100 crude company and independent contract drivers in Texas
40 company drivers in Phoenix, Arizona
18 crude company and independent contract drivers in Carrollton, Ohio
11 crude company drivers in North Salt Lake, Utah
Additional drivers in Indiana, Kentucky, Washington and Oregon