New leadership in Washington, D.C., means that private sector initiatives to reduce the carbon footprint of America's supply chains suddenly have new, powerful advocates at the highest levels of government. The American public largely supports more proactive measures to reduce the effects of climate change, but in pursuing a more sustainable vision of the future we must make sure that we do not trade one market dysfunction for another.
Despite some notable (though still very, very modest) advances, long-haul trucking runs almost exclusively on diesel. The U.S. domestic trucking industry emitted an estimated 425 million metric tons of carbon in 2020, about 6 percent of the country's total emissions and roughly on par with the total carbon emissions of a mid-sized country like Australia or Turkey. The average fuel economy of the heavy trucks that criss-cross our highways has barely budged over the past four decades, while there's been substantial progress in the fuel economy of passenger cars.
For anyone serious about mitigating the human contribution to global climate change, fueling the movement of goods around the world and across the country with cleaner sources of energy must unavoidably be an important focus.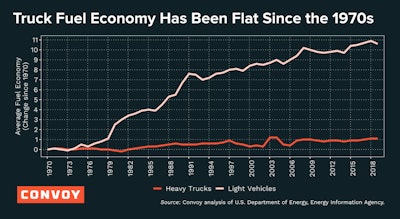 Use of alternative fuels, such as in the cases of compressed and liquid natural gas and, more recently, electrified powertrains, hold enormous promise to revolutionize the trucking industry. Class 8s fueled by electricity or other cleaner, alternative fuels are emerging in some niche corners -- for instance, on very short and regular routes, in private fleets, or for drayage. This technological revolution is not happening in a vacuum. Trucking's customer base is demanding it. As consumers become more environmentally conscious, retailers and manufacturers are requiring more transparency into the carbon emissions associated with their supply chains.
There also continue to be substantial barriers to scaling these efforts.
In a recent survey of trucking companies, we found that the vast majority do not see electric trucks as viable alternatives. Upward of two-thirds cited cost (an electric truck might cost twice the price of a traditional vehicle) and others cited factors such as distance limits, long charging times and sparse charging infrastructure. To date, there is no viable electric option for an owner-operator who seeks to balance cost and flexibility. The early promises of the Nikola One – which in mid-2016 suggested the possibility of deliveries "within 24 to 36 months" – have famously not materialized. Another startup, Hyliion, with a hybrid-electric approach, is still in a testing phase, as legacy truck makers work on a variety of partnerships and proprietary technology to test the waters with their own electric solutions.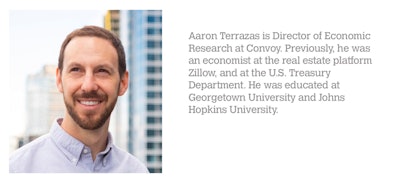 Perhaps the most telling verdict is from technologist and climate change advocate Bill Gates. In his recent book, How to Avoid a Climate Disaster, he acknowledges that "although electricity is a good option when you need to cover short distances, it's not a practical solution for heavy, long-haul trucks." The unfortunate reality is that green trucking tech is still largely cost-prohibitive and too cumbersome to meet the needs of the small fleets and owner-operators who account for so much of the United States' trucking supply.
The industry is still in the early stages of innovation and real progress is happening. However, green truck technology is currently – and risks remaining for some time well into the next decade – significantly more costly and more niche than traditional diesel trucks.
As is often the case for the cutting edge of technological innovation, green tech is only a realistic option for a handful of large trucking companies with deep access to capital markets and the luxury of investing in equipment with very niche use cases. Unless we make a conscious effort to ensure that green trucking tech is available to smaller trucking firms, any green freight revolution risks slipping toward a green monopoly.
This trend toward less competition and technological complexity increases has played out in other industries – pharmaceuticals, automobiles, aircraft manufacturing – when they faced a sudden shift in technological complexity. A recent report from investment bank J.P. Morgan noted that efforts to reduce carbon emissions in the ocean shipping industry ("IMO 2020," after International Maritime Organization's 2020 regulations) have contributed to higher shipbuilding and maintenance costs, and accelerated industry consolidation. Increasing emissions-reduction and drivetrain sophistication have also contributed to steadily higher maintenance and repair costs in trucking.
[Related: Heading off the diesel aftertreatment demons]
Investing in a more environmentally sustainable future is a worthwhile and necessary endeavor. However, public policy making is often an exercise in unintended consequences, and we should be cognizant of the risks. Environmental sustainability and industry concentration do not have to go hand-in-hand if we focus on making sure that green tech is available to big and small market participants alike.