It just so happened to be the day before Earth Day that stakeholders around the Port of Savannah gathered to hear details about a project that will encourage cleaner technologies for freight movement. Trucking company owners were among those who came to a Georgia conference center April 21 to learn about the Port Fuel Center, expected to open this year.
Out West, so-called "Clean Trucks" programs around the ports infamously have operated with a mix of mandates against older equipment and some incentivizing of equipment upgrades. Alongside such efforts, plain strong-arm politics, too, have been a side result, with such programs used cynically toward unionization goals, as Overdrive has covered.
At the Port of Savannah, investment in efforts around improving air quality are proceeding largely on a voluntary basis and moving into operator quality-of-life infrastructure, too. What was unveiled by reps from Marlin Gas/Marlin Compression (a "virtual pipeline" compressed natural gas and compression service), Chesapeake Utilities Corp, and other stakeholders are plans for what's basically a truck stop at heart.
The Port Fuel Center is the brainchild of the owner of the land on which it plans to open this fall. Sean Register, principal owner-operator of the center., is also the CEO of ocean-shipping concern Register International. He told the gathering that his conception of the Fuel Center, planned to feature 74 truck-parking spaces, high-flow diesel lanes, CNG-pumping stations, EV charging infrastructure and much more, dates to 2012.
"I was sitting at a red light, and saw a port truck go into the cheater lane," and stop, Register said. The driver got out of the idling rig and "he could have been an Olympic runner" he was moving so fast, on a beeline for a tiny service station's bathroom. "I went home and told my wife, 'We're going to open a truck stop.' She looked at me like I'd lost my mind."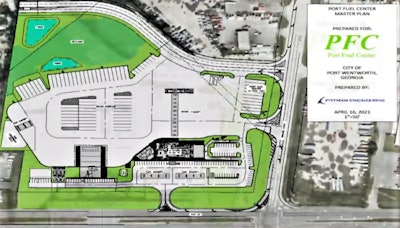 The site is on Grange Road, just four-tenths of a mile from the sizable Gate 8 to the Port, one way to the Garden City container terminal there.
As for CNG fueling, Jim Hayhurst, Marlin Gas Services business development manager, said the stop will feature compression capability as well as a large "storage capacity, and three dispensers with high-flow nozzles."
In addition to traditional natural gas derived from petroleum, companies like Marlin have increasingly tapped so-called "renewable natural gas" (RNG) sources -- or natural sources of methane production, from landfills to beef and poultry operations, Hayhurst added. When it comes to regulation, "as a natural gas utility we're bundled in on the petroleum side" of the energy industry, yet renewable gas gives companies a way to "separate us from being a fossil-fuel company to being a [net zero or even negative carbon] renewable provider."
Hayhurst estimates the center might open in late September or early October.
Jay Thompson of Transportation Business Associates spoke to the potential for long-term savings with CNG-powered equipment. He offered ways for truck owners to look at their numbers as a means to an end -- convincing their financing partners of the value of CNG-powered equipment. He emphasized three factors in the decision to switch from diesel: fueling and sales infrastructure, reliability/maintenance of the equipment itself, and those items' fit in your operation.
"Can I get it fueled and run it to get the miles I need for profitability?" he said. "We put together numbers to look at how to think about the return on investment. It's also something to help when you go out and talk to financiers."
Thompson showed comparisons of local, regional and longer-run operations to illustrate savings potential, using baseline numbers derived from other operations. "North of 50% to 60% of moves [in and out of the Savannah port] are local," he said. "If we end up with a $1 per gallon differential" between diesel's price and the CNG diesel-gallon equivalent, roughly where it is today, "just on the local trips, a typical used diesel truck available in the marketplace today can end up with savings of $700 a month" in fuel.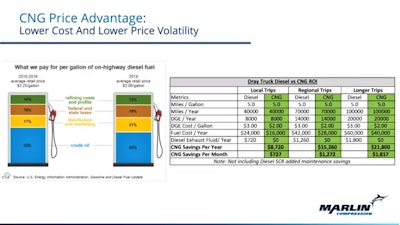 While infrastructure for CNG fueling is nowhere near as widespread as diesel, a used market for CNG trucks has developed on the West Coast, where operation is most concentrated, and in some other areas. To name just one source, Penske's alternative-fuel sales site, for instance, shows a variety of CNG-powered listings in California, Wisconsin, Arkansas, Pennsylvania, Georgia and elsewhere.
Thompson emphasized that cost comparisons like the above, with greater detail specific to an owner's operation, are crucial to carriers being able to help themselves "to get to a more consistent language that the banking and trucking world can understand," and to understand for themselves why a switch might be useful in their own operation.
For Register, all the emphasis on new powertrain technology is great, but the drive to open for him comes back to fundamentals: service to the operator. "We'll have the same tablets that Chick-Fil-A uses" in its drive-throughs for customer orders "at the diesel lanes – buy enough of it and we'll pump the fuel for [the driver.] Speed of service is the key, so he can get back to the port to make another turn."
He's staking the stop's success on that -- "the little things that will make the difference in that trucker's life," he said.