Trucking news and briefs for Thursday, May 13, 2021:
Quality Carriers sold to rail giant CSX
CSX Corp announced Wednesday it has signed a definitive agreement to acquire Quality Carriers from Quality Distribution. Terms of the transaction were not disclosed.
Quality Carriers, which operates the largest liquid bulk chemical trucking network in North America, will become a standalone entity within CSX and remain headquartered in Tampa, Florida.
Quality Carriers operates an extensive bulk tank trucking fleet with around 2,500 drivers and more than 100 company-owned and affiliate terminals and facilities throughout the U.S., Canada and Mexico.
The transaction will create a unique multimodal chemicals transportation system that will expand the reach of both CSX and Quality Carriers.
Quality Carriers' management team, led by President Randy Strutz, will continue to lead the business as part of CSX.
The transaction is expected to close in the third quarter of 2021, subject to regulatory review and certain customary closing conditions.
Gary Enzor, Chairman and Chief Executive Officer of Quality Distribution, called transitioning Quality Carriers to CSX "a tremendous positive for all of our key stakeholders, including our drivers, employees, customers and investors."
As a result of the transaction, Quality subsidiary Boasso Global will become a standalone entity headquartered in Tampa. Boasso Global is an international provider of intermodal tank container and depot services with operations in seven different countries and the largest such provider in North America. The Quality Distribution name will be phased out after the closing of the transaction.
[Related: Latest updates, regs relief, related to spot diesel outages with extended Colonial Pipeline closure, back open as of late Wednesday]
As pipeline restarts, IRS waives dyed diesel penalty for truckers in affected states
Colonial Pipeline began restarting its pipeline Wednesday evening and expects to be sending product to all its markets by midday Thursday. However, to help ease any ongoing fuel shortages in some states affected by the pipeline shutdown, the Internal Revenue Service is temporarily waiving its penalty for the sale and use of untaxed dyed diesel in highway vehicles.
Ordinarily, dyed diesel fuel is not taxed because it's sold for uses exempt from excise tax, such as to farmers for farming purposes, for home heating use, and to local governments. Using dyed diesel in highway vehicles under normal circumstances can result in a penalty of $1,000 or $10 per gallon, whichever is greater, plus payment of the tax.
Retroactive to May 7 and effective through May 21, truck drivers will not be penalized for using dyed diesel to help alleviate any shortages of fuel in Alabama, Delaware, Georgia, Florida, Louisiana, Maryland, Mississippi, North Carolina, Pennsylvania, South Carolina, Tennessee, Virginia and Washington, D.C.
The major truck stop chains are still experiencing intermittent diesel outages in some locations. Drivers can check here for the latest updates from Love's, and here for the latest updates from Pilot. TravelCenters of America says it is working with its suppliers and other partners to bring in product from other markets to help maintain availability, but some locations are experiencing intermittent fuel outages.
Driver honored after rescuing two men from burning truck
Livingston, Texas-based truck driver Robert Johnson has been named a Highway Angel by the Truckload Carriers Association for rushing to pull two men from their burning truck.
Johnson was driving along I-85 on March 15 on his way to Charlotte. He noticed a straight truck pass him, then not long after, he saw a a column of smoke up ahead of him. As he rounded a corner before the next exit, he saw that the truck that had passed him was now on fire.
Johnson, a retired firefighter, knew there were still two people in the truck and quickly took action, positioning his truck to block the two right lanes. He jumped out and ran to the truck and managed to get the driver and passenger out and a safe distance away from the truck.
"The fire was too far gone for a fire extinguisher," he said. "The first thing I had to do was get them out and to a safe place."
Johnson then called 911 and explained the situation. By this point, the truck was engulfed in flames.
"The first fire engine arrived within five minutes," he said. "As they were taking their hoses out the tank on the truck blew."
When the ambulance arrived a few minutes later, he learned that the driver had life-threatening injuries and the passenger had also suffered burns. Johnson knows that if it weren't for his training as a firefighter and a professional truck driver, those two men would very likely have lost their lives that day.
Johnson was a firefighter for four years. One day he went into a structural fire. "When I came out of the house it collapsed behind me," he said. "That's when I retired."
He began driving in August 2019. "My mom drove truck for 30 years. I decided to follow in her footsteps."
For his willingness to help, TCA has presented Johnson with a certificate, patch, lapel pin and truck decals. His employer, Freymiller, has also received a certificate acknowledging their driver as a Highway Angel.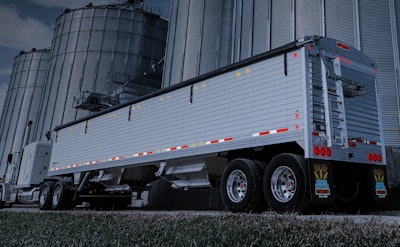 124 truck parking spaces at new Ohio Love's
A new Love's Travel Stops location in Etna, Ohio, off of I-70 adds 124 truck parking spaces to the truck stop's network.
The location also features a Hardee's restaurant (set to open at a later date), nine diesel bays, nine showers, a Speedco (opening later), and more.
The Etna location is the 19th Love's in Ohio.