Trucking news and briefs for Monday, May 17, 2021:
I-40 bridge closure costing trucking $2.4M per day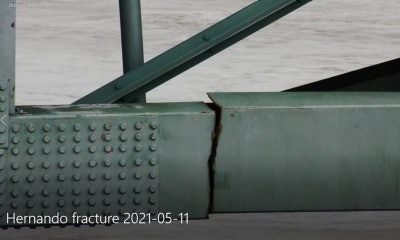 With the I-40 Hernando de Soto Bridge connecting Arkansas and Tennessee over the Mississippi River expected to be closed for the foreseeable future, the Arkansas Trucking Association estimates the closure will cost the trucking industry $2.4 million each day.
The Tennessee DOT said in its daily update Monday that it is unable to project a reopening date for the bridge at this point. The U.S. Coast Guard reopened the river below the bridge to barge traffic on Friday, May 14.
Based on operational cost data from the American Transportation Research Institute, which indicates the average cost of operating a truck to be $1.20 per minute. ArDOT says that approximately 12,500 trucks traveled over the I-40 bridge each day and an additional 14,000 trucks cross the I-55 bridge daily.
"The closure of the I-40 bridge creates bottlenecks and delays impacting all 26,500 trucks relying on this major freight corridor connecting east and west," said Arkansas Trucking Association President Shannon Newton.
Using GPS data, ArDOT found that the detours in place take an average of 10 times longer than the normal route over the bridge.
"Using GPS data, we can discern that a previous 8-minute drive is now averaging 84 minutes" Newton added. "This additional transit time at $1.20 a minute for 26,500 trucks is costing the trucking industry more than $2.4 million each day that the bridge is closed."
According to TDOT, the repair of the bridge will be done in two phases, and both phases will need to be completed before the bridge is reopened to traffic. During the first phase, steel plates will be installed on either side of the fractured beam to strengthen the damaged area to allow crews to install equipment for the permanent replacement of damaged components. Design of the second phase of the project is still in the works, TDOT said.
Potential fuel leak prompts Daimler to recall nearly 10,000 trucks
Daimler Trucks North America is recalling approximately 9,662 vehicles for an issue with the fuel injection system that could cause a leak, increasing the risk of fire, according to National Highway Traffic Safety Administration documents.
Daimler is recalling certain model year 2018-2021 Freightliner Custom Chassis XC Chassis, 108SD, Custom Chassis XB Chassis, Business Class M2, 114SD and Western Star 4700 vehicles.
In the affected trucks, the sealing washer may not seat correctly in the pilot bore holes, allowing the high-pressure fuel rail assembly to leak.
DTNA is still working on a remedy for the issue, and owner notification letters are expected to be mailed by July 5. Owners can contact DTNA customer service at 1-800-547-0712 with recall number FL-886. NTHSA's recall number is 21V-326.