Trucking news and briefs for Thursday, Jan. 24, 2021:
Spot truckload activity, already elevated, cools ahead of traditional summer peak
Spot truckload freight volumes fell 1.4% during the week ending June 20 as shippers work to loosen backlogged dry van, refrigerated and flatbed cargo, said DAT Freight & Analytics, which operates the industry's largest network of load boards and the DAT iQ data analytics service. Capacity tightened as the total number of trucks posted to the DAT network declined 6.3% compared to the previous week.
National average spot truckload rates showed little movement up or down, however. Already elevated, spot pricing does not appear to be ramping up seasonally ahead of the July 4 holiday and back-to-school retail shopping.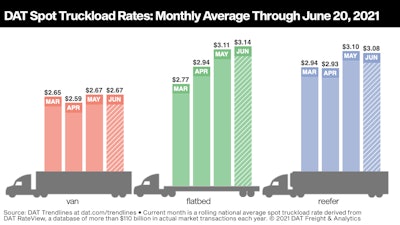 Some trends to watch include:
Van load moves shift lower: In DAT's top 100 van freight markets by volume, the number of loads moved fell 3.7% week over week and has been relatively stable since April except for an expected decline during Memorial Day week. Nationally, the van load-to-truck ratio increased from 4.5 to 5.2 as spot capacity stayed tight last week.
California van markets rise: Van freight is abundant in southern California as shippers work to loosen logistical obstacles. Los Angeles to Phoenix, a key lane for imported retail goods, averaged $4.52 a mile last week including a fuel surcharge, 13 cents higher than the week prior. At that rate, many carriers are quickly making their turn in Phoenix and coming back empty to Los Angeles, Ontario and other markets in California.
Flatbed load posts decline: Flatbed load post volume fell 10% compared to the previous week and is down 20% compared to May levels. The national average flatbed load-to-truck ratio dropped from 73.4 to 65.5 last week with very little change in the availability of equipment. The number of loads moved on DAT's top 78 flatbed markets is down 5.9% since the last full week of May.
Reefers surge: Reefer freight volume on the DAT network grew 14% week over week as harvest activity increases and consumers stock up for summer. The national average reefer load-to-truck ratio increased from 9.2 to 11.3 although rates on high-volume lanes appeared to plateau.
Spot reefer demand is highly affected by produce distribution. The reefer lane from Atlanta to Miami averaged $3.67 a mile last week, up almost 30 cents over the last four weeks. This coincides with the end of produce season in southern Florida, when outbound rates and freight availability plummet. At the same time, California is now home to the country's hottest reefer lanes including Ontario to Stockton ($4.26 per mile); Los Angeles to Stockton ($4.28); Fresno to Chicago ($3.51); and Los Angeles to Phoenix ($4.87). Spot freight volumes from these markets are beginning to shift lower, however.
New consulting firm offering help with DataQs appeals, audits, more
Trucksafe Consulting is launching compliance and training services dedicated to helping trucking companies of all sizes navigate complex regulations, highway safety issues and more.
While some of the company's offerings cater toward larger fleets, Trucksafe also performs various levels of mock audits to reveal weak spots before the DOT does, aids in reversing erroneous records via DataQs appeals and offers a full catalog of downloadable DOT compliance forms to help smaller carriers and one-truck owner-operators.
"There's been a gap in DOT training for too long, when it comes to comprehensive regulatory training — as opposed to defensive driving or workforce safety — for safety managers and drivers," said Brandon Wiseman, founder and president of Trucksafe Consulting. "We're not out to be another large, faceless consulting corporation. We want to meet carriers where they are and provide them with a tailored and modern solution that works best for their fleet and their personnel to keep them compliant and out of the crosshairs of the DOT and plaintiffs' bar."
Tennessee DOT sets tentative timeline for Mt. Juliet overpass repair
A crash involving a tractor-trailer that struck the I-40 westbound overpass at Mt. Juliet Road caused severe damage to a support column.
The Tennessee Department of Transportation says it will set up barriers on I-40 and Mt. Juliet Road to secure the area around the column and create a safe work zone. The TDOT expects temporary support work to take up to a week, and repair work to take up to two weeks, including 10 days to cure concrete needed for the repairs.
During the repairs, travel lanes will be reduced on I-40 West and Mt. Juliet Road North. TDOT anticipates shifting westbound interstate traffic closer to the median to maintain three travel lanes. Lane restrictions on both roadways last for up to three weeks for the duration of the repairs.
New TA Express opens in Pennsylvania
TravelCenters of America has opened a new TA Express in Ronks, Pennsylvania, located in the heart of Lancaster County's Amish Country. The TA Express is at the site of the former Lancaster Travel Plaza.
The location features 30 truck parking spaces, Subway and Champs Chicken restaurants, six diesel lanes, two private showers and more.
This is the first TA Express to open in Pennsylvania and increases TA's total nationwide network of travel centers to 274, including 41 franchised locations.