Trucking news and briefs for Thursday, July 8, 2021:
DAT partners with Comdata to expand fuel card program for small fleets
DAT Freight & Analytics has partnered with Comdata to expand its DAT Fuel Card program and help owner-operators and small fleets save more money at the pump.
The DAT Fuel Card is designed to help DAT's owner-operator and small-carrier customers manage fuel and maintenance expense payments and find discounts via a single mobile platform – DAT One.
Cardholder advantages include:
Cash price plus additional cents off the gallon at select fueling locations
Savings up to 65% on tires and retreads at more than 3,000 locations
24/7 driver support and online account management
Custom spending limits to help control fraud and abuse
Services to help manage fuel tax, licensing, permitting and other compliance needs
Access to reporting and analytic tools to help manage fuel expenses
Savings of up to 80% on prescription drugs, provided by SingleCare
Additional savings on secure parking and discounts on Comdata's permit services
The DAT Fuel Card is accepted at more than 8,000 fuel and maintenance locations through the Comdata network.
Unscheduled roadside maintenance on the rise
The American Trucking Associations' Technology & Maintenance Council found an industrywide increase in the frequency of unscheduled roadside maintenance in its first-quarter 2021 TMC/FleetNet America Vertical Benchmarking Program.
The survey found that during the first quarter of this year, fleets averaged 29,506 miles of operation between unscheduled road repairs, which was down 18.7% from the fourth quarter of 2020.
TMC reports that truckload carriers averaged 21,856 miles between breakdowns, a 13.1% decrease in miles from the previous quarter. The time between breakdowns for LTL carriers dropped 18.7% to 44,380 miles in the first quarter from the final quarter of 2020. The tank truck sector saw an average of 17,420 miles between breakdowns in the first quarter, down from 12.4% from the previous quarter.
"As the economy improves going into the second half of 2021, fleets need to be vigilant in their maintenance practices to minimize unscheduled road repairs," said TMC Executive Director Robert Braswell. "Our data shows the best-in-class fleets are doing that and others can benefit from following industry recommended practices, such as those offered by TMC."
Pilot driver honored with new truck
Pilot Company is recognizing one of its longtime drivers with a custom Peterbilt 389 outfitted with a throwback design to honor the legacy of his father, who was also a longtime Pilot driver.
Carrying on a family tradition, Daniel Abshire has driven for Pilot for more than 40 years and was honored for his contributions during a luncheon on July 7 at the company's Sales and Support Center headquarters in Knoxville, Tenn. His father, Jim Abshire, was the second driver ever hired by Pilot when he came onboard in 1971.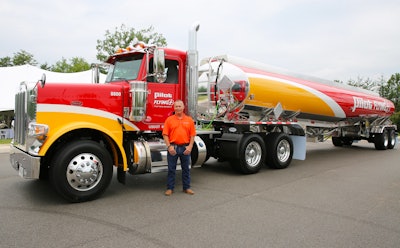 Based in Virginia, Jim became the company's first lead driver and drove for Pilot for 42 years. Following in his father's footsteps, Daniel joined Pilot in 1980 at the age of 21, and eventually assumed the role of lead driver when Jim retired from the position in 2013.
Today, Daniel oversees the trucks and drivers based in Staunton and Roanoke, Virginia, where he resides. During his 40-year career, Daniel has driven 2.5 million miles, amassed 9,800 Safety Days in his truck and delivered more than 200 million gallons of fuel.
"I'm still in shock," Daniel Abshire said. "I wasn't expecting to be recognized, let alone get a new truck to drive that also celebrates my dad's time with Pilot. I remember him driving a Peterbilt like this one, and this is my dream truck. We've always been part of the Pilot family, and the team here, especially the other drivers, always have been part of the Abshire family. That's not lip service; it's how we operate. This just illustrates how true it is. We are family."