Trucking news and briefs for Thursday, July 15, 2021:
Spot market update: Rates 'correction' or pandemic blip?
Traditionally, the weeks leading up to Independence Day mark an annual peak in spot truckload freight volume and rates, following a rush to move goods ahead of the close of the second quarter and the July 4 holiday. While last year was definitely an exception to that rule after the pandemic lockdowns, 2021 appears to be starting to follow a more typical pattern, said DAT Freight & Analytics, operator of the DAT network of load boards. Spot rates for van, refrigerated and flatbed freight are on average 70 cents per mile higher than at this time in 2020 and nearly 76 cents higher than the five-year post-July 4 average.
Just how long what many truckers view as a long-overdue upward rates "correction" will last remains unclear; in the short-term, however, owner-operators can take these seasonal indicators into account.
During the last, holiday-shortened workweek, the number of available dry van loads on the spot market was down 17%, in line with expectations, DAT said.
Dry van truck posts also declined as plenty owner-ops took time off for the holiday. The national average van load-to-truck ratio narrowed from 6.7 to 6.1, and the national monthly average van rate through July 11 was $2.75 per mile, 8 cents higher than in June overall. Contract van rates are on the rise, with new routing-guide rates up 7% in the two weeks ending July 1 compared to the prior two-week period. The average contract van rate is now 37 cents higher than this time last year.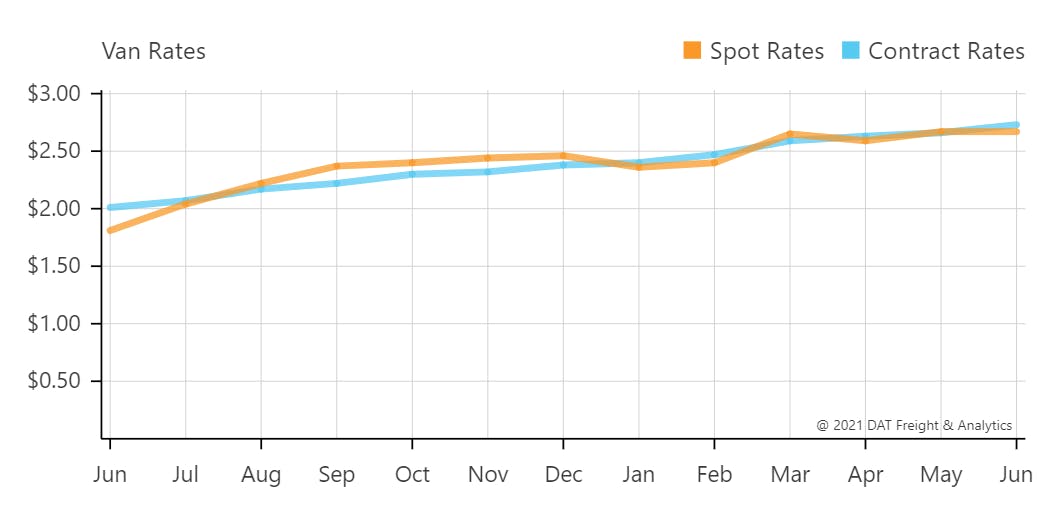 Van spot and contract rates averages tracked by DAT have crossed five different times in the last year, most recently in May, as the trend has been upward overall for freight rates. The picture for reefers and flatbeds has been somewhat similar, yet spot rates in reefers continues to hover well above contract rates.

The national average spot reefer rate through July 11 was $3.18 per mile, 9 cents higher than the June average. The number of available reefer loads fell 17% compared to the previous week, and, with 2% fewer equipment posts, the national average reefer load-to-truck ratio edged down from 14.2 to 12.7.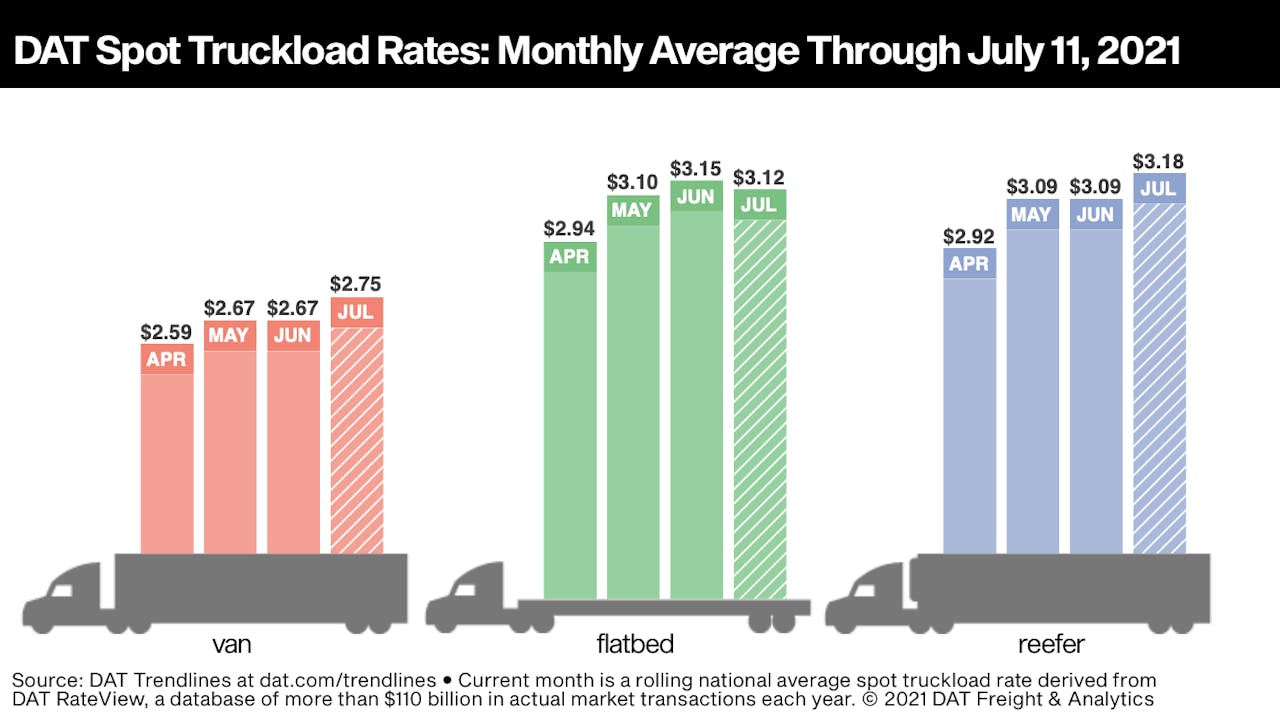 Demand for reefers is expected to ease in the coming months, DAT said. Between July 4 and Thanksgiving, weekly truckload volumes of produce typically decline an average of 21%, which translates to carriers hauling 7,300 fewer truckloads per week by the end of November.
With fewer load and equipment posts last week, the national average flatbed load-to-truck ratio fell from 49.7 to 44.1. The average spot flatbed rate slipped to $3.12 a mile through July 11, down from $3.15 in June.
A few lanes to watch
Atlanta to Chicago: The average reefer rate on this 716-mile run has nearly doubled in the last year and is $1.70 a mile higher than the contract rate, which is highly unusual and partly reflective of weak pricing in the opposite direction.
Los Angeles to Las Vegas: Rates held steady at an average of $6.12 a mile last week, but the return leg jumped 25 cents to $5.23. That's an average of $5.40/mile for the 540-mile round trip.
Atlanta to Philadelphia: The average van rate surged last week, increasing by 55 cents to $4.23 a mile. That's up $1.86 since January. Rates in the opposite direction are down an average of 52 cents during the same period.
Lane restrictions planned for I-40, I-10 in Arizona
The Arizona Department of Transportation will be restricting lanes along I-40 and I-10 in the coming days as part of two separate construction projects.
Drivers along I-40 through Flagstaff should be prepared for delays on 10 miles of I-40 from the I-17 interchange east to Walnut Canyon Road. Eastbound I-40 is currently narrowed to one lane between I-17 and Butler Avenue through the evening of Friday, July 16. Next week, eastbound I-40 will be narrowed to one lane between Butler Avenue and Country Club Drive.
On the west end of Flagstaff along I-40, ADOT is replacing the I-40 bridges that pass over Business 40 which connects to Historic Route 66. Traffic is narrowed to one lane in each direction while crews work to replace half of each bridge at a time.
Work on a project to add new lanes along Interstate 10 between Verrado Way and State Route 85 in Buckeye is scheduled to start Sunday night, July 18, with a series of overnight lane restrictions.
The project will add a third lane in each direction along an 8-mile stretch of I-10 west of Verrado Way.
Westbound I-10 will be narrowed to one lane in areas between Verrado Way and State Route 85 from 9 p.m. to 5 a.m. Sunday through Thursday nights, July 18-22.
Initial construction will include pavement improvements along the right shoulders of I-10 within the project's work zones. The shoulder paving will allow a temporary shift of the I-10 travel lanes while crews begin constructing new lanes along the freeway's center median.
Westbound I-10 restrictions are expected to continue at the start of the week of July 25-29 before crews switch to overnight work along eastbound I-10. Restriction schedules are subject to change due to factors such as inclement weather.
Free hot dogs at truck stops next week
Love's Travel Stops and Pilot Flying J will be offering free hot dogs on Wednesday, July 21, for National Hot Dog Day. Drivers can redeem the deals in the respective company's rewards apps – Love's Connect and the myRewards Plus app.
Love's and Schwab Meat Co. have partnered to give customers the deal at 525 participating locations in 41 states. Customers can access the barcode for the free hot dog or roller grill item and a half-price drink discount on the Love's Connect app from 12:01 a.m. to 11:59 p.m. July 21.
In addition to offering a free hot dog at Pilot and Flying J locations on July 21, Pilot Flying J is teaming up with Heinz and Oscar Meyer for a celebration of hot dogs with the #ShareaDogSweepstakes. Now through Aug. 10, customers can post a photo sharing a moment or memory with loved ones and enjoying hot dogs for a chance to be one of 10 "wieners" receiving a $500 PFJ gift card.
To enter the contest, tweet or post the photo on Twitter or Instagram and include "#ShareADogSweepstakes" and tag @PilotFlyingJ. Winners will be notified via Twitter or Instagram on or around Aug. 11.