Trucking news and briefs for Wednesday, Oct. 27, 2021:
Rising fuel costs, parking among top owner-op concerns
Fuel prices, truck parking and driver compensation are the top three trucking industry concerns for owner-operators, according to the American Transportation Research Institute's annual Critical Issues in the Trucking Industry survey. The survey was conducted from Sept. 8 through Oct. 15, and the results were revealed at the American Trucking Associations' Management Conference and Exhibition.
Across all truck driver respondents, including owner-operators and company drivers, driver compensation and truck parking tied as the top concern, followed by detention/delay at customer facilities and fuel prices. For company drivers, driver compensation, truck parking and driver training standards were the top three issues identified.
For all respondents to the survey, including drivers and fleet representatives, a perceived "driver shortage" topped the list for the fifth consecutive year.
Unlike 2019 and 2020, where margins between driver availability and the No. 2 industry issues were much closer and "driver shortage" earned just 28.6% and 26.4% of the total share of votes, respectively, this year the shortage issue got 47.4% of the total share of votes in the 2021 survey.
Driver retention was the No. 2 issue identified in the survey, making up 21.7% of votes, followed by driver compensation with 17.8%.
"It really is no surprise that truck driver-related issues – notably the driver shortage and driver retention – ranked so high on the survey," said ATRI President and COO Rebecca Brewster. "Coming out of the pandemic, with the increased demand for goods and other pressures on the supply chain, getting and keeping drivers has been a real challenge industrywide. We also see the impacts of the current supply chain crunch in how highly issues like driver compensation, truck parking, infrastructure and driver detention ranked on the list."
Other issues in the top 10 include:
No. 4 – Lawsuit abuse reform
No. 5 – Truck parking
No. 6 – Compliance, Safety, Accountability (CSA)
No. 7 – Detention/delay at customer facilities
No. 8 – Transportation infrastructure/congestion/funding
No. 9 – Insurance cost/availability
No. 10 – Diesel technician shortage
[Related: 'Driver shortage' claims miss self-employment explosion]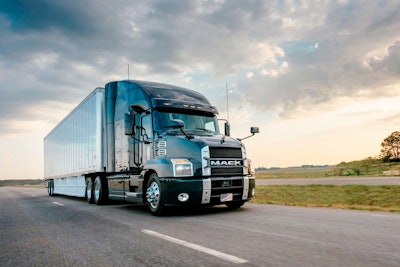 FedEx driver, Mack exec, more recognized by ATA
A FedEx Freight driver, a liquid bulk carrier based in New Jersey, a state trucking association, and a truck manufacturer executive were honored for their work to put trucking in a positive light during the American Trucking Associations' Management Conference and Exhibition in Nashville.
ATA presented four Mike Russell Trucking Image Awards to:
Carbon Express for their work to improve their drivers' quality of life, outreach to the community through social media, and their work with America's Road Team;
The Indiana Motor Truck Association for their work to promote safe driving by working with state officials on several anti-distracted driving campaigns;
America's Road Team Captain Wayne Crowder, a professional driver with FedEx Freight, for his work promoting the industry's image;
And John Walsh, vice president of marketing at Mack Trucks, for his role in helping ATA advance the cause of safety through its show trucks, including the Share the Road and Workforce Heroes trucks.
First awarded in 2007, the Mike Russell Trucking Image award is given to an individual, motor carrier, trucking organization, and industry supplier who each demonstrate excellence in illustrating the industry's essentiality, professionalism, and commitment to safety on and off the highways.
"Since 2007, the Mike Russell Trucking Image Awards have shone a light on the great work our carriers, associations, and most of all, drivers do in promoting the image of the trucking industry," said Incoming ATA Chair Harold Sumerford Jr., CEO of J&M Tank Lines Inc. "This year's winners have all gone above and beyond to show just how safe, professional and essential trucking is."