Trucking news and briefs for Wednesday, Nov. 17, 2021:
CargoNet warns of increased cargo theft activity around Thanksgiving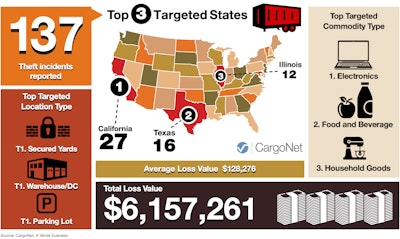 Cargo theft recording firm CargoNet is warning truck drivers and fleets of an enhanced risk of cargo theft around the upcoming Thanksgiving holiday period.
When looking at the previous five Thanksgiving holidays, there were 137 thefts recorded with an average of 27 per year. Thanksgiving 2020 was the most active period in the last five years with 40 recorded thefts.
Theft reports were most common in states that have cargo theft problems throughout the year, including California, Texas, Illinois, Georgia and Florida. Cargo thieves targeted shipments of televisions, major appliances, mixed electronics, and alcoholic beverages the most in this analysis period.
CargoNet says drivers should not leave their trucks or loads unattended, especially when within 250 miles of the pickup location. Drivers should also be on the lookout for any vehicles that appear to be following them, the firm adds. Shippers and trucking companies can step up security by arranging for same-day delivery for short-haul shipments, embedding covert tracking devices, and by using high-security locks to prevent trailer burglaries.
[Related: Heists involving identity theft and other types of fraud are growing part of cargo-theft mix]
Wreaths Across America convoy schedule set
Twelve trucks representing a number of fleets will haul a portion of sponsored veterans' wreaths from Maine to Arlington National Cemetery for Wreaths Across America next month.
A week-long convoy will kick off on Saturday, Dec. 11, making dozens of stops along the route.
The official escort will travel down the East Coast stopping at schools, memorials, and other locations along the way to spread the mission to Remember, Honor and Teach. Stops with public events will be held in Maine, Vermont, New York, New Jersey, Delaware, Maryland, and Washington D.C., before arriving at Arlington National Cemetery on the morning of Saturday, Dec. 18 – National Wreaths Across America Day.
The 12 trucks in the convoy will represent Walmart Transportation, Schneider National, Gully Transportation, Witte Bros. Exchange, Hartt Transportation Systems, Delhaize Transportation (DBA Hannaford Supermarkets), American Trucking Associations – Share the Road Truck, Pottle's Transportation, Cargo Transporters, Boyd Grain, Hampton Road Moving & Storage, and Tyson Foods. Additionally, Load One Carriers will once again serve as the ceremonial wreath transporter for the escort.
"For those who have had the opportunity to participate in the escort of wreaths over the years, it is truly an experience of a lifetime," said Karen Worcester, executive director, WAA. "The way we and the mission are welcomed into communities, with flags waving and streets lined with children and veterans, is something we always wished every American could witness. This year we're hoping that supporters will once again join us in lining the roadways safely and welcome the mission into their communities."
National Wreaths Across America Day ceremonies are happening at more than 2,900 participating locations across the country on Saturday, Dec. 18, 2021.
PS Logistics continues recent expansion
P&S Transportation, a subsidiary of Birmingham, Alabama-based PS Logistics, has acquired Nauvoo, Alabama-based JLT Services.
Founded by Brett Thompson and specializing in building materials, general freight, lumber, metal and paper products, JLT maintains a fleet of 32 trucks.
"We are proud to welcome JLT to the PS Logistics family," said Houston Vaughn, president of PS Logistics. "JLT brings great drivers, employees and freight expertise to our company as well as a new key customer to PS Logistics. I am pleased PS Logistics will continue JLT's family-oriented atmosphere and strong culture and we look forward to providing JLT's customers with the same service commitment."
Since 2014, PS Logistics has acquired and integrated 23 trucking and logistics operations, including six this year and two this month. Last week, DMT Trucking, a subsidiary of PS Logistics, acquired Broken Bow, Oklahoma flatbed operation Daryl Thomason Trucking. 
[Related: PS Logistics makes fifth acquisition of 2021]