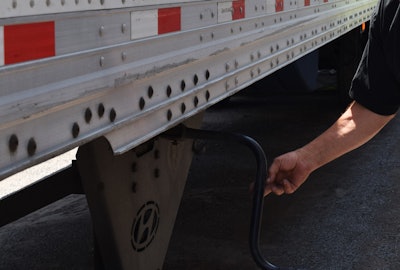 Previously in this series: Power-only pros: Chief benefits of no-trailer systems include factors that ease process of scaling up
Before owner-operator Kenyette Godhigh-Bell settled into her current power-only work within Amazon Relay, detailed in brief in the first part of this "Niche Hauls" series focused on growth in power-only opportunity for independents without an owned trailer, she worked a variety of brokerages' freight networks. She's pulled UPS trailers through Coyote Logistics' freight network, hauled power-only loads booked through J.B. Hunt's 360 app, worked Schneider Logistics' relatively young FreightPower system and more.
It's certainly possible to work a multiplicity of brokers' online boards and associated smartphone apps for power-only freight, yet a carrier with authority accustomed to load choice with an owned trailer is likely to find considerably less in the way of options in today's hot spot freight markets. That's one among several drawbacks to power-only operation noted in interviews and other commentary around Overdrive's recent survey of power-only carriers. Readers also identified headaches associated with non-owned trailers, more deadhead miles, inflexible rates, new costs and more.
Pete Covach, industry solutions adviser for transport communications tech provider Trimble, noted the limited-load-choice factor for owners "jumping between apps to try to find what's best" for the next load. If you're the type of owner-operator who thrives on negotiation and high-touch load selection for the absolute best rates, "once you go power-only, there's not a lot of spot-market opportunities – you limit yourself one way or another."
Many successful power-only carriers, as noted in prior parts of this series, end up looking a lot like leased carriers, operating within a single brokerage's system with their carrying capacity dedicated to that broker or one of its customers. That brings with it some advantages, covered in the previous part of the series, but related drawbacks, too, as recent respondents to Overdrive's power-only survey noted.
While Godhigh-Bell eventually settled into Amazon's system for her principal freight partnership, some of the difficulties Covach identified above presented themselves with the large shipper as well. Competition for the best loads among carriers in Amazon Relay is quite high. "One of the challenges with Amazon is that booking a load can be like trying to hit the buzzer on Family Feud," Godhigh-Bell said, particularly for loads that are high-dollar overnighters or needed ASAP. It's difficult to make the cost/revenue calculations necessary for profit evaluations in the 15 seconds she might have to accept the load in the system before somebody else does.
"When you see a load, you have the option to refresh it every 15 seconds," she said. Sometimes, "you might hit book and it's already booked" by someone else before the time elapses. "That can be a challenge." As a result, she's gotten better "pre-calculating" what she's looking for to base selection around pre-determined priorities than just the best rate.
[Related: Know the value of your time to assess true profit]
Echoing the rough third of survey respondents who saw negatives in power-only systems around rate negotiation, if there was time for negotiation of freight pricing in Amazon Relay, it's a moot point anyway, Godhigh-Bell added. "There's no negotiating" in the system. "With Coyote you can put in a bid." J.B. Hunt's 360 system, too, allows for it.
Yet too often bidding wars make it feel like you're at a reverse auction competing for who can move the freight as cheaply as possible, she said.
No way is power-only a "100% great model," said Adam Wingfield, head of the Innovative Logistics Group consultancy. "You have an increase in deadhead miles" as a general rule with mix-ups in trailer pools, likewise the necessity in some systems to dispatch to one yard to pick up an empty before dropping it elsewhere and picking up a loaded trailer. Kenyette Godhigh-Bell noted the latter was a feature of most of the loads she's hauled for Schneider and J.B. Hunt's brokerages.
Though you don't have the cost of an added trailer, "you have to be very strategic and be very smart with it," said Godhigh-Bell. With "a lot more bobtailing, you figure that into the rate and see if it's worth it."
She noted also, though, that both of those large carriers' brokerages do have specific power-only programs for partner carriers where the necessity of empty-trailer pickup is not a feature.
Those trailer-pool mix-ups mean load cancellations are more likely, Wingfield added. And it's sometimes difficult to distinguish between true power-only loads and so-called "load out" trailer opportunities. Load out -- sometimes, tow-away -- refers to often brand-new trailers a brokerage or shipper needs moved from Point A to Point B. In exchange for the use of that trailer for a specified amount of time, the power-only carrier agrees to make the move and books a spot load or series of loads in the direction of Point B to eventually deliver the trailer empty again. The broker might pay $100 to move the empty 1,000 miles, Wingfield offered by way of an example, but give the carrier five days to do it.
Godhigh-Bell says most of the business she did with Coyote earlier this year was in load out Vanguard dry vans paying $150 with five days' worth of trailer usage. She lauds Coyote over other systems she's worked within this past year for a couple reasons. Better, "more respectful" rates is one. "I do like the fact that with them you have a specific person you can talk to or email," she said, and "their app is pretty user-friendly," without as much in-app competition as Amazon's. "Usually you've got some time to ponder" your options before the load is gobbled up.
Those brand-new load-out trailers, too, are a perk, pointing directly toward what almost half of Overdrive survey respondents flagged as power only's chief drawback.
Determining trailer quality/maintenance history can be a roll of the dice
Start a diligent pre-trip before you hook to any trailer loaded and ready to roll or from a pool of empties. It could be less ready than you think.
Timmons Transit co-owner Wayne Timmons' best piece of advice for any truck owner getting into business pulling power-only freight: "Take extra time and do a closer walkaround trailer inspection" than you might do with a trailer you see every day. "You do not know who's pulled the trailer before you, and we don't have control over the maintenance of that trailer. ... Ultimately, the truck and the driver is responsible" for the trailer's safe operation, he added, meaning potential violations if you're inspected, or worse if a component failure causes an accident.
For his business, it doesn't become a problem on an everyday basis, but it's common enough.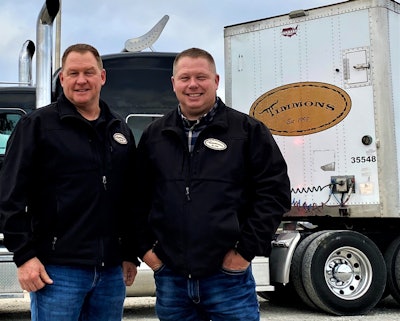 Large-carrier-affiliated brokerages' huge and aging trailer pools are particularly prone to the "you can get anything" dynamics Godhigh-Bell has seen hauling power-only. She's maintained a preference to Amazon's largely newer-trailer options as a result, she said. "My sticking point is tires. If they look like they've been dragged with bald spots, big chunks and holes," don't go there. "I haven't had that with Amazon," though in a few cases she's encountered tires very low on pressure after sitting for an extended period.
Don't forget to make sure the trailer "has a current DOT inspection" decal and that "lights work, and that it's in pretty decent shape."
The inspection sticker itself she likens to a kid asked if they've cleaned the bathroom as required. "They're like, 'yeah yeah yeah I cleaned it.' But did you really?" The inspection may have been in October 2021, yet "no, these grommets look like there's been a beaver eating at them."
Picking up an empty, on occasion "I'll have to walk down a line to find one that meets my standard to not get a fine" after a roadside inspection, she added.
[Related: Getting your own authority: Basics of filing, insurance, more]
Extra power-only costs: Get ready for liability insurance sticker shock, trailer-interchange/non-owned trailer coverage costs
For owner-operators getting authority for the first time to run power-only, added liability insurance costs can amount to $30,000 annually, depending on the operator's overall trucking experience, base state and operating region.
Godhigh-Bell was just a couple of years into trucking when she first shopped the appropriate commercial auto liability coverage for her new carrier business. Her first policy was with Canal Insurance and was initially quoted at $30K annually, but was also usage-based to a degree. Given miles-run dropped for her as she transitioned to more local/regional hauls, the rate paid turned out to be about $18,000.
She switched insurance companies at renewal to obtain a container endorsement through Mohave at a relatively similar rate, hopeful that another year in business yields what she's been told to expect from most in the trucking-insurance field: a substantial reduction in premiums with continued safe, violation-free operation.
Another additional cost could be the necessity of what amounts to duplicate physical damage coverage of the trailers you don't own when they're hooked to your rig -- so-called "trailer interchange" and/or "non-owned trailer."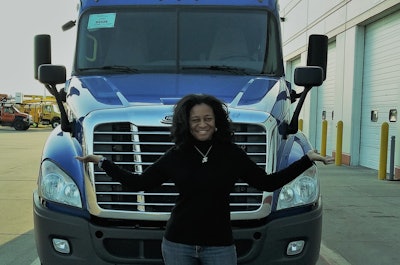 Insurance agent, Overdrive contributor and longtime independent owner-operator W. Joel Baker spelled out the difference between the two policy types. Trailer interchange goes back to pre-deregulation days before it became relatively easy and common for a one-truck owner-operator to obtain motor carrier authority. Owner-operators entered into trailer-interchange agreements with a single motor carrier to pull their trailers. That carrier's trailers were, and are in today's variation, specifically covered by the trailer interchange policy, and backed by the trailer-interchange agreement between the owner-op and the larger carrier's brokerage today.
Non-owned trailer insurance, on the other hand, covers "any trailer my truck is hooked to," Baker said. "Let's say Joel is power-only and working off the DAT load board. Say Joel does a load for J.B. Hunt. They may require a trailer-interchange agreement" for Joel to move that load, in which case to satisfy their requirements the operator needs that trailer-interchange insurance policy, not a blanket non-owned policy.
Yet, to extend the example, say Joel's also hauling loads for a local shipper who owns trailers, among other freight partners. Joel will also want non-owned trailer insurance for those cases in order to cover damage to any trailer he may be liable for, in order to avoid getting sued.
[Related: Don't over-insure your trucking business: 3 coverages you likely don't need as an owner-operator]
While Wayne Timmons believed most policies he'd seen come with trailer interchange built into them, he said that "we also carry a non-owned trailer policy just by chance that we're pulling something that's not under an interchange agreement."
Case in point, he added: Two trailer manufacturers are based "within 20 miles" of Timmons Transit's Arkansas headquarters. "We do some delivery work for their distributors. We work for whoever's buying the trailers" when making those empty deliveries, not under a traditional trailer interchange agreement.
For owner-operators hauling power-only with their authority, the coverage of multiple situations/customers inherent in non-owned trailer makes it preferable as long as specific trailer-interchange agreements aren't required, Baker said. "A general rule of thumb would be to never buy trailer interchange unless you're working with a single customer who requires it."
Kenyette Godhigh-Bell follows that rule of thumb, but noted when she hauled some power-only loads through J.B. Hunt's 360 platform, trailer interchange was required, and could be purchased for the single trip for $15. Some platforms might want more coverage than others, and coverage amounts will vary like a physical damage policy, depending on trailers' worth, your record and more.
Baker ballparked a $1,500-$2,500 added annual premium cost for non-owned on a dry van worth $30K for an owner with a good record, adding that "non-owned and interchange are more expensive than [physical damage coverage of] your own owned trailer. It goes back to the fact that nobody takes care of your equipment better than you do."
With no control of the trailer's maintenance, ultimately, comes added cost.
Trailer interchange would cost you the same as non-owned on the same trailer, he said. If you need both, that's double your trouble in terms of costs.
Stay tuned in the new year for more from Baker on what he's seeing in his insurance agency business with power-only carriers.
The anchor story in this three-part series looking at power-only operations: To own or not to own a trailer: How COVID fast-tracked an explosion in power-only trucking
Associated podcast: 'Power only' as a springboard for owner-operator growth: Tim DeWitt's 34-truck fleet
Read more in the long-running "Niche Hauls" series via this link.