Trucking news and briefs for Wednesday, Jan. 5, 2022:
Diesel prices drop to end 2021
The U.S.' national average for a gallon of on-highway diesel fell by 10.5 cents during December, according to the Department of Energy, to close out a year that saw prices rise by more than a dollar per gallon through the first 11 months.
Fuel prices during the last week of the year, the week ending Jan. 3, averaged $3.613 per gallon across the country, which was 97 cents higher than the same week a year ago.
The national average for a gallon of diesel has dropped for seven consecutive weeks since peaking at $3.734 during the week ending Nov. 15, when spot diesel shortages in a variety of locales were in the news.
Last week saw fuel prices hold mostly steady across the country, with the most significant increase being seen in the West Coast less California, which saw a 1-cent increase; and the most significant decrease being seen in the Rocky Mountain region, where prices fell by 1.7 cents.
The nation's most expensive diesel can be found in California at $4.758 per gallon, followed by the West Coast less California region at $3.927 per gallon.
The cheapest fuel is in the Gulf Coast region at $3.328 per gallon, followed by the Midwest region at $3.477 per gallon.
Prices in other regions, according to DOE, are:
New England – $3.622
Central Atlantic – $3.781
Lower Atlantic – $3.49
Rocky Mountain – $3.687
ProMiles' numbers during the same week saw fuel prices fall by seven-tenths of a cent, bringing its national average to $3.498 per gallon.
According to ProMiles' Fuel Surcharge Index, the most expensive diesel can be found in California at $4.641 per gallon, and the cheapest can be found in the Gulf Coast region at $3.29 per gallon.
[Related: Independents worry fuel prices will keep rising]
Wilson Logistics sells off western division
Ashley Furniture has acquired the western division assets of Springfield, Missouri-based Wilson Logistics. An affiliate of Ashley Distribution Services (ADS) inked the deal Dec. 27. Terms of the financial transaction were not disclosed.
Under the terms of the deal, ADS will also lease Wilson's western terminals. All non-western, U.S.-based Wilson Logistics assets and business are not affected.
The deal will "expand ADS' brokerage and distribution operations in the western United States," Ashley Furniture said in a statement. "We are excited to welcome members of the Wilson team, as we continue to service existing customers and expand upon the strong legacy established by Wilson."
Wilson Logistics has a truckload fleet of more than 1,200 trucks serving the western U.S from terminals in Washington, Oregon, Montana and Missouri. The family-owned company began more than 40 years ago as Wil-Trans and has grown its geography, notably in the Pacific Northwest, and service offerings through the acquisitions of Jim Palmer Trucking, O&S Trucking, RJ's Transportation, Haney Truck Line and Market Transport.
Before the round of acquisitions began in 2014, the company ran a fleet of 175 trucks. It now provides full truckload, heavy-haul and high-cube freight out of multiple locations, which offer yard management services as well. The company also operates dedicated fleets and provides power-only options.
Wisconsin-based parent company Ashley Furniture Industries is the largest manufacturer of home furnishings in the world, with more 20,000 storefronts in 155 countries.
[Related: How COVID fast-tracked an explosion in power-only trucking opportunities]
Financial Carrier Services acquired by TBS
TBS Factoring Service, headquartered in Oklahoma City, has acquired Charlotte, North Carolina-based Financial Carrier Services. The acquisition will provide a wider array of services to current and potential clients of both companies, TBS said, and paves the way for future expansion in the transportation and logistics industries.
FCS was founded on the notion that no matter how large or small a trucking company may be, each and every one deserves a great factoring experience. FCS specialized in recourse factoring.
The move comes as TBS is under new ownership with NATF Holdings, with a goal of expanding the TBS footprint in transportation industry with mergers and acquisitions. Among the tools now available to TBS clients is an end-to-end fulfillment service platform that simplifies and streamlines the fulfillment process, using advanced algorithms to save users up to 40% of their time previously wasted on manual processes.
As TBS grows, the company said, more benefits, services, and solutions will open up to current and potential clients.
Driver recognized as Highway Angel for helping fellow trucker after accident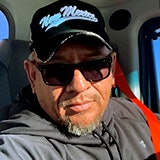 The Truckload Carriers Association has named Alfonso Archuleta, from Albuquerque, New Mexico, a Highway Angel for stopping to aid a FedEx driver whose double trailer overturned into a ditch.
One early morning in August, Archuleta was traveling on Highway 54 near Stratford, Texas. The sun was coming up, making things a bit hazy as it had just rained. Suddenly, he saw a truck up ahead, laid over on its side, in the ditch. It was a FedEx truck pulling a set of doubles that had passed him a bit earlier. Archuleta immediately pulled over and grabbed a pair of rubber gloves. "You never know what you're going to find," he said. He ran to check on the driver. "I asked him if he had any broken bones and he said no."
At about the same time, an off-duty volunteer firefighter pulled up and helped Archuleta get the driver out of the truck.
"The driver was really upset," he said. "He said he had just gotten over COVID and this was his first day back. He didn't know what had happened and must have blacked out."
Archuleta went to look at the back of the trailer to see if there were any hazmat placards.
"He had corrosive on," he said. "We got the paperwork out to give to the fire department when they arrived and saw that he was hauling batteries."
Thankfully, the driver seemed to be okay. "He was just really upset that he turned the truck over," Archuleta said. "I told him that as long as he was OK, not to worry about the truck."
For his willingness to help, TCA has presented Archuleta with a certificate, patch, lapel pin, and truck decals. His employer, ABF Freight System, also received a letter acknowledging its driver as a Highway Angel.