Trucking news and briefs for Thursday, April 7, 2022:
Truckstop.com launches new rate tool
Owner-operators using the Truckstop.com load board can now utilize the Truckstop.com Rate Insights tool in negotiations. The tool uses some machine learning and artificial intelligence elements to provide what the company calls "accurate, same-day" rate estimates at the load level.
The company says Rate Insights comes standard with Load Board Pro and Premium subscriptions, providing standalone accessibility for shippers, and API access for all customers. This more advanced rate tool feature is available within the freight matching web and mobile apps. Carriers, brokers and shippers can access daily market rates specific to load attributes, including equipment type, location and dates.
Other features include:
Rate estimate — See specific rates based on unique load attributes
Rate comparison — Benchmark the posted rate against a data-driven estimated rate
Four-week trend — See spot rate trends over four weeks
Thirty-six-month trend — See spot rate trends over 36 months
Available this month for new and existing customers, Rate Insights will enable Truckstop.com subscribers to post and negotiate competitive rates. It is available on desktop and in the new Truckstop.com mobile app, Truckstop Go, as both a load rate estimate and general rate insight tool for lane analysis.
First 2027 CARB regs-compliant diesel engine enters fleet service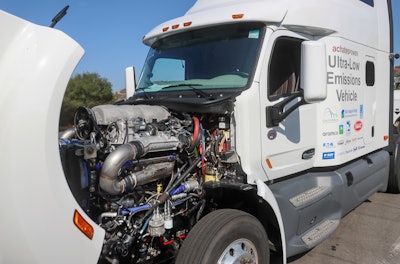 Achates Power has announced that the heavy-duty diesel engine it developed in a project funded by the California Air Resources Board (CARB) and several partners has entered fleet service with Walmart in a Peterbilt 579 tractor.
The company says this is the only diesel engine operating on the road capable of meeting CARB's 2027 regulation, which requires a 90% reduction in emissions of nitrogen oxides (NOx) compared to current standards.
The project team also demonstrated that the engine, known as a heavy-duty opposed-piston diesel engine, reduces carbon dioxide (CO2) by 10%. The Achates Power ultra-low-NOx engine is engineered to achieve superior fuel efficiency because of its lower heat losses, improved combustion and reduced pumping losses, the company said.
Achates noted the cleaner engine is able to deliver ultra-low NOx by managing exhaust gas temperatures and by maintaining aftertreatment temperatures at optimum operating conditions in all driving conditions.
Said Dave Crompton, President and CEO of Achates Power, "It is particularly noteworthy that we were able to achieve the extremely stringent state NOx limits without any additional emissions control devices, reducing cost, complexity, and compliance risk of ultra-low-NOx powertrain solutions."
The opposed-piston engine can use existing manufacturing facilities, processes and materials to allow rapid time-to-market and deployment, the company added. It is expected to cost less than current engines, even as it meets much more stringent environmental regulations. It does not require any additional emissions control devices and has a reduced part count compared to conventional engines.
Additionally, Achates Power is conducting further testing with a fully aged catalyst (the equivalent of 800,000 miles of operation) to demonstrate continued ability to meet CARB's stringent standards.
[Related: Nearly 80,000 trucks could be barred from operating in California at year-end]
Boss Truck Shop opens new Kansas location
Boss Truck Shop announced Thursday the opening of a Boss Truck Shop full-service truck repair, maintenance and tire shop location in Edgerton, Kansas, at Exit 205 on I-35, located at the TA Express Travel Plaza. The Edgerton shop will also offer roadside assistance services and is connected to the Boss Truck Shop network with a dedicated 24/7 call center.
The Edgerton location brings the total number of Boss Truck Shop locations to 47 in 23 states.
The Edgerton shop is equipped with three indoor bays to perform services including preventive maintenance, computerized engine diagnostics and engine repair.