Trucking news and briefs for Wednesday, April 27, 2022:
Optimism on performance in the face of adversity: Latest spot volume and rates metrics, survey
Final results from a Truckstop.com / Bloomberg survey of small fleets and owner-operators conducted in the first quarter of 2022 show carriers optimistic about growth in volume and rates this year, despite rising fuel and equipment costs that are squeezing profitability. "Bullishness has stayed at a historical high level for carriers, despite recent spot-market volatility," said Lee Klaskow, senior freight transportation and logistics analyst at Bloomberg Intelligence. "The past three months have been a tale of the haves and have-nots when it comes to volume growth. Load growth could trend higher sequentially into May, providing some support to spot rates."
Such support began to come within the last week, with total load postings in Truckstop.com's load board rising by 8%, according to the most recent spot market activity report from the board and FTR Transportation Intelligence.
At once, volume, measured as load posts, was nearly 24% below the same 2021 week but 83% above the five-year average for the week. Load availability was up week over week in all regions except for the Northeast, where volume was relatively flat.
Rates continued their slide in reefer and dry van markets. Reefer spot rates fell nearly 13 cents/mile for the largest drop since January. Since that time, reefer's down about $1.20 after hitting a record at the end of 2021. Van rates lost nearly 7 cents, meanwhile, down 63 cents from end-of-2021 peaks.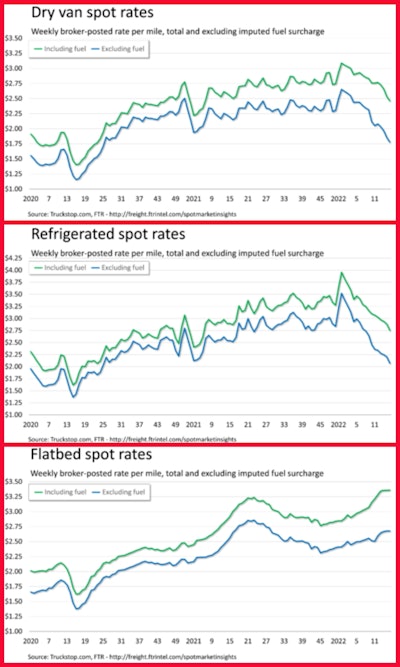 The Bloomberg/Truckstop.com survey offered further measures of confidence among more than 120 carrier respondents:
Owner-operators remain optimistic about demand: About 72% of respondents expect load growth over the next six months vs. 71% in Q4 and Q1 a year ago. Reefer haulers were most optimistic, followed by flatbed carriers who are benefiting from a strong housing market.
Fewer were optimistic when looking at rates: About 55% of respondents expect underlying spot rates (excluding fuel estimates) to rise in the next six months. That's compared to 59% in the prior quarter. 14% expect rates to decline over the next 3-6 months and about a third of respondents expect rates to slowly moderate.
More carriers are hauling fewer loads: Despite widespread reports of demand decline, truckload spot demand actually rose 4.3% year-over-year in the first quarter, based on the Bloomberg | Truckstop.com survey, a seventh straight quarterly gain. Median volume growth was closer to flat, given the wide divide between those carriers experiencing growth and those not moving as many loads. About 37% of respondents hauled more loads vs. the first quarter last year. About 32% recorded a drop.
Rising fuel costs are a huge concern for carriers: About 56% of carriers said that higher fuel costs are trucking's biggest challenge. Lower rates are the second-biggest concern in 2022 at 21% of the sample, followed by the weakening economy (16%). Despite these concerns, about 69% of those surveyed anticipate the truckload market will remain tight this year.
[Related: Diesel prices back on the rise | Overnight I-10 lane closures]
Propane hauler shut down by FMCSA after crash, blowing 5x legal BAC limit
The Federal Motor Carrier Safety Administration has effectively shut down Pennsylvania-licensed truck driver Elwood M. Roberson, ordering him to immediately cease operating any commercial motor vehicle in interstate commerce.
On Feb. 11, 2022, Roberson was operating a truck hauling propane, a hazardous material, on River Road in Manor Township, Pennsylvania. FMCSA said he crossed the center line of the road and side-swiped an oncoming vehicle.
He was then taken into custody and administered a blood alcohol test by the Manor Township Police Department, which returned a blood alcohol content of 0.21, more than five times the 0.04 legal limit for CMV drivers.
Under the Federal Motor Carrier Safety Regulations, drivers with a CDL are subject to a variety of prohibitions on use of alcohol prior to and while driving CMVs, including a prohibition on using any alcohol within four hours of driving and a prohibition on driving with an alcohol concentration of .04 or greater.
Roberson is now listed as prohibited in FMCSA's Drug and Alcohol Clearinghouse and faces possible criminal charges in Pennsylvania.