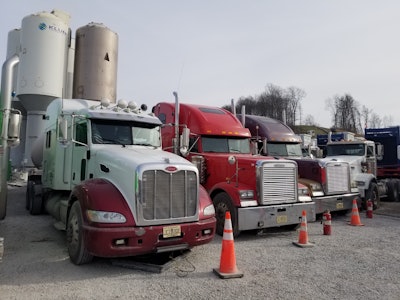 The oilfield segment of trucking is as diverse as the trucking industry itself. With flatbeds hauling equipment, liquid bulk tankers hauling water and crude, pneumatic tanks hauling frac sand and more, opportunities are many and varied in oilfield work.
It's not an easy niche to break into, however, and while the rewards can be great with generally higher rates than other segments of the industry, there's plenty of risk involved, too.
Swings in the oil and gas markets lead a "feast or famine" dynamic for many trucking companies working the oilfields. Small fleet owner Frank Bowman, whose four trucks haul frac sand leased to One More Load Trucking, summed up oilfield work as being like a roller coaster. "When it's good, it's great," he said. "When it's bad, it's terrible."
Yet with oil prices on world markets staying around $100 per barrel in recent weeks, work on the crude oil side of the oilfield is "blowing and going, full steam ahead right now," said Clayton Driskill, an owner-operator based in Montgomery, Texas, outside of Houston. Driskill's done oilfield trucking work for about 90% of his 24-year trucking career.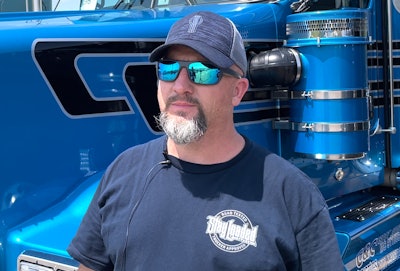 He started off hauling casing and tubing for the pipes going into the ground at oil wells, and later transitioned to hauling directional drilling tools -- both a part of the completion process. He got out of oilfield work in 2020 after the company he was leased to cut ties with his business during COVID, but he's kept tabs on the oilfield industry and has considered jumping back in.
Driskill said he enjoyed the work and how lucrative it could be, but the day-to-day uncertainty has at times made it an "emotional roller coaster" to navigate
"You might be making a real good living," he said, "then they drop the price of oil to $20-30 a barrel. I've even seen it go to $0 [in 2020]. You never know what your income is going to be."
[Related: When oil per-barrel pricing went negative, and owner-operators waited out COVID's lockdowns]
The Energy Information Administration's most recent short-term forecasting predicted per-barrel crude pricing above $90 for both this year and next, yet the near-term opportunity picture is decidedly mixed when it comes to the hauling work associated with various stages of oilfield activity -- completion, production and midstream. The completion stage is when all the drilling activity takes place before a well goes online to produce. As owner-operator Driskill suggested, working on the completion side of the oilfield is generally the most lucrative, but it's also the most exposed to market dynamics.
The production phase begins after the wells are completed and is when the gas or oil is being produced. The midstream stage is the transporting of oil and gas that ends up getting sold to consumers.
John McGee, owner of Louisiana-based, 17-truck John McGee Trucking, has long been in the production side of the oilfield business hauling wastewater from natural gas production wells in Louisiana, Texas and Arkansas. He noted that since the winter season started for his natural gas-related business in October or November last year, he's had to turn down as much work as he's taken on.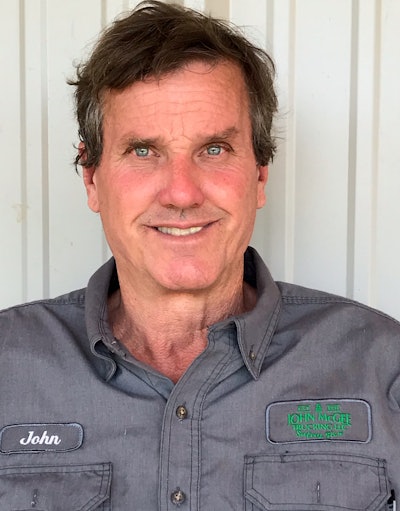 "Some wells are considered borderline, where there has to be a price point that they're not worth producing at," he said. "There are also costs to shutting a well in and starting it back up. They may reduce it to a minimum flow to keep it flowing, to keep it from seizing up on them."
Since late last year, though, that hasn't been the case, McGee noted. "What they've done -- and this predates [the Russian invasion of Ukraine] – as [natural] gas prices started to accelerate before Christmas, all our wells are wide open. It's to the point now where we're turning down as much work as we're able to do."
McGee said about 75% of his company's work is in production, with around 20% in midstream and the other 5% on the completion side of the business.
"Completion can spike basically based on the news of the day, whether or not they bring rigs back into production, or if they take them out," he said. "It's hard to get a good workforce. You can work 70 hours a week easy when things are wide open. But when it peters out, you're down to stretching to get 24 to 30 hours, and it's hard to make a house payment or send your kids to school with that type of fluctuation."
McGee said that's the biggest reason he's kept his fleet more focused on the production stage of the oilfield. "It's a little bit more stable and reliable," he said.
When the wells are fully open like they have been recently, McGee's fleet goes from roughly 85 loads a day to 130-140 a day. "At some point, you have to tell them you can't do it by yourself," he said. "We've been in that boat since October or November."
[Related: Growth and driver pay benefit as Golden Rule shines at John McGee Trucking]
Yet Bowman said in the Northeast he hasn't seen fracking companies increasing production, and since the Russia-Ukraine war started, "it's like somebody turned the switch off," he said, in demand for frac-sand work there. "We've stayed busy, steady, for a couple years now. Once [Russia-Ukraine] got going, we seemed to have slowed down. The price of oil went up 40%, and we slowed down."
He added that backups in rail freight have made sand hauling a little "spotty" recently, as well. Rail moves a lot of the sand that fracking companies use, and supply chain delays are affecting sand like most other commodities.
Caldwell, Texas-based Equipment Express, owned by Truett Novosad, hauls pipeline equipment on the completion side of oilfield business, and unless a project is canceled in its tracks like the Keystone XL pipeline, it's pretty easy to predict when there will be work.
"We're usually about a 24-month lag in the pipeline side of the oilfield," Novosad said. "To put in a pipeline, [oil companies] have to start with the government and get all the permits," including rights-of-way leases from landowners along the pipeline's route and much more. After that process is finished and the drilling companies break ground, "that's when we get involved."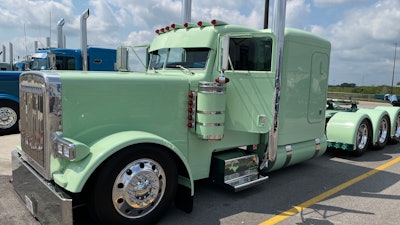 The 11-driver, 15-truck Equipment Express fleet hauls nationwide, carrying equipment to clear the rights-of-way, to lay the pipe and put the pipe in the ground, to well the pipe up and cover it and maintain it.
"We can forecast to a certain point, but it can obviously stop overnight like the Keystone did," he said.
He noted that while most of his business wasn't really affected when the Biden Administration took office, the production side "really slowed down" in early 2021.
"They were only doing what had to be done because they couldn't tell where everything was going," he said. "When we became energy dependent instead of energy independent, things started to pick back up. Now they're drawing the reserves out, and they know we'll have to fill the reserves back up."
Those dynamics could bode well for all facets of oilfield-related work, though time will tell. In the remainder of this package of features, part of Overdrive's long-running "Niche Hauls" series of close looks at hauling areas where owner-operators are particularly well-represented, find insight on how to get involved in oilfield hauling work, cost considerations when it comes to maintenance and other areas, and the variability in operations, depending on the stage of oil production supported.
Read next: How to jumpstart a career trucking in oilfield services
Also in this package:
**Oilfield hauling: Strategies to mitigate maintenance costs, high given on-/off-road nature of much of the work
**'Rough and tough' isn't always part of the oilfield hauler's job description