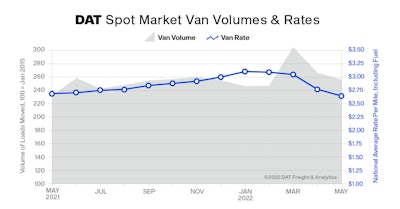 Truckload freight volumes declined for the third straight month in May, as the average rates to move dry van freight on the spot market dipped to $2.69 per mile, and less than $2 per mile when you excluded an average estimated fuel surcharge. That's the lowest rate since July 2020 for van, said DAT Freight & Analytics, operators of the DAT iQ data analytics service.
The spot reefer rate was $3.06 per mile, down 7 cents, and the flatbed rate added 3 cents to $3.44 per mile.
DAT's May Truckload Volume Index (TVI) for dry van freight was 256, 3.7% lower compared to April, while the reefer TVI was 190, also down 3.7% month over month. Flatbed TVI was 240, though, representing a 4.8% increase.
From a volume standpoint, though rates continue softening, May TVI was 10% higher compared to last May for van freight, 11% higher for reefer and a whopping 29.7% higher for flatbed loads. Demand for truckload services was thus strong relative to May 2021 and the overall number of loads on the spot market increased.
Shippers are seeing better routing guide compliance as carriers cover more freight under contract compared to the same period last year, tamping down rates in the spot market.
Prices paid by shippers to move contracted freight hit record highs in May. Van freight averaged $3.29 per mile all-in, up 3 cents compared to April, while the average contract reefer rate was $3.56 a mile, up 11 cents. The flatbed rate jumped 7 cents to $3.84 a mile.
Spot load-posting activity increased by 14% in May over April, as seasonal retail goods, fresh produce, construction materials and other freight moved through supply chains. Truck posts declined 2.3%.
The national average van load-to-truck ratio demand indicator showed positive signs, generally speaking, too, increased from 3.4 in April to 4.4. The ratio was the second-highest on record for May. The reefer load-to-truck ratio was 7.5, up from 6.3, while the flatbed ratio was generally flat.
More recently, FTR Transportation Intelligence's spot-market report in collaboration with the Truckstop.com load board network showed market pressure moving generally in truckers' favor in the last week, but a mixed bag otherwise on rates.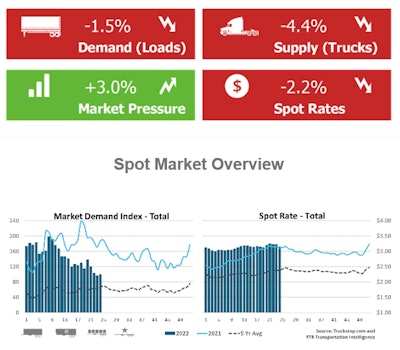 Flatbed spot rates, which since the beginning of the year have lost the least heat of all three major segments, took something of a dive on average, considered nationally, said Truckstop.com and FTR. They fell 8.5 cents, the largest single-week drop since the April 2020 contraction, aside for a week in November last year.
Flat rates are nearly 8% above 2021 levels but nearly 6% lower than that week if an imputed fuel surcharge is excluded. Flatbed load postings decreased 5.5%. Volume was nearly 31% below the same 2021 week but about 40% above the five-year average for the week.