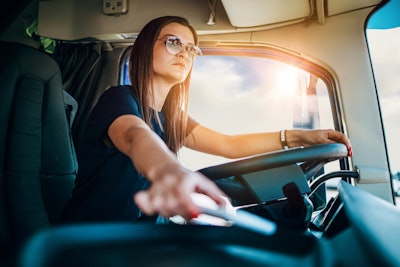 As of July 26, 2022, the Federal Motor Carrier Safety Administration allowed carriers to register and participate in the Safe Driver Apprenticeship Pilot Program, a combined effort with the Department of Labor that acts on the 2021 Bipartisan Infrastructure Law's mandate to explore allowing younger drivers to operate interstate.
The FMCSA proposed such a program as far back as September 2020, and now its time has come. Under the pilot program, carriers can register as apprenticeships with the DOL and recruit under-21 drivers to drive commercial vehicles interstate.
The program seeks to provide the trucking industry with access to a younger driver pool, and allows drivers under the age of 21 to operate beyond state lines while keeping safety in focus by requiring specific training actions, supervision, and reporting.
While the program seeks to attract a diverse group of participants from small, medium and large trucking companies, it does require carriers to overcome some administrative hurdles, which only carriers in very good standing can overcome. There's also staffing and equipment requirements, so without an experienced driver who is game to do some training on hand, driver-facing cameras and automated transmissions, carriers can't participate.
[Related: DRIVE Safe Act becomes law: Here's what motor carriers need to know]
Carriers who go through the steps and become a recognized apprenticeship program will gain access to an outperforming group of workers and potentially tax credits as well. And, if a carrier does recruit an apprentice driver to the program, that apprentice driver is – for a variety of reasons, both structural to the law and incidental – more likely to stick with the carrier until the completion of the program, which could be as late as July 2025.
How it works: Step one – apply with the FMCSA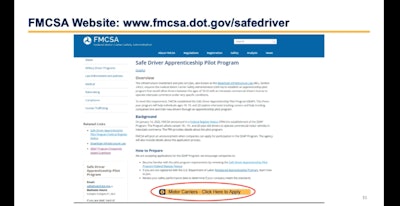 To initiate the process, simply input the USDOT number and other basic information about the business, including carrier name and a point of contact and address, and answer some questions about fleet size, CDL classes used, driver turnover rate, states of primary operation and proof of insurance (insurance for under-21s discussed in more detail later).
In an effort to get the most diverse and realistic dataset from the pilot program, FMCSA is looking for all types of carriers around the country, as well as different pay structures and ranges of annual miles traveled.
Safe Driver Apprenticeship Pilot Program requirements
Below are the carrier requirements to participate in the pilot program. Note that to calculate a carrier's crash rate and driver and vehicle OOS rates, FMCSA uses the 2021 national averages and will use these averages throughout the program until it concludes in July 2025. FMCSA will admit a maximum of 1,000 carriers to the program and a maximum of 3,000 apprentice drivers.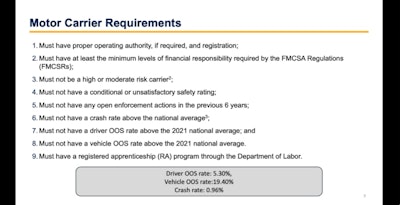 Furthermore, FMCSA requires carriers put forward only apprentice drivers with a clean record. The apprentice driver must have a CDL and be in good standing, among other requirements.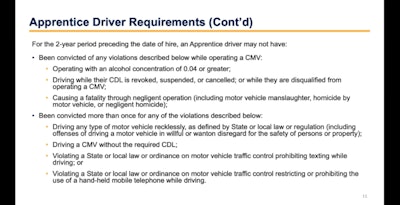 Experienced drivers accompanying a trainee in the program during supervisory periods must meet the following criteria:
At least 26 years of age;
Must have held a CDL for the two-year period ending on the date on which the individual serves as an supervisory driver;
During that two-year period, must have had no DOT-reportable, preventable accidents or pointed moving violations;
Must have a minimum of five years of experience driving a CMV in interstate commerce.
Finally, the carrier must provide vehicles that meet FMCSA's safety standard, which is notably more rigorous than what the Bipartisan Infrastructure Law requires in that it lists in-cab, driver-facing cameras as required. All trucks used within the program must include:
An automated-manual or automatic transmission;
An active braking collision mitigation system;
A forward-facing video event capture system and a driver-facing camera;
And a governed speed of 65 miles per hour at the pedal and under adaptive cruise control.
Carriers can install additional safety devices and govern the trucks slower than 65 mph should they choose to, an FMCSA representative said.
How to train an under-21 driver
Carriers that meet the above requirements and successfully apply to the program must put the apprentice driver through a 120-hour probationary period and a 280-hour probationary period at minimum.
During the 120-Hour Probationary Period, the employing motor carrier must ensure the apprentice:
Completes 120 hours of on-duty time, with at least 80 hours of driving time in the CMV supervised by an experienced driver in the passenger seat.
Is competent in each of the following areas: interstate, city traffic, rural two-lane and evening driving; safety awareness; speed and space management; lane control; mirror scanning; right and left turns; and logging and complying with rules relating to hours of service.
During the 280-Hour Probationary Period, the employing motor carrier must ensure the apprentice:
Completes 280 hours of on-duty time, with at least 160 hours of driving time in the CMV supervised by an experienced driver in the passenger seat.
Is competent in each of the following areas: backing and maneuvering in close quarters; pre-trip inspections; fueling procedures; weighing loads, weight distribution and sliding tandems; coupling and uncoupling procedures; and trip planning, truck routes, map reading, navigation and permits.
Also, the apprentice driver can only drive a truck in a standard configuration, so no hauling doubles or triples. The apprentice can't transport passengers, hazardous materials or loads over 80,000 lbs., nor can they gain endorsements for such.
The carrier will report safety data on the apprentice driver to FMCSA on a monthly basis, and FMCSA may terminate any apprenticeship or the program itself at any point if it deems that action in the interest of public safety.
"As you all know, safety is the FMCSA's middle name, so if at any time a driver or motor carrier is not operating safely, we do have the opportunity to remove them or the whole program. We have the authority to halt the driver pilot program," said Nikki McDavid, FMCSA's CDL division chief.
The FMCSA will grant approved apprentice drivers a letter exempting them from the "K" restriction against interstate travel on their CDL, and all relevant law enforcement will have access to a verifiable list of drivers given such an exemption. The apprentice driver must carry this letter on their person the entire time they're operating interstate.
Once carriers get approved to the program, the FMCSA will hold a mandatory webinar on the finer points and more technical aspects of carrying out the apprenticeships.
[Related: The feds want trucking apprenticeships: How does an 'Owner-Operator Mentor Academy' sound]
Step two, become a registered apprenticeship
Motor carriers can apply to the program before they become a registered apprenticeship with the DOL, but they must complete that process before getting approved. In a public information session held jointly with the FMCSA, DOL touted the benefits of registered apprenticeships: boosting retention and employee loyalty, boosting diversity and inclusion and potentially enabling access to federal funds and tax credits.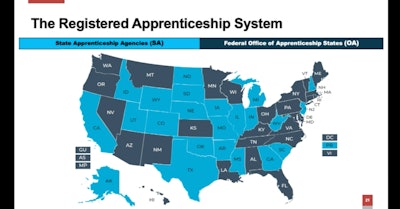 Additionally, drivers under 21 participating in the program can't drive interstate for any company other than a participating motor carrier, and the DOL boasts a retention rate of 92% for participants in registered apprenticeships broadly. Basically, DOL said, carriers recruiting a young driver to its program ought to be able to count on them staying around as they complete their training.
Participants do not officially graduate from the program, they only age out. That is to say that any driver under 21 operating interstate with a letter of exemption from the FMCSA is only able to work at other SDAP participant carriers, and if they leave, their exemption is revoked.
Even if the apprentice driver completes both probationary periods, they cannot apply for hazmat or overweight endorsements until they reach 21 and become full interstate-authorized CDL holders.
The DOL stressed that registered apprenticeship programs represent a "great, successful model for a number of reasons."
"We know it works and we want to increase its uses to grow the economy and provide equitable career pathways and increase diversity, equity and inclusion goals," said Jamie Bennett, of the DOL's Office of Apprenticeship. Bennett pointed out that the average starting wage following DOL apprenticeship is $72,000, that apprentices on average earn $300,000 more than their peers over their lifetimes, and that companies in all industries use apprenticeships. More than 10,000 apprentices currently work in every facet of the trucking industry, she said.
Motor carriers with training programs looking to become registered apprenticeships, a requisite step for SADP participation, can access DOL industry intermediaries like Fastport, which will pair the companies with streamlined processes for becoming apprenticeships and access to federal and state funding or tax credits where available. Carriers with questions can email [email protected] or visit nationalapprenticeship.org.
Insuring under-21 drivers
The FMCSA addressed the challenges in insuring drivers who are under 21 to operate interstate by saying that carriers could apply first, then seek information later.
"We know there are companies ready to insure younger drivers," said Nicole Michel, of the FMCSA's Office of Research, "and we encourage you to work with your insurance company and to talk to other insurance companies, but you can apply though us before you have this POI and we can follow up on that later."
FMCSA does not offer any funds or credits to cover insurance premiums for younger drivers, and the carrier will bear that expense.