Trucking news and briefs for Friday, Aug. 5, 2022:
Overhaul warns of new cargo theft methods in Southern California
A cargo theft crew in Southern California has developed new methods in the "strategic theft" category that involve posing as legitimate carriers, and continues to be "highly active," according to a press release from Overhaul, a freight visibility company.
Overhaul said the same crew had some of its members arrested in May of this year, and that they target "electronics and other in-demand products," and typically strike just before the weekend to make sure more time passes before victims realize what has happened.
"This crew uses strategic methods to steal shipments, arriving as a double- or triple-brokered carrier with drivers that have stolen or otherwise falsified CDLs," Overhaul said. "They will operate as a legitimate carrier, frustrating investigative and recovery efforts until the cargo is transloaded into a different trailer and stolen. If an investigation into noncompliance events is attempted, plausible excuses are fabricated. For shipments without compliance monitoring, these thefts will go unnoticed until the shipment fails to arrive at its destination or comes with significant product missing."
Thefts are typically scheduled so that the pickup and delivery are separated by a weekend, allowing for more non-business hours to stage and transload the shipment, Overhaul said.
Red flags Overhaul said that indicate a shipment should not be given over to a driver include:
CDL photo that don't match the driver (ask for alternate forms of ID)
Temporary signage or recently-painted-over logos on a tractor and/or trailer
Nuts instead of rivets on trailer seal hasps
Temporary (paper) or missing license plates and drivers' licenses
Any mismatch between the carrier's USDOT number and safer.fmcsa.dot.gov information
Overhaul warned people to be especially careful to look out for carriers that have any affiliation with two separate companies, currently not authorized Janjua Transport of Bakersfield, Califonia, or "A&P Freight-lines," Overhaul said. An A&P Freight Lines listed in Merced, California, and currently authorized, has a recent-years history of insurance cancelation/authority revocation and reinstatement in FMCSA's Licensing and Insurance portal. Overdrive contacted A&P Freight Lines but did not receive comment. This post will be updated with any future comment.
If any of the above red flags are present, the Overhaul company recommended "no shipments should be brokered to that carrier" or associated carriers.
Previous reporting from Overdrive dove into how many cases of cargo theft stem from inside jobs, or simply drivers oversharing information, among other scenarios. Read how to keep yourself safe in all your business dealings here.
Drivewyze integrated into Verizon Connect
Weigh station bypass service Drivewyze has partnered with Verizon Connect to provide Verizon Connect Reveal customers with integrated access to Drivewyze weigh station bypass and Drivewyze Safety+ services.
With this integration, Verizon Connect customers can access Drivewyze through the Verizon Connect marketplace, allowing vehicle and driver data to automatically sync to Drivewyze applications, simplifying the onboarding process and delivering real-time bypass opportunities to Verizon Connect customers while improving the driver experience.
With Drivewyze PreClear weigh station bypass service enabled, Verizon Connect customers can receive bypass opportunities at more than 800 locations in 45 states and provinces. Since no transponders are required, activation of Drivewyze on the Verizon Connect platform can be done quickly, with bypass information displayed on smartphones or tablets.
Once activated, driver and vehicle data from Verizon Connect are automatically synced to Drivewyze and consolidated with additional data points, like safety scores and registration, and transmitted to the weigh station. This information is then calculated against the bypass criteria established by the state or province. If the carrier and vehicle pass the criteria, at one mile out, the driver receives permission to bypass the site on their mobile device. The better the fleet's safety score, the more bypasses typically granted.
Subscribers to Drivewyze PreClear weigh station bypass can also activate Drivewyze Safety Notifications, a free service that provides safety notifications for high rollover areas, mountain corridors, and low bridges. In addition, fleets can subscribe to Drivewyze Safety+, an extension of Drivewyze Safety Notifications, which provides fleets and drivers with additional safety notifications and back-office tools for fleets to create their own customized driver alerts, plus offers safety analytics to monitor driver behavior and driver coaching.
[Related: A $21K overdue bill for ELD service never used]
Women in Trucking seeks award nominees
The Women in Trucking Association and Daimler Trucks North America are seeking nominations for the 2022 Influential Woman in Trucking award.
The award was created more than a decade ago to honor women in transportation who make or influence key decisions in a corporate, manufacturing, supplier, owner-operator, driver, sales or dealership area. Nominees must also have a proven record of responsibility and mentorship, and serve as a role model to other women in the industry.
"Women continue to make their mark in the trucking industry," said Ellen Voie, president and CEO, Women in Trucking. "It is a privilege to share their stories and inspire others through this award."
Nominations will be accepted here through Sept. 20.
The winner will be announced at the WIT Accelerate! Conference & Expo held in Dallas, Texas, Nov. 13-16. Each finalist will be asked to serve as a panelist for the Influential Women in Trucking panel discussion on Nov. 15.
Driver named Highway Angel for helping fellow trucker, extinguishing fires after crash
The Truckload Carriers Association has named Augustine "Gus" Corona, from Corpus Christi, Texas, a Highway Angel for rescuing a fellow truck driver in a crash and extinguishing three fires related to the accident. Corona drives for Melton Truck Lines based in Tulsa, Oklahoma.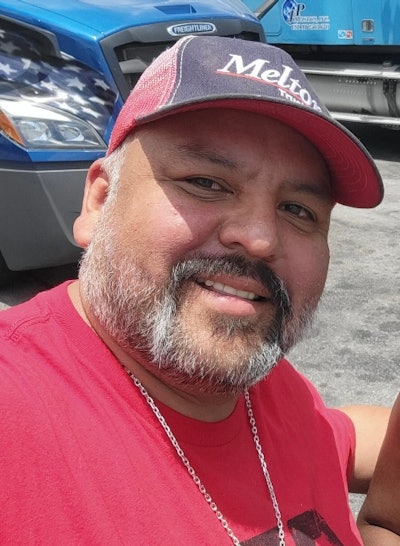 On June 11, Corona was driving on Highway 26 in South Carolina when a truck traveling in front of him began bobbing back and forth. The road narrowed and had cement barriers. Suddenly, Corona watched as the truck turned over on its passenger side.
"The container (on the back of the truck) must have hit the median," Corona said. He then safely pulled over and ran to the overturned truck, where he found a female driver inside.
"I see a lady in there, and I told her we have to get you out of here," he said.
Within moments, he had helped to pull her from the truck and to safety. To his amazement, the woman suffered minor injuries like scrapes, cuts and bruises. Once he knew she was safe, he noticed there were three fires ablaze as a result of sparks flying from the truck crash.
Corona quickly grabbed his fire extinguisher and combatted the fires before they grew out of control.
A member of the U.S. Air Force for 24 years, he credited his quick thinking and efforts to his military and medical training. "My instincts kicked over," he said, explaining he received extensive preparation in the Air Force for accidents and unexpected situations. After the accident scene was cleared by police and emergency personnel, Corona drove the crashed truck's driver to meet up with her family.
Since the accident, the drivers have stayed in touch. To show her gratitude, the truck driver whose rig crashed plans to name her new dog "Gus" in honor of him.
TCA has presented him with a certificate, patches, lapel pin, and truck decals. The company has also received a letter acknowledging him as a Highway Angel.