Trucking news and briefs for Friday, Aug. 19, 2022:
IRS reminds truck owners of Aug. 31 Form 2290 deadline
The Internal Revenue Service is reminding truck owners that it's time to file the Form 2290, Heavy Highway Vehicle Use Tax Return.
The IRS said it "strongly encourages using e-file and filing before the payment deadline of August 31, 2022, for vehicles first used in July 2022."
Owners that have a highway motor vehicle with a taxable gross weight of 55,000 pounds or more registered in their name must file Form 2290 and pay the tax. However, on vehicles they expect to use for 5,000 miles or less (7,500 for farm vehicles), the IRS said, they're required to file a return, but pay no tax. If the vehicle exceeds the mileage use limit during the tax period, the tax becomes due.
The filing deadline is not tied to the vehicle registration date. Taxpayers must file Form 2290 by the last day of the month following the month in which the taxpayer first used the vehicle on a public highway during the taxable period, regardless of the vehicle's registration renewal date.
For most longtime owner-operators, given vehicles have been in service starting in July, when the taxable period begins, the deadline is August 31. Trucks added later and used on a public highway must file Form 2290 and pay the appropriate tax prorated for the months during which it's in service. IRS.gov has a table to help determine the filing deadline. The tax is essentially a pre-paid tax, so the tax due Aug. 31 is to cover July 1, 2022, thorough June 30, 2023.
[Related: 2290 tax filing season opened July 1. Here's how to get ahead of the deadline]
Apex Capital factoring firm outage caused by malware attack
Since Monday, Aug. 15, Apex Capital has been experiencing a system outage, which the company has since confirmed to have been caused by a malware attack.
In a statement published Wednesday, Apex Capital President Chris Bozek said the company is "continuing to work around the clock to get our systems back online."
Bozek noted that "core systems and client databases remain intact, and we are successfully bringing our processing back online. However, this continues to be a slow process."
In a comment posted by the company on Facebook Friday morning, Apex said it doesn't currently have an estimate for when its mobile app or online portal will be back online, "but we are funding clients as quickly as possible and receiving fuel payments. We will send an update as soon as we have one."
Bozek noted in his Wednesday statement that he felt it was "important to understand that Apex remains financially strong. Our employees continue to work diligently to process invoices and fund our clients. Despite these trying circumstances, we are doing our best to provide you the best service possible. We can still be reached by phone or email, but we are experiencing higher than usual call volumes and email messages, which means our responses might take longer than you're accustomed to."
Women in Trucking giving away truck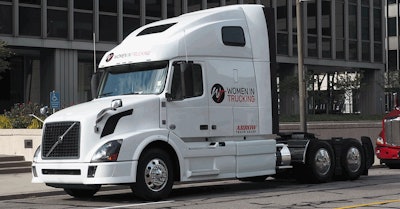 The Women in Trucking Association has announced its second truck giveaway in partnership with Arrow Truck Sales of Kansas City, Missouri.
On March 31, 2023, five years after the first truck giveaway, Ellen Voie, president and CEO of WIT, will hand the keys over to another professional driver. The giveaway will take place at the annual "Salute to Women Behind the Wheel" event at the Mid-America Trucking Show at the Kentucky Exposition Center in Louisville, Kentucky.
The truck that will be given away is a 2018 Volvo VNL670 powered by a Volvo D13 with a Volvo 12-speed I-Shift.
"Handing the keys of a truck to a deserving female driver is one of the highlights of my career," said Voie. "Without the generosity of Arrow Truck Sales, we wouldn't be able to create a new owner-operator who may someday have her own fleet. The truck giveaway will be one of the most exciting events of the year."
Applications for the 2023 Truck Giveaway are open until Nov. 30.
The applicant must be at least 23 years old and hold a valid commercial driver's license and be a member in good standing of WIT before Oct. 31.
To qualify, a driver must complete an application form to verify eligibility and write a short essay on why it is important to attract more women into the trucking industry. Examples of ways the driver has encouraged women to consider a career in trucking will show their support for the mission of WIT.