Trucking news and briefs for Tuesday, Aug. 23, 2022:
Trucking conditions weakened further in June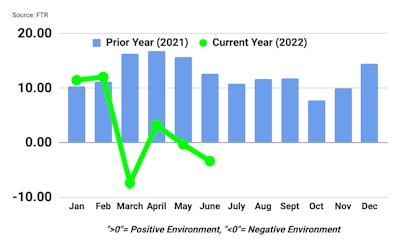 Trucking conditions for carriers deteriorated further in June as fuel, financing costs and freight rates were negative factors, according to FTR.
FTR's Trucking Conditions Index (TCI) fell to -3.36 from -0.3 in May. Before May and June, the TCI had not been negative in consecutive months since April and May 2020.
In addition to negative cost and pricing conditions in June, freight volume and capacity utilization were weaker positive factors than they had been in May.
"We might still see some positive outliers in the TCI -- especially if diesel prices continue to fall sharply -- but the truck freight market has hit an inflection point," said Avery Vise, FTR's vice president of trucking. "Modestly negative readings likely will be the norm rather than the exception, although we are not forecasting that the bottom will drop out. We still expect that freight volume will grow slightly this year and next and that capacity utilization will bottom out above the 10-year average. However, this forecast does not presume an economic recession, so downside risks are substantial."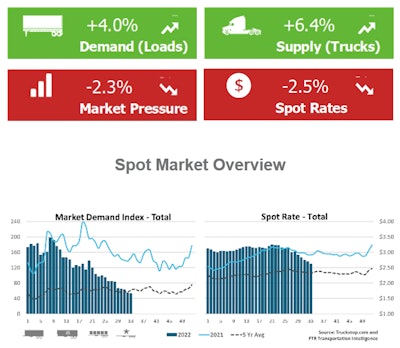 [Related: Key to better freight negotiations: Speak your broker's language through data, market knowledge]
Kenworth recalling certain T680 trucks for potential fuel tank issue
Paccar is recalling approximately 586 model year 2022-2023 Kenworth T680 tractors for an issue that could impact the fuel tank, according to National Highway Traffic Safety Administration documents.
According to the recall, mud flaps on the affected trucks could contact the fuel tank while the vehicle is in motion, creating wear on the fuel tank over time. Excessive wear of the fuel tank could create a fuel leak.
Dealers will inspect the fuel tank and install an anti-sail device to prevent the mud flap from contacting the fuel tank, free of charge. Owner notification letters are expected to be mailed Oct. 3. Owners can contact Kenworth's customer service at 425-828-5888 with recall number 22KWF. NHTSA's recall number is 22V-582.
Loadsmith launches new app for owner-operators
Digital load board Loadsmith announced on Tuesday the launch of its new Loadsmith Driver app, which provides 24/7 access to view every available load in the Loadsmith Freight Network (LFN) and book loads with just a tap.
Available now in the Apple App Store and on Google Play, Loadsmith's Driver App allows carriers to maximize their loaded drive time and income through load scheduling, tracking and billing offerings in the app.
Additionally, by facilitating the transactional tasks of load management, the app gives operators and their Loadsmith carrier manager counterparts more time to discuss business growth opportunities and build stronger relationships, rather than focusing on load transactions.
"With the Loadsmith app, I can plan my entire schedule for the next few weeks, booking every load in advance, which makes my work and my life much more predictable," said Uriel Guizar, CEO at Glo Cargo Inc.
The Loadsmith Driver app allows carriers to:
View all available freight in the LFN in real-time to plan their schedules out weeks at a time, if desired
Book loads directly through the app at the Book it Now price or submit an offer for instant consideration and feedback
Real-Time visibility into every load through Loadsmith's integration with Project44 for automated arrival and departure times with shippers and consignees using Project44 geofencing
Submit proof of delivery (POD) and invoices directly through the app to accelerate payment time. Powered by Triumph Pay, Loadsmith's payment system delivers remittance in less than 48 hours from receipt of invoice with an average of just seven days to pay from date of delivery, the company said.
View a complete history of their work through Loadsmith for tracking and reporting
[Related: Covering your tracks: The brave new world of 'freight visibility']
Mack medium-duty trucks recalled over ECM issue
Mack Trucks is recalling approximately 150 model year 2023 Mack MD Class 6/7 trucks in which the engine control module (ECM) may experience an internal short-circuit, which can result in an unexpected engine shut down.
Affected trucks are equipped with Cummins engines.
Cummins will replace the ECM, free of charge. Owner notification letters are expected to be mailed on Sept. 26. Owners can contact Mack's customer service at 800-866-1177 with recall number SC0438. NHTSA's recall number is 22V-606.
New TA service center opens in South Dakota
TravelCenters of America announced Monday the opening of a new TA Truck Service Center at the TA Express in Summit, South Dakota, off I-29 at Exit 207.
The truck service repair facility offers four service bays, with TA Truck Service Emergency Roadside Assistance available for drivers in need of assistance while in transit.
TA Truck Service has a team of technicians to provide preventive maintenance, computerized diagnostics, tire services, DOT inspections, brake/wheel end and electrical systems services, and oil changes. All TA Truck Service centers provide a selection of parts inventory, oil brands, and a full line of tires from Bridgestone, Michelin and Goodyear.
"As TA celebrates its 50th anniversary year, we are pleased to continue expanding our TA Truck Service network so drivers have more places they can count on while they are on the road," said Brian Lukavich, Divisional Vice President, Truck Service. "We are honored to serve all professional drivers and our ASE certified technicians work hard every day to deliver on our mission of returning every traveler to the road better than they came."