Following nine consecutive weeks of decreases that saw diesel prices fall an average of 90 cents nationwide, the U.S.' national average for a gallon of on-highway diesel jumped by 20.6 cents during the week ending Aug. 29, according to the Department of Energy's Energy Information Administration. The same week, spot rates held fairly flat, though with demand metrics moving slightly in favor of motor carriers.
Diesel's national average is now back above $5 at $5.12 per gallon.
The increase was seen across the country with all regions seeing a rise in prices, but the most dramatic increase was observed in the Midwest, which is home to BP's Whiting, Indiana, refinery that has been shut down since Aug. 24 due to a fire.
Prices increased by 28.2 cents in the Midwest -- the largest increase across the country -- followed by a 20.2-cent increase in the Gulf Coast region.
The U.S.' most expensive diesel can be found in California at $6.20 per gallon, followed by the West Coast less California at $5.30 per gallon.
The cheapest fuel is in the Gulf Coast region at $4.82 per gallon, followed by the Rocky Mountain region at $4.97 per gallon.
Prices in other regions, according to EIA, are:
New England -- $5.18
Central Atlantic -- $5.23
Lower Atlantic $4.99
Midwest -- $5.17
ProMiles' numbers during the same week saw fuel prices increase by 2 cents, bringing its national average to $5.01 per gallon.
According to ProMiles' Fuel Surcharge Index, the most expensive diesel can be found in California at $6.27 per gallon, and the cheapest can be found in the Gulf Coast region at $4.65 per gallon.
[Related: Chicago-area oil refinery shutdown prompts hours of service waiver for fuel haulers]
Spot rates and volumes didn't move much over the course of the week, but on balance demand metrics gained a point or two. That's as illustrated in the FTR Transportation Intelligence and Truckstop.com Market Demand Index tracking metrics nationally.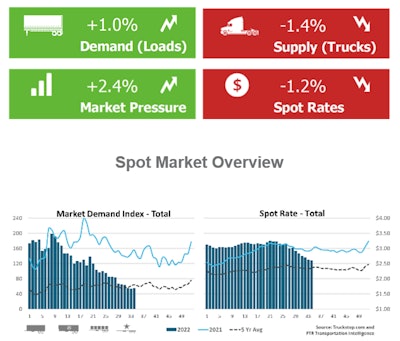 Total load post volumes increased slightly on Truckstop.com, yet that volume was nearly 46% below the same 2021 week and 1.4% below the five-year average for the week, FTR/Truckstop.com noted. Volume was down in the three largest regions by volume, including the Midwest that saw the week's biggest fuel-cost spikes.
At once, load posts jumped on the West Coast by nearly 19%.
Van rates broke a five-week negative streak with a 1-cent/mile rise, reefer declined more than 2 cents and flatbed fell just 4 cents, the smallest platform decline in almost two months.
Other news, in brief:
[Related: Trucking conditions continued negative trend in June | Kenworth T680s recalled]