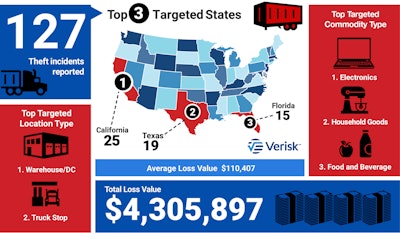 Cargo theft recording firm CargoNet is warning trucking companies that thieves across the country have been targeting expensive and hard-to-find semi-truck computer powertrain control (CPC) modules, which can make trucks undriveable, and a spike in criminal activity is expected over the Labor Day weekend.
CargoNet examined trends from the Thursday before Labor Day to the Wednesday after from 2017 to 2021 and the most activity in this analysis occurred on the Friday before Labor Day or Tuesday after Labor Day. In 20% of events, the property was last known to be secure on Friday and 27% of theft complaints were reported on the Tuesday after Labor Day.
"We can infer that most victims parked on Friday to enjoy the holiday and returned to discover theft of their property on Tuesday," the firm noted.
Thefts were most common at large retail parking lots, truck stops and warehouses. Targeted locations do vary by state though, CargoNet said, as truck stops were a significant risk location in Texas and Florida, but not in California.
Shipments of electronics goods like computers and televisions and household goods like furniture, appliances, and cleaning supplies were the most stolen goods.
As noted in Overdrive's recent report on cargo theft trends and ways to prevent, looking beyond data, operators should take extra care around just where they park the truck, defaulting to well-lit areas, backing up close to another trailer or light pole to make trailer entry more difficult. Use of high-quality locks can reduce theft instances, too.
There's much more. Read about the rise of so-called "strategic theft" and more via this recent report: