This profile is one of three features profiling small fleets/independents who've brought on one among several relatively new TMS platforms to help manage the business. Find the anchor piece for that series at this link.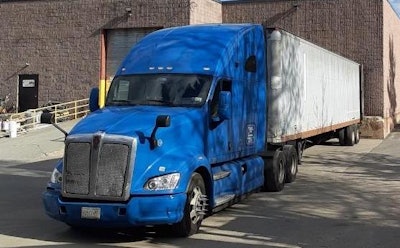 Dorian Acosta Sr. started Shipping Teleporters Trucking Company as a family business in late 2020, after spending about a decade driving for other trucking companies.
In May of 2021, the company got authority, and Senior turned the company over to his son, Dorian Acosta Jr., who had been handling paperwork and some other duties in the back office. Acosta Sr. still works for the Middletown, Connecticut-based company managing maintenance on their three trucks and four trailers, along with other duties around the business.
"My dad, he's my partner -- we're right there neck-and-neck," Acosta Jr. said. "He definitely introduced me into the industry. He had the primary trucking background."
[Related: Trucking: Like father, like son]
When Acosta Jr. took over as CEO, it was a "baptism by fire," he said, as he started handling the booking of loads, accounting, driver management and more. "I had no experience in the logistics industry until last year," he said.
The company hauls a variety of freight, mostly working the spot market and primarily sticking to the tri-state area of Connecticut, New York and New Jersey, and surrounding states. The company's three trucks are a 2012 Freightliner Cascadia daycab, a 2011 Volvo VNL and a 2012 Kenworth T700. While the company owns a flatbed and walking floor trailer, the two dry vans butter the bread of the business, moving dry goods such as sugar, bottled water and more.
Like many small fleet owners, Acosta Jr. had cobbled together a working system for back-office management that hinged in part on the QuickBooks accounting software.
"I used QuickBooks for accounting purposes, and they also have an employee time-tracking side of their offerings where drivers can clock in and out to track their time," he said. "Whenever I was dispatching a driver, I would include what time I needed them. I'd include in the comments section their truck and trailer number, where they have to go, the load numbers, everything."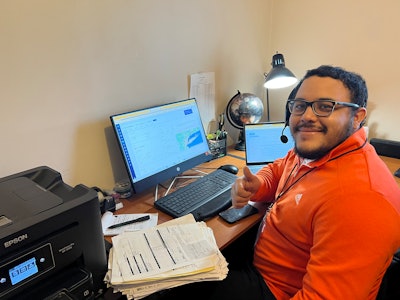 He acknowledged that people with more experience in the industry "obviously would have known to sign up for some sort of access" to transportation management system (TMS) software, but he was "just learning as we went, dispatching drivers and putting information into the comment section" of the QuickBooks timesheet.
That system worked for a while, but eventually it got to be too difficult to keep track of everything.
"We made do, but we got to a really stressful point where, in April [2022] we ended up researching" TMS software to help the business run more smoothly, he said. After trial runs with a number of providers, Acosta decided to go with Trucker Path Command, which had just launched in March. Trucker Path, of course, has long offered an app geared toward operators that offers navigation, truck stop information, weigh station information, truck parking information and more, leaning on users to provide the in-app community with useful updates about specific locations.
[Related: ELDs' parking impact: Trucker Path data show big shift in planning]
"Just the way everything was, the ease and functionality, being able to log in, dispatch a driver, provide them all the information, and they can upload the documents" made the decision easy for Acosta, who said he's always valued a "one-stop-shop" approach, whether in business or as a consumer.
Shipping Teleporters has used the DAT load board since its inception, but since choosing Trucker Path Command as its TMS software, Acosta has started to also rely on Trucker Path's own TruckLoads board -- access to it is included in Command's monthly fee. He's also found great value in the system's document management and scanning capabilities, through which drivers scan and upload paperwork, receipts and anything else that's needed in the office.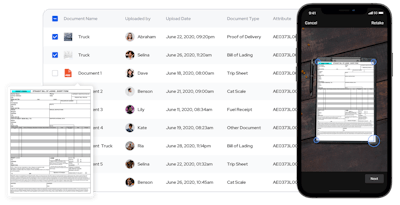 "Before everything was digitized, I was heading down to my truck lot to get paperwork for the drivers, putting proofs of delivery in there for them to get signed," Acosta said. "Every single day after their load assignments, I would pick up paperwork from their trucks."
Now, he said, the drivers upload the paperwork for him to create invoices within the system, and with its integration with his QuickBooks, he's able to automatically send invoices either direct to customers or to the factoring company he uses, Factoring Express.
When using the load board and negotiating with brokers, Acosta said another valuable tool is a rate calculator that allows him to input all the relevant information to see what he needs to make on a load for it to meet his profit expectations.
Command has also been helpful for his drivers, he added. Once he books a load through the software, he can dispatch his drivers by sending the load directly to their phones, and the drivers can use the Trucker Path app's routing, or Acosta can route the drivers through the app himself to make their jobs easier.
"I can pull up points of interest -- weigh stations, places to eat and park, fuel stations" -- to help drivers find the best deal on fuel and more, he said.
With crowdsourced fuel pricing information from the more than 1 million driver users of the Trucker Path app, managers using Command can send "the route that has the perfect fuel optimization to fuel up, tell them when and where," said Tom Wulf, senior vice president of sales and strategic partnerships for Trucker Path.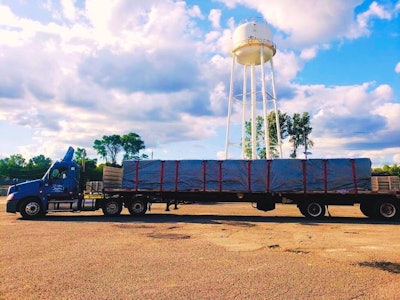 With future growth in mind, Acosta believes Command will be an invaluable tool as he looks to grow his fleet, integrating in one system a variety of management tools -- from finding and booking a load to dispatching the driver and sending the driver route information, having the fleet's Motive ELDs integrated into Trucker Path to track hours of service and location information for customers that want load updates, the document-management functions already described... The list goes on.
Financial benefits are already apparent, he believes. The company grossed $106,000 from its launch in May of 2021 through the end of the year with two trucks (the third was purchased last December). This year so far, it's pulled in $275,000 in revenue, on pace to pass $330,000 by the end of the year.
"It manages the rest of your operation," Wulf said of Command. "It is a complete, robust system, and it can scale. If you're a small fleet or owner-operator and you start growing, which is the goal in many cases, you don't have to switch -- it can scale right with you."
Wulf added that the price point, given the combination of features, "is designed to make this affordable to even the playing field" for owner-operators and small fleets.
Acosta agreed, saying that just having a subscription to multiple load boards prior to purchasing Trucker Path Command was more expensive than the monthly subscription.
A Command subscription starts at $99 a month, which includes one Operator (manager) license and two Diamond-level Trucker Path driver app subscriptions, which are $29.99 a month if purchased by a driver. An additional Operator seat adds $50 to the monthly cost, and additional driver seats cost an extra $30. Discounts are also available once you surpass 10 drivers.
"For everything that [Trucker Path] offers, I can't believe how affordable the software is," Acosta said.
Read next: Freight-specific TMS: Auto-transport-focused system for fleets any size