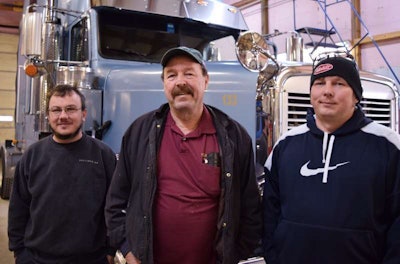 And daughter, too, as Deborah Byington noted in comments under the recent Father's Day poll we ran. "How about passed down from father to daughter?" she asked. Indeed, as the recent story on the Channel 19 blog about owner-op Dean Carnahan and his co-driver in a team operation, his daughter Amy, attests.
Is/was your father involved in trucking?
7 in every 10 of Overdrive's mostly owner-operator readers, whether male or female, reported having descended from a trucking father, in some form or another. Turner Griffin, commenting via Overdrive's Facebook page, noted he was "three generations deep. My grandpa started with mules and wagon, my dad had a B-61 Mack, and I started in a cabover KW with no a/c or power steering in the Southeast. Thirty-two years later, I'm still trucking."
Gary Wanzer's father "drove for National Rolling Mills out of Malvern, Penn., until he retired," and Brent Kelsey's dad "owned his own truck for twenty-something years. He sold it and now works with me," driving a dump truck, while Brent pulls a low-bed.
While some regretted following in their father's footsteps today — "Boy has it changed for the worse," wrote Griffin, for instance — others stressed they wouldn't change a thing.
Rodney Mellin's father was a diesel mechanic "for more than 40 plus years. He passed 20 years ago. I'm 53 years old now. Been at it probably 32 years. No accidents or tickets. Haul hazmat. It's been a great life this far."
More via OverdriveOnline.com and the Facebook page
Lucky Ravein: Dad drove as an owner-operator and company driver for 46 years, with 6 million accident-free miles, when cancer forced him out of the truck. I have been at this for around 10 years and never planned on it.
Ronald Harris: He was a driver for 30-plus years and I have been a driver for over 50 years.
Ken E. Cox: My dad started me out driving a dump truck stockpiling for the rock crusher when I was eight. I soon wanted to drive something bigger, so when I was 13, I hauled my first load of logs out of the mountains solo. Never looked back. I got out of the logging business several years ago and now after 50-plus years am hauling livestock and heavy equipment. Way over 4 million accident free miles and lots of memories. I figure to give it up in a few years when I turn 75.
Linda Guiette: My father was, so I am, with my hubby. BTW, so is my oldest son! Happy Father's Day!