Trucking news and briefs for Wednesday, Nov. 23, 2022:
Diesel prices see modest decline ahead of Thanksgiving
Owner-operators in most places around the country are seeing at least some relief at the pumps, as the U.S.' national average fell by 8 cents during the week ending Nov. 21, according to the Department of Energy's Energy Information Administration.
Prices had been mostly flat for about five weeks, holding just above $5.30 per gallon nationwide since mid-October.
The most recent week's 8-cent drop brings the national average to $2.23, its lowest point since the week ending Oct. 10, when the average was $5.22 per gallon.
Prices during the week fell in all but two regions. The Rocky Mountain region saw a 3.7-cent increase, and the West Coast less California region saw a 1.8-cent increase. The largest decrease was seen in the Gulf Coast region, where prices fell 10.4 cents.
The nation's most expensive diesel can be found in California at $6.11 per gallon, followed by New England at $5.96 per gallon.
The cheapest fuel is in the Gulf Coast region at $4.78 per gallon, followed by the Lower Atlantic region at $5.18 per gallon.
Prices in other regions, according to EIA, are:
Central Atlantic -- $5.94
Midwest -- $5.23
Rocky Mountain -- $5.44
West Coast less California -- $5.43
ProMiles' numbers during the same week saw fuel prices fall by 1.8 cents to $5.37 per gallon.
According to ProMiles' Fuel Surcharge Index, the most expensive diesel can be found in California at $6.29 per gallon, and the cheapest can be found in the Gulf Coast region at $4.77 per gallon.
The dip in diesel during the last week was accompanied by typical pre-Thanksgiving rates strength, which came later in the year than is normal.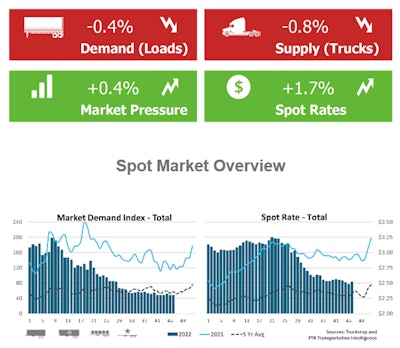 [Related: Bad news for cost relief: Fuel prices projected to remain above $5/gal into 2023]
T-shirt sale benefits St. Christopher Fund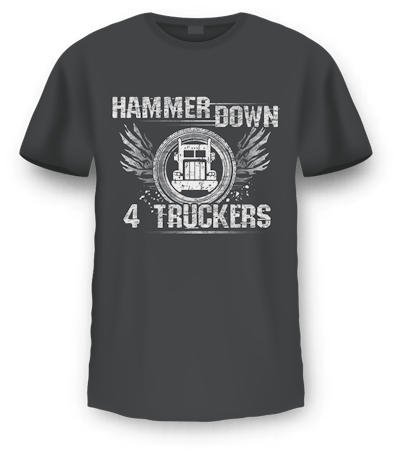 The St. Christopher Truckers Relief Fund is joining forces with Driver Solutions Truck Driver Training Program to launch a holiday t-shirt promotion that will benefit truck drivers in need during the holidays.
Available now, specially designed, limited edition "Hammer Down 4 Truckers" t-shirts are available on the RoadWarriors community page for truckers with 100% of the proceeds being donated to SCF.
The shirts are produced in partnership with Scott Custom Apparel and will help friends and families of truck drivers, and drivers themselves, show their support for their fellow drivers and loved ones. The shirts are available for purchase through the end of the year and will be shipped at the conclusion of the fundraiser.
"The mission of the RoadWarriors community is to bring drivers together in a positive and helpful atmosphere, so I can't think of another organization that embodies this same philosophy more than St. Christopher Truckers Relief Fund," said Derek McClain, digital marketing manager, Driver Solutions. "As we were looking for ways to help truckers and their families this holiday season, we decided to be bold by proclaiming it's time to 'Hammer Down 4 Truckers' who do so much for us. And what better way to do that than through the creation of a t-shirt that brings everyone together, with all proceeds from sales going to St. Christopher Fund."