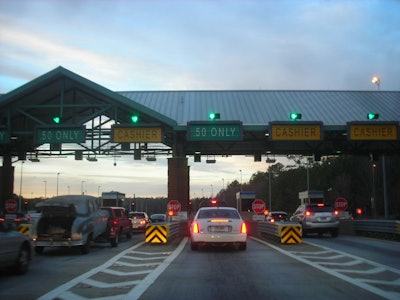 Doug Kerr via Wikimedia Commons
A five-axle truck running the Pennsylvania Turnpike on I-76 East across the state can rack up a $212 toll by the time it exits the state near Scranton on I-81, without stopping once, and if the bill isn't paid in 30 days, add another $5 on top of that.
That's for a Class 8 tractor-trailer that doesn't use E-ZPass for electronic toll collections, which would cut the bill by more than half to $105 and could be automatically, painlessly paid before any late fees.
State-collected toll fees and fuel taxes, burdens of course borne by owner-operators among other highway users, account for about 37% of all funding for highway and road spending (tolling, along with other more local fees, contributes 11%), and the 2021 highway bill will likely only continue to expand the number of tolled roads as states seek ways to expand on federal government funding for new building projects.
It's safe to say that toll roads are expanding not just in terms of miles, with Florida in the process of adding 330 miles of new toll roads, but also in price. In 2010, the Pennsylvania turnpike brought in about $57 million per month on 15 million or so vehicles. In 2022, that same system is seeing around $120 million a month on just around 16 million vehicles. Rarely do state or local toll authorities reverse course and reduce toll prices. When the state of Washington made news with reduced fares on the Tacoma Narrows Bridge, it was trumpeted as likely first time the state had done anything like that -- ever.
Furthermore, with so many different state authorities setting tolls, owner-operators are left to sort through a patchwork of options for toll collections, with plenty of regional and some national options.
Robert Ellis, owner-operator out of Swanzey, New Hampshire, hauls "from Canada to Florida" and mostly gets by with E-ZPass, he said, the 19-state network concentrated in the Midwest and East Coast. Ellis said the service costs just $30 a month in addition to tolls incurred. He used to plan trips to avoid tolls, "but now with fuel so much, it's cheaper to run the toll road than go around it" often enough, he said.
"Before I had E-ZPass, it was a pain," said Ellis, who only maintains a P.O. Box and mostly lives in his truck hauling year-round. By the time he got the bill in the mail, he said late fees or interest could make the toll "almost double" the original fee.
Other services like BestPass cover the E-ZPass states but also offer packages for other regions. BestPass' Horizon Scout transponder and service package, for example, covers the Southeast, the West Coast and Texas. The service costs a one-time $35 fee per transponder with a $25 activation fee, then $14 monthly. (Owner-operators must also bank a $350 balance to begin service.) The transponder hardware from BestPass will work with any unmanned toll booth, however, sending the bill to your account, which you can set up to pay automatically. For the few remaining manned toll booths in the country, mostly in Ohio and Indiana, BestPass users can get an unpaid toll ticket and send it in to have it draw from their account there.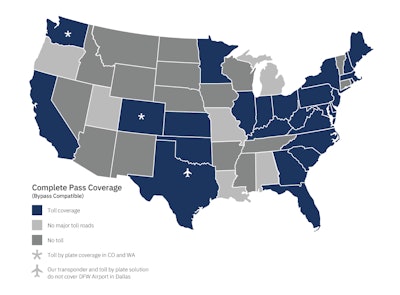 PrePass, the well-known weigh station bypass tool, also offers the E-ZPass package and a transponder that the wide majority of manned and unmanned toll facilities can read. For existing PrePass customers, adding the toll service, called ElitePass, costs just $24 a month, plus whatever the tolls come out to.
Melissa Smith, who runs dispatch for her husband in their joint flatbed owner-operator venture, uses PrePass and hauls mostly out of Texas, a strong contender for worst toll state in the nation, losing out only to Florida. The Smiths haul mostly up and down the middle of the country, avoiding "all around crazy" California and Washington, where she said it's hard to book return loads.
"They can eat you up," she said of tolls. The Smiths have used PrePass since 2018, saying ultimately it's "worth it" to have the company present a single bill rather than taking on a piecemeal approach. Even with Melissa working load boards and doing admin work while her husband drives, navigating the patchwork of toll services is a task she'd rather hand off.
Another benefit to the more centralized platforms like BestPass and PrePass is their reporting function. They can provide summaries of recent toll transactions and help spot mistakes. Additionally, if a toll gets double-billed, these companies will initiate the process to fix things for you. Recently, the Central Texas Regional Mobility Authority had a glitch that caused about 1,200 customers of TxTag and CTRMA, local toll networks, to be charged late fees. It's prudent to keep on top of the bills.
Jim Minton, a small fleet owner out of Florida, has had a front-row seat to the recent expansion of tolling, and said it's about time for him to review his options.
"I use two different" toll pay solutions, said Minton. "I need to consolidate them. It's a little complicated."
Minton's reefer business sees him taking off out of the Miami area and to points in the Midwest. He chose one of his current providers, Illinois' IPass, some time ago when business brought him to Chicago more often.
"IPass is administered by the state of Illinois, but it works most places, but not the state of Kansas," he said.
He also runs SunPass, the Florida-administered system that leads to some trouble with IPass.
"I got double charged when I tried to switch entirely to IPass, because it doesn't cover the whole state of Florida and I spend a lot of time in Miami," Minton said. "We came up with the idea to get hinged boxes and take the IPass off the windshield" when in Florida to avoid getting double charged.
[Related: Rhode Island appealing court's ruling over unconstitutional truck tolls]
Minton's six-truck fleet has done "pretty good" lately despite weak rates and high fuel, which he credits to being careful, doing a lot of planning, and "doing the work other people don't want to do."
Among those unwanted tasks he counts as constantly pricing out different routes based on tolls.
"If we run out of South Florida and we're going to go up to Atlanta running up I-95 to I-75, we can run all the way up to Jacksonville and cut across and add 13 miles to the trip and deal with city traffic in Jacksonville," he said. Or: "Run the turnpike and spend $19 to cut off 13 miles."
Weighing the extra miles and headaches of city traffic, Minton tells his drivers "not to fuss about it."
"These trucks have to turn and generate between $8,000-$10,000 a week in order to be viable, so I don't fuss about a few bucks here or there," he said.
Overall, while there's a scattered patchwork of toll paying devices, with some states even having multiple different systems, it's possible for OTR professionals to approach those services al-a-carte when it comes pricing, depending on the region. Expeditersonline.com has a handy rundown of the myriad services available.
Minton said overall, despite living in the worst state for tolling, the costs come out to being pretty much "nominal," and that he spends more time worrying about big ticket items like equipment and fuel.
[Related: 2023 headwinds blowing: Legal pressures, economic conditions for the new year]