Trucking news and briefs for Wednesday, Dec. 21, 2022:
Cargo theft experts warn of holiday activity increase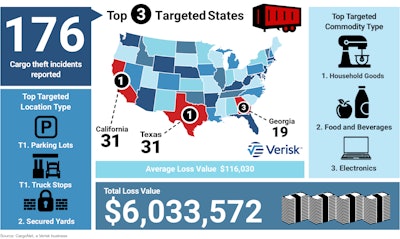 Cargo theft recording firm CargoNet has reported that supply chain theft activity is "extremely elevated," and the company believes it will continue into the holiday season as experienced cargo thieves will seek to exploit a target-rich environment of unattended trucks and closed warehouses.
Theft and fraud complaints filed with CargoNet between Aug. 1 and Dec. 14 are up 27% year-over-year. Complaints filed between Dec. 1 and Dec. 14 are up 40% year-over-year, CargoNet noted.
CargoNet examined theft data between Dec. 23 and Jan. 2 for the past five holiday seasons to help trucking companies and others in the supply chain mitigate theft this holiday. In this analysis (see snapshot above), there were 176 incidents reported to CargoNet, and the average cargo theft was valued at $116,030. The number of incidents increased progressively each year. Last holiday season, there were 42 incidents reported between Dec. 23 and Jan. 2.
Incidents were most common in Texas and California, tied at 18% of incidents in each state. Incidents were also common in other major cargo theft hotspots like Georgia, Florida and Illinois.
[Related: Thieves targeting control modules in trucks: Law enforcement intensifies warning]
Thieves most often stole unattended vehicles and shipments parked at major retail parking lots and truck stops, though CargoNet noted that incidents at fenced truck yards were a close third to the other two categories.
Electronics commodities like TVs and computers were favored by cargo thieves in this analysis. The firm said commodity preferences closely mimic consumer demand. Cost and scarcity of some food and beverage products like meat and seafood will make them attractive targets this holiday. Cargo thieves also targeted shipments of tires, motor oil and major appliances, which remain attractive targets.
"This holiday season, we're extremely concerned about specific categories of freight that may be targeted through complex fraud and misdirection schemes that have exploded in popularity in California and are spreading to other states," CargoNet said.
Cargo thieves have been misrepresenting themselves as legitimate truck drivers to brokers and bidding on truckload shipments of solar panels, cryptocurrency mining equipment, motor oil, tires, appliances, and more. If their bid is accepted, the thieves will misdirect the shipment through a series of cross-dock warehouses and ultimately into their custody. Few shipments that have made it into their custody have been recovered, and it can take the victims in the supply chain weeks to realize what has happened, as thieves will often produce fictitious proof of delivery documents before disappearing.
CargoNet said motor carriers should verify the legitimacy of any brokers that offer to hire them to pick up a shipment and deliver it to a nearby cross-dock instead of the consignee address.
[Related: Legal pressures, economic conditions for the new year ahead]
Winter storms prompt HOS relief for fuel haulers
Record winter storms and cold temperatures in many parts of the country have prompted four states out West to issue emergency declarations, waiving hours of service regulations for certain heating fuel haulers.
Governors in North Dakota, South Dakota and Utah, along with police in Colorado, are waiving certain regs to make sure their residents are able to receive heating fuel to deal with the freezing conditions.
North Dakota Gov. Doug Burgum declared an emergency, waiving Parts 390 through 399 of the Federal Motor Carrier Safety Regulations for drivers hauling heating fuel, including propane, natural gas and heating oil, to provide direct assistance to the emergency relief effort. The order is effective as of Dec. 19 for 30 days.
South Dakota Gov. Kristi Noem declared an emergency, exempting drivers transporting propane and heating fuel into or within South Dakota from Parts 390-399 of the federal regs, effective as of Dec. 16 through Jan. 15.
Additionally, Utah Gov. Spencer J. Cox issued a declaration "for the limited purpose of facilitating an exemption to the rules and regulations that limit the hours of service for drivers of commercial motor vehicles delivering propane." The waiver is effective for 30 days as of Dec. 16.
Finally, the Colorado Department of Public Safety, in conjunction with surrounding states, approved a temporary exemption from the hours-of-service regulations for haulers of consumer heating fuels, propane, and natural gas through Jan. 31.
Diesel falls to lowest national average since February
Diesel prices continued their rapid descent last week, falling another 15.8 cents to a national average of $4.60 per gallon during the week ending Dec. 19, according to the Department of Energy's Energy Information Administration.
That's the lowest national average for diesel since the week ending Feb. 28, when prices were at $4.10 per gallon before they rocketed to nearly $5 the following week.
During the most recent week, diesel prices fell in all regions across the U.S., with the largest being seen in New England, where prices dropped by 22.6 cents.
California still narrowly holds the nation's highest fuel prices at $5.44 per gallon, followed by the Central Atlantic region at $5.32 per gallon.
The cheapest diesel can be found in the Gulf Coast region at $4.21 per gallon, followed by the Midwest region at $4.48 per gallon.
Prices in other regions, according to EIA, are:
New England -- $5.26
Lower Atlantic -- $4.64
Rocky Mountain -- $4.86
West Coast less California -- $4.88
ProMiles' numbers during the same week saw fuel prices fall by 17.7 cents to $4.85 per gallon.
According to ProMiles' Fuel Surcharge Index, the most expensive diesel can be found in California at $5.68 per gallon, and the cheapest can be found in the Gulf Coast region at $4.25 per gallon.
Florida HHG mover investigated for various deceptive practices
On Dec. 8, the Florida Attorney General's Office filed civil complaints against Charles Abrams and Abrams' affiliated company, Gold Standard Moving and Storage LLC, along with multiple fraudulent brokerage businesses for a variety of deceptive household goods moving practices.
According to the Department of Transportation Office of Inspector General, the complaints allege the moving companies misrepresented their carrier operations and failed to identify the actual mover who would be responsible for the move prior to securing the consumer's large up-front deposit.
Many consumers later learned their deposit was unrelated to who performed the move, and the estimate was unrelated to the ultimate cost, OIG added. Gold Standard Enterprise allegedly hid its unfair and deceptive tactics by operating a single call center that posed as numerous companies.
DOT-OIG is conducting the investigation with the Florida Attorney General's Office and the Federal Motor Carrier Safety Administration.