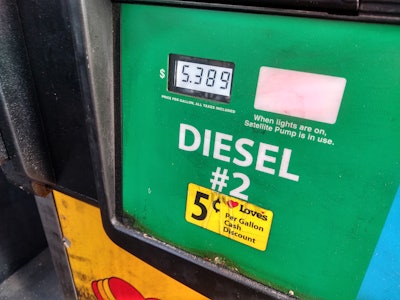 When we surveyed readers this time last year and into early 2022 about income expectations for the new year, the majority of owner-operators were overall optimistic about their prospects, with 36% expecting income to come in better in 2022 and another nearly 30% looking at likely more of the same, after a decidedly good 2021.
Yet it didn't take long for cost pressures to explode with the Russian invasion of Ukraine and the concurrent fuel-price spike and plenty other inflationary pressures continuing to mount: Equipment, maintenance, parts, insurance, every cost imaginable has been up throughout the year, just as those cost pressures and other factors have led to a kind of "back to normal" demand environment post-COVID.
The hay that could be made of the big spillover to the spot market of freight of all kinds during the height of COVID's scrambling of supply chain networks appeared to evaporate by mid-year, when ATBS reported its semi-annual benchmarking numbers for owner-operator clients showing some continued strength for contract rates among leased clientele, but with all revenue gains being driven by increased fuel surcharges -- that is, entirely offset by costs on the average.
Not to say that an owner-operator with a close focus on fuel efficiency couldn't still reap the rewards of any improvement in fuel mileage, of course, particularly given the sizable revenue to be gained from fuel surcharges. On average, though, net income was taking what amounted to about a $1,000 annual hit, across leased and independent segments, according to ATBS. For independents, the pain was three times that with spot market declines.
[Related: How Steve Kron took his 2001 International above 10 mpg]
Furthermore, more recently those hoping for seasonal spot-rates strength ahead of the current holiday season didn't see it materialize, as emphasized week to week the last month and more in Truckstop.com and FTR Transportation Intelligence's weekly spot market update. The latest snapshot, out just yesterday, charted further decline in rates in most segments, even after the previous week's big post-Thanksgiving jump in load-post volume (a typical pattern after the holiday).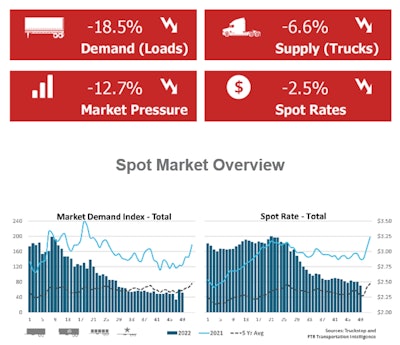 The good news is that the broader inflation rate has slowed from earlier-year peaks, but not by a lot -- it's still twice the long-term average following its steep rise this year and last -- that all began in a big way after passage of the Biden Administration's American Rescue Plan legislation pumped money into the economy in 2021 and the American consumers began returning to more typical spending behavior patterns as COVID vaccines continued roll-out.
Peter Matthews and Tom MacCallum, with the trucking insurance division of IAT Insurance Group, spelled out some of the economic headwinds recently in an op-ed that noted continued inflation and prospects of a bona fide recession as perhaps the single biggest possible headwind for the coming year. "Consumer spending is showing signs of slowing and an economic downturn or full-scale recession would significantly impact freight demand and margins," they wrote. The smallest fleets "are likely to feel more pain" than larger fleets in the contract freight markets, they noted.
Yet we've heard those recession predictions before, and though first and second quarters saw a contraction in GDP, FTR Transportation Intelligence recently pointed out real GDP growth in the third quarter. The firm's forecasts show slow continued growth in the wider economy through the next year with consumer spending. Freight could slow a bit, though.
And given all of this and so much more, it's also true that every owner-operator's situation is distinct. What's your take for 2023?
Plenty other cost challenges are mounting
IAT Vice President of Loss Control Tom MacCallum stressed the supply-chain issues owner-operators are so well familiar with from the past couple of years, with extended times for new-truck orders, continued high though slowly moderating used-equipment costs, and lengthy parts delays.
Inflation generally, too, is continuing to drive up insurance premium rates, with equipment theft, as reported as recently as last week, likewise a growing threat with follow-on effects for insurance costs. The latest trend shows rising thefts of common powertrain controller (CPC) modules in Southern California, but also places otherwise known for targeted cargo theft rings.
IAT Loss Control Specialist Nick Martin specifically noted theft of "Freightliner CPC modules" among IAT clients in a recent webcast by the company. Such a theft "renders that equipment a paperweight" without the module. Costs can extend up to $8,000 to replace a stolen CPC, and that's not to mention the time window to source a replacement, a possible needed wiring harness, broken windows and more, he added. Be mindful of where you're parking, use those security cameras on the truck, and if you're employing drivers, keep them aware of the threat -- that all probably goes without saying.
[Related: How to avoid being and easy mark in dangerous times]
Legal complications for the independent contractor status for leased owner-operators, in California most seriously though likewise at the federal level with an attempt to return the independent-contractor approach to that taken during the Obama administration, could mean added insurance costs for formerly leased owners forced into obtaining motor carrier authority to continue business-to-business relationships established.
Those insurance costs, meanwhile, are continuing up for all in the trucking insurance market, IAT's McCallum and Matthews both noted. "Personal injury attorneys continue to attack the trucking industry, as antagonizing advertisements everywhere attempt to convince injured persons to litigate, particularly against commercial fleets," they wrote, echoing our own early-year reporting on how increasingly big-ticket verdicts end up trickling down to the smallest fleets in the form of increased costs. They cited a report showing "average verdicts soaring from approximately $2.3 million in 2010 to $22.3 million in 2018."
Voices raised against AB 5 in California underscored the insurance challenge for one-truck businesses who said they wanted simply to keep their existing relationships with other fleets out West intact without having to jump through legal and cost hoops just tor remain in business. The federal-level rule change currently being attempted -- though as noted mostly just a rollback to a legal posture for independent contractor classification that didn't exactly result in a high level of adversity for the IC status -- is in its final day of a comment period today, Dec. 13, 2022.
[Related: AB 5 latest: OOIDA files for another injunction]
Given threats to the model in California and elsewhere, though not normally an organization known to wade into politics directly, business services firm ATBS issued a call to its owner-operator clients within the last week to make their experience, such as it may be, as an independent contractor known to regulators. The move underscores a view of many in trucking that the Trump-era Department of Labor's changes to the independent contractor test it uses makes for a more clear-cut situation for owner-operator leasing relationships than what came before. (Follow that link for ATBS's summary of what would change if the rule is adopted.
As noted, the comment period closes today, after an extension. You can comment via the Regulations.gov docket at this link.
What cost areas are you most closely focused on in your operation? Reach out directly with your plan for 2023 or weigh in via the comments below.
[Related: Trucking groups, owner-ops generally opposed to Biden DOL's contractor rule]