Trucking news and briefs for Tuesday, Dec. 13, 2022:
OOIDA calls for preliminary injunction of AB 5
The Owner-Operator Independent Drivers Association last week filed a motion in the U.S. District Court for the Southern District of California for a preliminary injunction to halt the enforcement of California's AB 5 law.
The independent contractor classification law was challenged by the California Trucking Association, OOIDA, American Trucking Associations, Western States Trucking Association and other groups, but the U.S. Supreme Court at the end of June declined to hear the CTA-led case, allowing the law to take effect. As reported in October, however, enforcement has been light so far. CTA originally filed the lawsuit against the law in late 2019, arguing the 1994 Federal Aviation Administration Authorization Act (FAAAA) preempts any state-level laws that would "interfere with prices, routes and services" of motor carriers.
After the Supreme Court's denial, the case went back to the district court for reconsideration.
OOIDA, who was allowed by the court in September to be an intervenor in the case, said its request for a preliminary injunction is the first opportunity for the group "to ask the court for temporary relief from AB 5 for its owner-operator independent contractor truck driver and motor carrier members."
The motion claims that AB 5 is a violation of the Commerce Clause in the Constitution, adding that AB 5 "will cause irreparable harm to motor carriers and drivers that outweighs the state's interest in the application of AB 5."
The injunction is sought for motor carriers who operate in interstate commerce, or, alternatively, carriers whose drivers are not based in California and spend less than 50% of their working time in the state.
"Absent an injunction, AB 5 will impact interstate trucking operations nationwide, causing carriers throughout the U.S. to reevaluate their ability to serve the country's most important shipping market," OOIDA said in a memo attached to the injunction request. "Thousands of trucking companies will be forced to decide between changing their business model or ceasing work in California altogether. The harm resulting from these decisions will be irreparable for many, and will have a negative impact on supply chains."
California must file a response to OOIDA's request by March, and a motion hearing is set for May.
[Related: 2023 headwinds blowing: Legal pressures, economic conditions for the new year ahead]
New modular HighwayMax heavy hauler
Faymonville in recent months launched its new HighwayMax All-In-One modular trailer concept for North America. Its global modular CombiMax concept served as the basis. Rainer Noe, the HighwayMax product manager at Faymonville, noted the versatility of the trailer allows use as a 3+6 double drop combination, as an extendable single drop trailer with nine axles or -- with additional nitro booster -- as a 12-axle.
For the wind power industry, too, a configuration as a tower adapter vehicle is also possible. The entire range -- excavator decks, transformer decks, perimeter decks -- can be integrated in the double drop version, Noe added.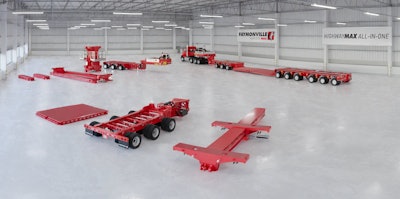 Conversion to any of these versions is quick and easy, the company said. Interfaces on both the front and rear bogie enable the fast exchange of the components. The motto of the CombiMax building kit also applies to the HighwayMax All-in-One, Noe said. "Define your transport task, combine your vehicle." Industrial parts, construction machines, wind tower segments, crane elements and other heavy loads can be moved throughout North America with the modular trailer.
Hydraulically steered axles at the front and rear, as well as pendle-axle technology with a 24-inch stroke and a steering angle of up to 60 degrees, allow optimal maneuverability in the case of challenging route profiles, Faymonville said. An adjustable ratio between fifth-wheel load and axle load help in achieving suitable load distribution. The trailer's fairly simply reduced within a few minutes to a minimum overall vehicle combination length at the job's end, reducing the cost of unladen journeys.
3+6 double-drop deck combination: Legal payload up to 150,000 lbs. with an axle load of 20,000 lbs.
9-axle single drop trailer: Legal payload up to 160,000 lbs. with an axle load of 20,000 lbs.
12-axle single drop trailer, with nitro booster: Legal payload up to 207,000 lbs. with an axle load of 20,000 lbs.
Cuban citizen sentenced for role in CDL scheme
Fernando Guardado Vazquez, a Cuban citizen, was sentenced Nov. 29 in the U.S. District Court for the Western District of Texas in connection with a scheme to fraudulently issue commercial driver's licenses.
According to the Department of Transportation Office of Inspector General, Vazquez was sentenced to 11 months of incarceration, 36 months of supervised release, and a $100 special assessment. In May 2022, Vazquez pleaded guilty to one count of conspiracy to commit mail and honest services fraud.
From January 2017 to about June 2019, OIG reported that Vazquez and two co-conspirators paid a Texas Department of Public Safety employee to falsely certify that CDL applicants had passed the skills portion of the CDL test when, in fact, those applicants had either failed or had not taken the test.