Trucking news and briefs for Monday, Dec. 12, 2022:
Canadian ELD mandate set to take effect in new year
While the Canadian electronic logging device mandate's federal enforcement period officially begins when the calendar rolls over to 2023, carriers who only operate within certain provinces may have some extra time to comply.
According to a notice issued Nov. 7 by Mike Millian, president of the Private Motor Truck Council of Canada, the regulation is a federal regulation, which means all federally regulated carriers who are currently required to use a logbook must comply, with few exceptions. However, each individual province determines whether they will enforce it for provincially-regulated carriers, and if so, when.
Like intrastate carriers in the United States, carriers in Canada who solely operate inside the boundaries of one province or territory are governed by provincial regs, not federal.
"While this is a federal regulation, it is up to each province and territory to enforce the regulation, and some need to update their regulations in order to be able to enforce it," Millian said. According to updates at the Canadian Council of Motor Transport Administrators' Compliance & Regulatory Affairs Committee meetings on Nov. 3, "[British Columbia] and Quebec will not be able to enforce the federal regulation by January 1, as updates are still being worked on."
Millian added that the two provinces "expect enforcement to begin sometime in 2023," but an official timetable has not been announced. Additionally, "the Northwest Territories won't be ready on January 1 but expect to begin enforcement sometime before the end of January. All other jurisdictions indicated they either are or will be ready to begin enforcement of the federal regulation by January 1," he said.
[Related: California moves to implement ELD mandate for in-state-only truckers]
Carriers who only operate within Newfoundland, New Brunswick, Ontario, Manitoba and Yukon have indicated they will be ready to enforce the mandate on Jan. 1. In addition to the delays in the Northwest Territories, British Columbia and Quebec, "Nova Scotia will enforce for provincial carriers in their province on January 1 of 2024," Millian said. "Alberta and Saskatchewan have no plans currently to place this in their provincial regulations." Finally, for carriers operating solely on Prince Edward Island operate within a 160-km radius, meaning a logbook, or ELD, is not required.
To comply with the Canadian ELD mandate, carriers must adopt and operate a device listed on the Canadian ELD registry. As of Dec. 12, there are 58 certified ELDs from 23 companies on the registry, almost double the number companies and more than double the number of devices since announcement of the most recent mandate enforcement delay in March. Millian said carriers must verify the device name and model number, as well as the software version, which he said "is very important."
"Very few devices currently in use have updated their software and therefore are not currently compliant," he added. "Ensure to verify this, and if not updated, reach out to your supplier to find out when it will be updated and how this may change the operation of the system."
(Canada's third-party verification process for ELD providers and the slow pace of its implementation was the principal reason the Canadian ELD mandate's enforcement had been delayed several different times. ELD providers must meet rigorous third-party testing requirements for certification, unlike in the U.S.)
[Related: Canadian ELD mandate enforcement delayed again]
Colorado emergency runaway ramp reopened
The Colorado Department of Transportation reported that repairs have been completed on a U.S. Highway 50 emergency truck ramp located at milepost 204, about four miles east of Monarch Pass summit. The runaway truck ramp is now operational.
"This mountain corridor is heavily used by freight drivers, so it was high on our priority to repair the runaway truck ramp and also keep the traveling public safe during the construction period," said Julie Constan, Region 5 Transportation Director. "CDOT worked closely with Colorado State Patrol to inform commercial drivers of the closure and monitor traffic speeds throughout the work zone."
After sinkholes were located on the runaway truck ramp in June, plans were made to replace the existing metal culvert with a reinforced concrete pipe and headwall. In addition to the ramp infrastructure improvements, guardrails and overhead signage have also been upgraded.
The permanent repairs and upgrades should improve safety and prolong the life of the truck ramp structure, CDOT said.
A runaway truck ramp is located on either side of Monarch Pass, milepost 194 (westbound) and MP 204 (eastbound). Drivers should never hesitate to utilize runaway truck ramps if they lose control of their vehicle, CDOT added.
Driver named Highway Angel for helping extinguish hay fire on vehicle
The Truckload Carriers Association (TCA) has named truck driver Angela Crager of Oklahoma City a Highway Angel for helping extinguish hay bales that were on fire on another vehicle. Crager drives for Decker Truck Lines out of Fort Dodge, Iowa.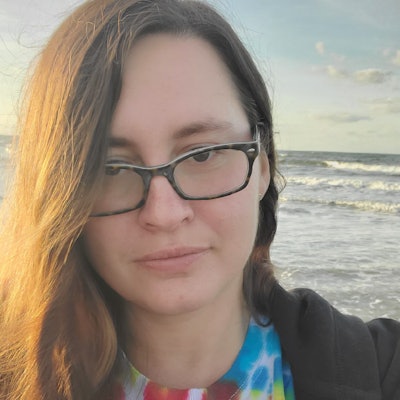 On Oct. 28, 2022, around 6:30 p.m., Crager was driving southbound on I-35 in Guthrie, Oklahoma. She was headed home for the day when she approached a truck full of hay bales that had caught on fire.
"Nobody was stopping to help them," she said. "I thought, 'trucks have fire extinguishers for a reason.'"
Crager pulled over, called 911, and proceeded to help extinguish the hay fire.
"I kinda took over the situation," she said. "I was like, you're gonna want to disconnect your truck from your trailer so if it really ignites you can save your truck and fuel source."
Crager, who has been driving a truck for six years, stayed on the scene until police and firefighters arrived. At that point, the hay was still on fire. She said people like herself, from Oklahoma, look for ways to help others.
"It's bred into us or something, to help out," she said.