Trucking news and briefs for Wednesday, April 12, 2023:
Privacy a top concern among truckers with driver-facing cameras
The American Transportation Research Institute (ATRI) on Wednesday released a new report that investigates trucking industry attitudes and concerns when it comes to driver-facing and road-facing cameras (DFCs/RFCs).
The research hoped to better understand truck driver issues and perceptions associated with the use of DFCs, and to understand DFCs' role in claims and litigation processes.
It identified points of consensus and potential compromise on in-cab camera systems and policies among truck drivers, motor carriers, legal experts and insurers. Based on the analysis, the report proposes strategies for expanding both driver approval and camera utilization with an eye to improve safety, privacy, litigation and insurance risk management.
Driver approval of driver-facing cameras tends to be low -- just 2.24 on a 0-to-10 scale among 650 current users from across the industry, ATRI found. Low scores are driven in part by limited experience, confusion over the variety of camera systems, unclear carrier policies, and strong concerns about privacy.
Privacy was drivers' biggest concern with DFCs in ATRI's research. Drivers who have never used DFCs had the most negative opinion of the technology, and drivers who currently use DFCs were more than twice as likely as non-users to positively rate DFC privacy benefits. Still, drivers who currently use DFCs rated the systems just 1.73 for privacy on a 0-to-10 scale, with drivers who never used DFCs rating them 0.78 for privacy.
Nevertheless, the report identified specific carrier policies and driver management approaches that lead to higher driver ratings. Overall driver approval of driver-facing cameras increased by 87% when carriers used video footage for specific proactive safety measures, the research found. ATRI also found that direct DFC experience does have a positive impact on approval, with current users of DFCs rating the systems more than twice as high as drivers who have never used them.
Additional analyses focused on insurance and litigation considerations for in-cab cameras. Experts in both fields expressed preference for event-based driver-facing cameras over continuously recording cameras, and they concurred with drivers that primary video footage access should be limited to safety managers as much as possible.
"Driver-facing cameras are an important safety tool for carriers, but they must be managed carefully in order to leverage benefits with drivers, insurers and attorneys," said Jerry Sigmon Jr., Chief Operating Officer for Cargo Transporters Inc. "ATRI's research on in-cab cameras provides an important blueprint for both carriers using these technologies as well as carriers still contemplating the investment."
[Related: How to confront the post-crash litigation threat]
Michigan lifts more 'frost law' weight restrictions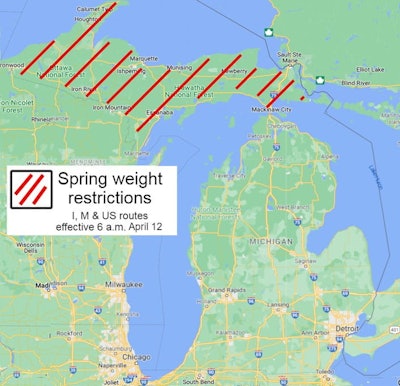 The Michigan Department of Transportation (MDOT) and local agencies are continuing to adjust annual "frost law" spring weight restriction areas to protect roads.
As of Wednesday morning, weight restrictions have been lifted on all state trunkline highways from the southern Michigan border north to the Mackinac Bridge. The state's Upper Peninsula is the only area still covered by the restrictions.
Frost restrictions are still in effect for the remainder of the state and will be imposed and enforced on all state trunkline highways north of the Mackinac Bridge. State routes typically carry M, I, or US designations.
MDOT determines when weight restrictions begin each spring by measuring frost depths along state highways, observing road conditions, and monitoring weather forecasts. Weight restrictions remain in effect until the frost line is deep enough to allow moisture to escape and the roadbeds to regain stability.
County road commissions and city public works departments put in place their own seasonal weight restrictions, which usually, but not always, coincide with state highway weight restrictions. Signs are generally posted to indicate which routes have weight restrictions in effect.
[Related: How to navigate 'frost laws' in northern states]
TruckPro expands online parts availability
TruckPro has expanded its e-commerce platform, which now offers more than 4 million unique parts.
The company said this expansion brings the largest selection of products, including OEM and aftermarket brands, captive parts, and unique hard-to-find parts, to customers seeking a one-stop shop for their heavy-duty parts needs.
"We are thrilled to be able to offer our customers an even wider selection of products," said Chuck Broadus, TruckPro's CEO. "Customers can shop confidently, save valuable time, and know that they will be able to find what they need to keep their equipment on the road."
TruckPro's e-commerce platform delivers a range of features designed to make the customer's experience convenient and seamless, the company said. Customers can search for parts on any mobile device or a desktop, review detailed product information and images, access an extensive cross-reference database, view real-time stock availability locally and across TruckPro's network, choose from multiple delivery and shipping options, create lists and favorites, review account information, and more.
TruckPro's e-commerce platform also is backed by more than 150 locations across the United States and a team of heavy-duty experts to help customers identify and get the products they need, the company added.
[Related: Owner-ops navigate rocky truck parts-procurement landscape]
Pilot announces new leadership
Pilot Company announced April 10 that Adam Wright will be joining the company as Chief Executive Officer and Joe Lillo will become Chief Financial Officer, officially taking their positions on May 30.
After Berkshire Hathaway became majority owners of Pilot Company on Jan. 31, 2023, they identified Wright and Lillo, longtime Berkshire Hathaway executives, for these leadership roles to deliver on the company's long-term growth and vision plans. Shameek Konar and Kevin Wills will be leaving their respective positions after supporting the transition.
Pilot has continued to expand its footprint and prepare for the future of travel, including an investment of $1B in its New Horizons store modernization initiative and installing a coast-to-coast network of EV fast-chargers at many of its locations across the country. Pilot's energy division is operating at record highs to fuel its growing travel center network and support its customers through the industry's energy transformation.
"It's an honor to join the Pilot family and to lead such an influential company that has fueled millions of journeys over the past 65 years," said Wright. "Pilot remains focused on meeting the unique needs of our pro drivers, fleets, guests and team members while advancing a strong company strategy that positions us for the future."
The Haslam family will continue to be an integral part of the company with 20% ownership and James A. Haslam II, founder of Pilot Company, and James A. "Jimmy" Haslam III as members of the Board.
"I want to thank Shameek and Kevin for all that they have done for Pilot Company," said Jimmy Haslam. "They have been instrumental in leading our over 30,000 team members through several years of growth and innovation. While we express our utmost gratitude to them, I also want to welcome Adam, Joe and their families to Pilot Company and to the Knoxville community."
[Related: How drivers are crowdsourcing a solution to the truck parking crisis]