The National Owner Operators Association on Wednesday announced a "nationwide truckers' shutdown" to "draw attention to the critical issue of Congress' failure to act" on enforcing 49 Code of Federal Regulations 371.3, which requires freight brokers to keep specific records of each transaction.
That news comes from Mike Boston, who has been trucking for 15 years and now serves as the President of NOOA. In March of this year, Boston made headlines for banding together with other small fleets to boycott brokerage TQL, as well as J.B. Hunt's brokerage.
Now, Boston said internal polling indicated more than 70% of NOOA's 30,000-plus members plan to shut down in protest.
"Truckers from coast to coast will participate, staging protests, and temporarily suspending their operations to emphasize the urgent need for Congress to act," a release on the action read.
"We will stay shut down until the DOT forces the FMCSA to make a ruling on enforcing 49 CFR 371.3. This is our right and they are refusing to enforce it," Boston wrote to Overdrive.
49 CFR 371.3 states that a "broker shall keep a record of each transaction," and that the record will show the information for the consignor and originating motor carrier, as well as the bill of lading or freight bill number, and, importantly "the amount of compensation received by the broker for the brokerage service performed and the name of the payer."
The reg also requires a "description of any non-brokerage service performed in connection with each shipment or other activity, the amount of compensation received for the service, and the name of the payer; and ...The amount of any freight charges collected by the broker and the date of payment to the carrier." Brokers must maintain this record for three years, and each party in the brokered transaction, including the carrier, has the right to view the records.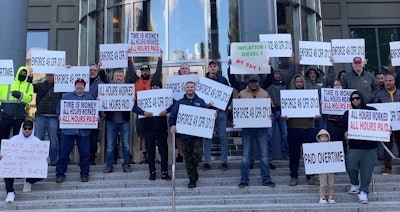 NOOA hardly stands alone in calling for better enforcement of this "broker transparency" step. At an FMCSA listening session in March at the Mid-America Trucking Show, broker transparency issues dominated the conversation, with some especially impassioned testimonies.
[Related: Owner-operators sound off to FMCSA on need for more light on brokered rates]
In September, when FMCSA announced it would delay any action on broker-transparency-related petitions until the end of October, 2024, the Owner-Operator Independent Drivers Association's president Todd Spencer called "BS," which was not understood to mean "brilliant and scholarly."
""The continued delay is BS -- transparency has been required since 1980!" Spencer said. "FMCSA stated in March 2023 the timeframe would be announced in the upcoming unified regulatory agenda. The agenda indicated June and now they've inexplicably delayed more than a year!"
For Boston, patience also runs thin. "We went to Washington, D.C., in September and actually met with Pete Buttigieg personally and other senators and congressmen," Boston wrote. "Secretary Buttigieg shook my hand looked me in the eyes and assured me that 49 CFR 371.3 would get his full attention and would be ruled on ASAP."
NOOA's full press release:
[Fresh Meadows, New York] — The National Owner Operators Association (NOOA) announces a nationwide truckers' shutdown set for November 1st to draw attention to the critical issue of Congress' failure to act on 49 CFR 371.3. Truckers across the country will unite in a show of solidarity and solidarity to demand immediate action on this vital matter.

The trucking industry is the lifeblood of our nation, responsible for transporting goods and materials that keep the economy moving. However, the well-being and livelihoods of owner-operators have been increasingly threatened by a lack of regulatory action, particularly in regards to 49 CFR 371.3.

The 49 CFR 371.3 regulation has long been a source of contention within the trucking industry. Owner-operators and drivers have faced a multitude of issues stemming from this oversight, including unfair practices, detrimental contracts, and a lack of protection against exploitative business models.

NOOA, representing the voices of countless independent owner-operators, has made repeated appeals to Congress to address the shortcomings in this regulation. However, despite years of discussions and promises, no concrete action has been taken to rectify the situation, leaving truckers with no choice but to resort to a nationwide shutdown.

In a statement, Michael Boston, President of the National Owner Operators Association, expressed his deep concern: "Our nation's truckers have long been the unsung heroes who keep our economy moving. It's time for Congress to recognize the vital role they play and take immediate action to address the long-standing issues related to 49 CFR 371.3. Our members are taking a stand for their rights, their dignity, and the industry they love."

The nationwide truckers' shutdown scheduled for November 1st will be a testament to the resolve and unity of owner-operators. Truckers from coast to coast will participate, staging protests, and temporarily suspending their operations to emphasize the urgent need for Congress to act.

NOOA and the participating truckers are calling on Congress to prioritize the following:

Review and enforce 49 CFR 371.3 to ensure fair and transparent contractual practices.
Implement regulations that protect owner-oaperators from exploitative business models and unfair treatment.
Foster an environment that supports the long-term viability and growth of independent owner-operators in the trucking industry.

The National Owner Operators Association is committed to working with Congress to find a lasting solution to the problems faced by owner-operators. The truckers' shutdown is intended to serve as a powerful reminder of the urgent need for change within the industry.