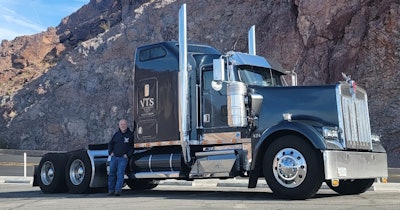 Sun Prairie, Wisconsin-based John Schiltz, 57, has been around trucking since he got his first seat time on the family farm when he was just 8 years old. His father was an over-the-road trucker even before that, too, and Schiltz followed in those footsteps hauling locally in Wisconsin at 18. He moved agriculture commodities such as sweet corn, cabbage and green beans.
Two different stints in the Army totaling 17 years enabled him to parlay a love of trucks and trucking as a heavy-truck mechanic. Between those two stints, he pulled for Bradley Farms out of Sun Prairie (among other outfits), moving crops as far as Arkansas in a day cab, sleeping on the seats.
His second stint in the Army -- which included two tours in Iraq for eight months in 2003 and for a year from 2004-'05 -- ended when he was medically retired in 2010 as a disabled veteran. He earned a Bronze Star during one of his deployments to Iraq.
He didn't purchase his own trucking equipment until that year, yet it's Schiltz's success as an independent business owner that truly stands out for the woman who nominated him for Overdrive's 2023 Trucker of the Year award. Schiltz's wife, Sarah, commended both John's attitude and drive for that success. His motto -- "A quality carrier isn't expensive; a quality carrier is priceless" -- shows through in all the work he does for their direct customers and brokers.
"I wanted to nominate him because he deserves it," she said. "We honestly do love what we do. Recognition, I feel like he deserves it. I want to shout from the rooftops, 'here's someone doing it right.'"
Now running independent with a two-truck operation and Sarah likewise behind the wheel, Schiltz has persevered through a variety of challenges, and for these and other qualities the owner's Veterans Transportation Services LLC is Overdrive's Trucker of the Month for October.

[Related: It's 'Absolute Trucking' for two-rig team Rita and Roger Wilson: Truckers of the Month]
Humble beginnings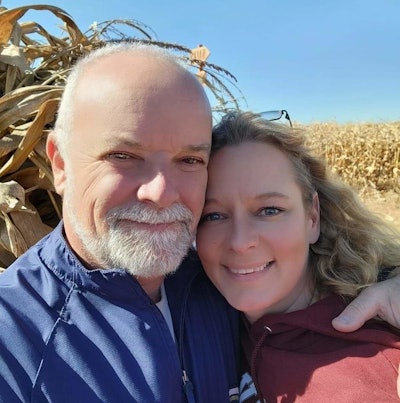 When John got out of the Army in 2010, he went back to what he knew -- trucking and agriculture. He bought his first truck, a 2000 Kenworth W900, and reached out to a previous employer. Phil Seston he knew from a farm he'd worked with prior to his service. The farm had ceased operations while he was in the Army, and Seston had moved on to working with Hartung Brothers in Madison, Wisconsin.
He got some work through them as a contractor hauling green beans and raw vegetables before getting into moving large equipment with them.
"I got into really large cucumber harvesters," John said. "I would move their harvesters from Texas to Indiana and back and follow the harvest back and forth."
When harvest was over, he'd grab an open-top trailer and go back to hauling the vegetables themselves. Schiltz had no prior business experience, and his goal was primarily to keep his truck maintained to keep it rolling.
"From the military side, I knew I was going to have to maintain the truck," he said. "I didn't know Sarah at the time," and she now handles all of the accounting and back-office work for John and VTS, while also driving full-time herself. He met Sarah in 2010, and they got married just a couple years later. She studied accounting around 2016-'17, and continues to handle the books, with an outside accountant they use to "look over their shoulder," John said.
He and Sarah have continued that keen focus on maintenance on both of their trucks through the years, particularly after a rough time with John's second rig, a 2008 Kenworth T660, that nearly put him out of business.
[Related: Emissions systems, while improved, still causing problems for some owners]
Not long after the Schiltzes' honeymoon, they got a $10,000 bill for a repair to the emissions system on the truck related to the Caterpillar engine's ARD head, which was used in those early emissions control systems from 2007-2009. The repair represented the fourth time the truck had been down for the same issue. A little time went by, and John found himself broken down again with the selfsame problem.
Sarah fired off a fiery email to Cat explaining the situation and that the problems with their engine were threatening the business itself. The next morning, John got a call from a vice president at Cat, who said they would cover the tow and repair.
Unfortunately, it happened yet again and John was distraught. Shortly after the truck went down, an old friend from his early farm work days, Alan Kelly, called him.
"I was emotional," John said. "I was in a motel ... and didn't even have money for food. I said, 'The truck's down again, they had to rescue my load ... all my military savings are gone, I've got a wife, I've let my family down and I'm done.'"
Kelly talked him down and drove to meet him for what John thought was to take him to lunch.
Yet "on his way through town [to the motel] about six miles away was his bank," John said, to which Kelly detoured, remembering a prior conversation with John about a 1999 Kenworth W900 that was rumored to be for sale in the area. As John tells the rest of the story, "he sold his grain bin full of grain for cash on the cash market, put the money in a wallet and said, 'Let's go find that truck.' He didn't ask for any interest and just said, 'pay it pack when you can.'"
They would catch a glimpse of the truck in a barn along their subsequent drive, and stopped to talk to the owner, who agreed to sell the truck to John.
"We paid [Kelly] back that first year," Sarah said. "Friends like that are a testament to the kind of man" John is.
John bought that truck in 2013 and still drives it today. He put a new Cummins N14 crate motor in it in 2019, and he figured after putting a new engine in it, he may as well restore the body as well -- as photos above and below no doubt attest. The Schiltzes keep both John's W9 and Sarah's 2013 Kenworth T660 meticulously maintained. John tries to grease both trucks once a month, getting under them with a flashlight and inspecting brakes and other parts as well. If something is broken or looks to be getting worn, they swap it out. They keep extra brake drums and pads in their shop, and some other small parts. They also keep about 30 gallons of oil on hand at any given time, changing the oil in John's rig every 12,000 miles and in Sarah's every 15,000.
They also manage wear on their engines by limiting idling with an APU and bunk heater in Sarah's truck, and a bunk heater on John's. They also keep a close eye on tire pressures to make sure the tires are wearing evenly to extend their life.
Both trucks are geared the same way and have the same size tires, so both have a "sweet spot" speed around 68-69 mph to maximize fuel economy. Sarah's T660 averages around 6.25 mpg, while John's W9 averages between 5.8-6 mpg.
[Related: Owner-op overcomes physical challenge for successful career]
Expanding the business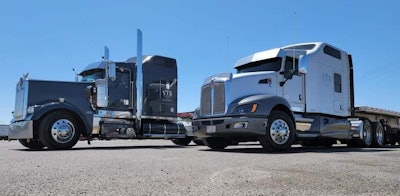 Around that time of the W9 purchase, Sarah's son from a prior relationship received a full-ride scholarship to Harvard, and she was trying to figure out what she was going to do. They had a conversation about bringing her into the business as a driver. After deliberation, John decided he'd train her, and she determined to get her CDL.
His 1999 was down for about three months for the restoration, so Sarah got her maiden trucking voyage as a trainee in a 1997 International they bought for her to drive. "We were both in that truck for a couple months," Sarah said, "so we still had money coming it. It wasn't really planned that way, but it worked out."
Learning the driving wasn't the biggest hurdle for Sarah, rather getting the necessary insurance coverage to haul as part of the small business. John was able, ultimately, however, to convince his insurance company. They signed off on Sarah based on his own "impeccable" record, she added.
She would run that 1997 International for about a year, but VTS's business began to expand to more platform freight in the non-harvest seasons. With just a 48-inch bunk and a Cummins M11, Sarah's International was due for an upgrade.
John, normally opposed to buying equipment on social media, happened to come across her 2013 Kenworth T660 on Facebook and felt the need to contact the seller. The owner was also Vietnam veteran, and also disabled like John, and "we just hit it off," John said. "He was retiring, and he had just freshened up the engine."
Even more of a coincidence, John recognized the truck as one spec'd and purchased by a farm he had worked with around that time.
It's performed well for Sarah. She runs it almost as much as John runs his W9, hauling raw vegetables during harvest and mostly flatbed freight other times of the year.
John Schiltz has been able to fill the calendar with freight from both direct customers and brokers, falling back on a great deal of work contracted through Plainfield Trucking during harvest times. (Plainfield is a logistics provider for a large number of Midwest farms and canning factories.)
When they're not hauling fresh veggies around the Midwest, the Schiltzes move all over the country, most of the time though to now-familiar facilities and with familiar faces around. "We try to keep both trucks together if at all possible," John said. "You'd be surprised how that's worked out, especially doing flatbed work."
Brokers like having two trucks that run together for peace of mind, as do the Schiltzes. Sarah said it's also helped them on rates at times, being able to take two loads together.
Brad Trnka, president of the Centerline Freight Services brokerage, said he uses VTS as much as he can when they're available to move at-times-oversize steel bulk tanks used for storing liquefied gases. Cranes are used for loading and unloading, and Trnka said being on time "is a must. Fortunately, John and Sarah always are."
"Their service is phenomenal," he added. "Communication is great -- we know what is going on at all times. They do a great job of safely securing the cargo to the trailer and delivering damage-free. They understand deliveries and pick-ups at job sites with cranes. They are never angry [or] agitated -- they are always in a good mood. My customers like working with them because they are friendly and helpful."
Business is on track for a good year in 2023, despite all the challenges in the wider markets. Their willingness to stay out for weeks at a time, particularly during harvest this time of year, has helped them succeed.
"We have goals, dreams and things we want to do," Sarah said. "We are on track this year because of our hustle. We're a team and we do this together."
[Related: Katrina nearly wiped him out, but the owner-op prevailed with tight focus on costs]
Hear the stories of all 10 of our 2023 Truckers of the Month via the playlist below.