Small fleet owner Mike Carr met owner-operator Crystal Rives hauling cars more than 10 years ago. Speedy, he calls her, for one principal reason. "On my best day I can't load half as fast as her," he said. "That girl's so fast she'll give you whiplash. ... I haven't met a dude that can outdo her yet. If you watch her too long you get a little bit dizzy."
Owner-operator Rives' C&R Trucking business is based in Cleburne, Texas, south of Fort Worth, and serves a base of customers among used-car dealers and others with her paid-for 2006 Peterbilt 379, powered by a 550-hp Caterpillar with an 18 speed tranny she keeps humming in large part on her own for basic preventive maintenance. A trusted mechanic in her area does whatever "I can't do because I don't have a shop" at her home, she said. It's not uncommon, though, for Rives to help him out when he's doing routine valve adjustments and the like.
It's the kind of work that many folks she encounters -- whether on the road, on-site at an auction house, or elsewhere -- are sometimes surprised to see her doing. "She's a small gal," said Carr. "You don't think she can handle the job or the truck, but she does both" extremely well, holding herself to a high standard. "She's my inspiration. She has a lot of energy with her and a lot of the time we need that push."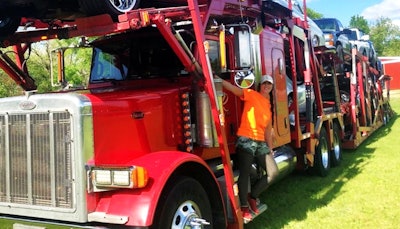 "Being a woman in the trucking industry" early on, she said, at times various companies "didn't want to hire me." Yet she's always held in her heart the words of her grandfather, which ultimately led her into business for herself seven years ago. To wit: "Just show them you can do it, and that you can do it better than them."
For these and plenty other reasons, Crystal Rives is Overdrive's July Trucker of the Month, putting her in the running for the 2023 Trucker of the Year award.

An early start to a long trucking career
Crystal Rives, 37 years old today, got her CDL at age 18 when it felt like "nobody would hire me" at first, she said. Yet the road, and more importantly persistence, was and is in her very DNA. "My grandpa started a gravel business in the 1940s, and my dad drove a truck. My big brother drove a truck."
Paul Peikoff Sr., her grandfather, passed two decades ago yet remains a source of inspiration in her memory in many ways. The Korean War vet, in addition to the gravel business, owned a farm, in part where Rives garnered another passion -- raising and caring for horses. In her extended family, "we still have a farm in Alvarado that the family runs," she said, and in her early years, "I wanted to be a veterinarian."
Yet the value of that CDL became more and more apparent as the years went by and she found tanker work for a short while. Then: "I hauled side dump and end dump and pneumatics," she added.
She'd learned plenty about trucking and farming growing up around her grandpa's and father's businesses. "I did just about everything," she said. "I screened gravel, ran a bulldozer -- knew all that stuff." She rode with her father time to time and knew her way around a grease gun, how to work on trucks, too, generally: To this day, "I change my own oil."
Yet out in the working world, "being the only woman" in each of those operations in her early career, she also often felt the eyes of all around on her, "waiting for me to mess up," she said. The same can be said for one among the companies where she learned car-haul work before going out on her own. It was the kind of place where "they make you haul three-four loads a day, nine cars [in each load], six days a week," Rives said. Though they didn't say it, "they didn't want me working for them anymore. I was doing my job and getting back before most of the guys.
"They do say 'equal opportunity,' but sometimes I felt that it was more of a struggle to prove that I was qualified."
Car-haul work suited her, though, and she launched her business as an owner-operator with a short-wheelbase, rough-riding International pulling a six/seven-car trailer. "I had to basically run seven days a week to keep the truck going and build money up to upgrade," she said.
After three years, she did just that, buying the stinger-set-up '06 379 and '06 Cottrell trailer in 2019.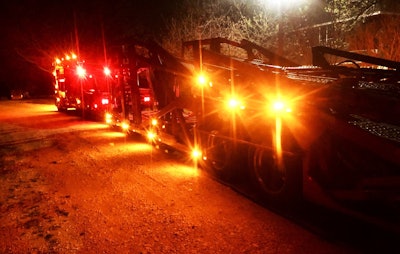 "It's been a good truck," she said, ever more so now that she's got it just how she wants it. She sticks to a conservative oil/filters change interval of 10,000 miles, valve adjustments every 100,000-150,000. "I just call her Ruby, because she's red."
Keeping on top of the business proved a challenge through this past year as fuel costs skyrocketed, yet her lean operation helped keep the business plenty profitable. All influenced, again, by her grandfather. "I do all the bookkeeping," Rives said. "I do a lot of the maintenance. I cook, I clean, I do laundry. When I'm not working, I'm still working. 'Life's too short to sit still.' That's what my grandpa always told me."
Part of his legacy lives on in the business' books, which he tutored her on at a young age. Anything you buy for the business, he counseled, even something as small as a "bottle of Windex, it's a tax write-off." A classic penny pincher, Rives said. Born in 1928, "that's how he grew up -- he grew up poor."
Her own frugality served her well last year. Even with $60K-$70K in fuel expense, she cleared a healthy profit, aided by a fuel surcharge she put in place with some customers.
[Related: Turmoil in the auto market, long-term rates challenges buff the shine off earning potential in car hauling]
Can-do spirit, safety, pure love of it all shines through for customers
Among customers for whom she's hauled fairly regularly is Jaime Melendez, Auto USA director of sales, as well as sister company Chacon Auto, both used-car dealers. Melendez has known Rives for more than a decade, going back to her prior work with different auto-transport companies. Since she's gone independent, Melendez notes he has "nothing but great things to say about her. She's on-time, all the time, with great attention to detail, and very safe. We use other [trucking companies], but when I have her on a job I have nothing to worry about. I know it will be handled correctly."
Based in the area around Dallas-Forth Worth and stretching back to predecessor dealers as far as back as the late 1950s, Auto USA pulls inventory from Manheim auction sites and other places. "Our sister company has a lot of transportation needs," Melendez said, that Rives helps provide, "and we buy some of their trade-ins and store them in a separate location." Rives might haul units to or from the storage lots. Auto USA typically wants those units positioned such that they can pull the most recent additions last.
Some car haulers the company uses have trouble adapting to the organizational system on the lots. Owner-operator Rives, though, he added, is "so organized. .... I don't ever get a call from Crystal saying she can't figure it out."
Rives keeps plenty busy hauling solely intrastate today, and is able to get home most nights to her husband and high-school-age daughter, and four horses, among other animals. Two of the horses "are babies" at present, just a couple years old, she said, "inherited from a friend after she passed at 84 years old and her "daughter couldn't afford to take care of them."
[Related: Car-haul configurations and costs: High-mount vs. stinger-steer setups, insurance requirements, more]
That's her second (perhaps equivalent) passion next to car hauling. "I like rescuing animals that have been abandoned," she noted, exercising muscles built early on the farm and in school, where she received a veterinarian's technical degree. "I have a bunch of rescue cats who just showed up" in various ways around her home "in the woods" in Cleburne, as she describes it. "They're all fixed and they keep the rats out of the barn. I have three inside cats,' one found abandoned underneath the shock on the spring of a car, another she had to bottle feed from just a baby.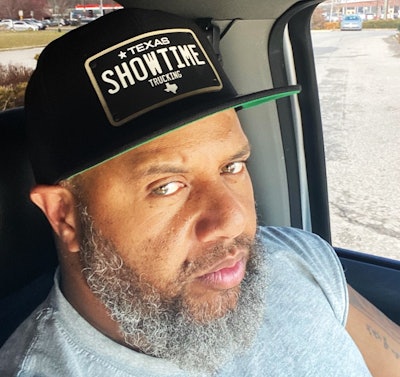 The latter cat "rode in the truck with me" for a good long while, she said. "He laid in my lap while I was driving." He turned three just last week. "I named him TK -- Trucker Kitty, or Tough Kitten," however you like it.
Owner-operator Rives finds other ways to give back, too. "I always get a handful of Christmas Angels every year and donate clothes and stuff like that to Goodwill or the Red Cross," she said.
Her can-do spirit shines through it all for both Melendez and Showtime Trucking's Mike Carr.
"That gives me inspiration," Carr said, also noting that the car-haul business is notorious for cargo claims, or damages, given the complexity of load/unload with multiple moving pieces of the complex trailers. "She never has damages. That's basically it -- she's got her business in line."
Her rates, said Melendez, are typically a flat rate per car in the Dallas-Fort Worth area, and "generally very competitive," he said. On the safety side, "we're on the roads like everybody else and see some unbelievable things," he added, yet never from Crystal. "She takes her time, gets where she's going way before her scheduled time to get the units lined up. And if anything's got a low tire, you can be sure she'll air it up and take her time to get those things up and secure."
Top-notch, essentially, he said. "She's very meticulous."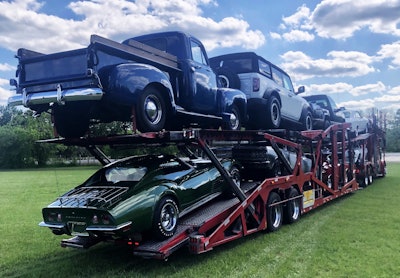 What's in store for her future? She's moving forward with old-school ways, confident in her ability to maintain the '06 Pete as a profit-generating machine.
"Everybody wants me to get more trucks," she said, yet "I can't find people as picky as I am" when it comes to maintaining the trucks and doing the job right. The potential for greater profits with expansion, she feels, is "just not enough to want to buy another truck" and risk a driver "wrecking and ruining what I've established. ...
"I'm not looking to own 10 headaches -- one is enough."
That said, expansion is possible in other ways, when her daughter's out of school and on her own. She'll venture back out of Texas interstate once again, more than likely.
For the men and women coming up as aspiring truck owners behind her, she offered another bit of wisdom from her grandfather that's served her well as a business owner. The only thing that matters is what you want out of life, not what other people think.
"If you are willing to put the work in, and you want it bad enough, you'll be successful," she said. "But if you're not 100% committed, if you have any doubts at all," think twice before making the jump.
For Rives, at least, "I couldn't imagine doing anything else."
[Related: Master management, mechanical prowess pay off for 20-year independent]
---
You can enter your own owner-operator business or nominate another for Overdrive's 2023 Trucker of the Year competition via this link. Nominations will be accepted throughout 2023. Hear other 2023 Trucker of the Year contenders' stories in their own words via the playlist below.