Patience is a virtue, particularly when it comes to the current state of freight markets for automobile haulers all around the nation. Car hauling is a trucking niche that also puts a premium on experience and financing for an owner-operator starting out. It's high-cost at start-up, but once an owner-operator is established, traditionally it can be very lucrative.
It's not hard to find one-truck owner-operators or small-fleet owners grossing $250,000 annually, the number that Fort Wayne, Indiana-based David Bunting strives to hit routinely.
That kind of earning potential was certainly extant prior to the COVID-19 pandemic, anyway. Since, computer chip shortages have, particularly this year, led to long-ongoing difficulties for car makers. The subsequent shortage of new vehicles being dispatched to dealerships across the country has required big shifts for car haulers all around the nation.
Small fleets who, before the pandemic, primarily hauled new cars from manufacturing plants to dealerships have seen a severe drop-off in load availability.
"2020 was a rough year," said Eric Turner, owner of Ellenwood, Georgia-based Turner Transport Truck Lines. Pre-pandemic, Turner's nine-truck fleet was principally hauling under new-car contracts. "Then along came 2021 with all these computer chip shortages and made it even tougher."
The presently embattled but long-term-viable auto hauling segment is the focus of this latest installment in Overdrive's long-running "Niche Hauls" series, exploring trucking segments where owner-operators are represented among participants and in demand.
Truckers mostly hauling used cars, for instance, haven't been hit quite as hard as those with new-vehicle contracts, but as 2021 drags along, even used car shipping is slowing down as people hold onto their vehicles longer – and the used market gets tapped out by those who don't.
C.G. Soza, owner of four-truck Soza Trucking out of Atwater, California, has focused his business more on hauling used vehicles. He had the best months of his career in June and July 2020 when the car auctions reopened in California.
"Once [the dealers] did open back up after COVID, they had to buy used cars" because car manufacturers had shut down, too, Soza said. "June and July of last year were my biggest months ever. I never had that kind of revenue in 30 to 45 days. Dealers were just buying everything they could."
That has since slowed down, however, due to the strain on auto production.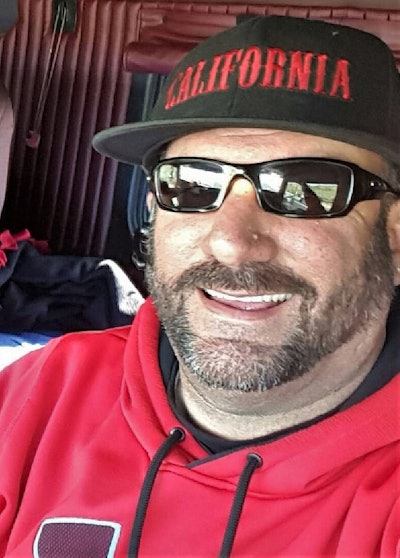 "They'd still be buying used cars, but in the used car market, there's kind of a shortage because that's all there is to buy," Soza added, at considerably higher prices at that. "The lack of new cars is putting a strain on used cars. It's a funny time in the car industry, but we're rolling with the punches and we'll keep trucking."
Despite the auto-market issues, Soza's managed to grow through the pandemic with customer shifts – he's awaiting delivery on what will be the fifth tractor in the Soza Trucking fleet, and his third owned truck. Three owner-operators run under his authority currently, all pulling open eight-car trailers owned by Soza.
The small fleet operator also bought a 2016 Freightliner Business Class M2 roll-back wrecker with an over-the-cab deck – all told, the straight truck is capable of moving four cars. Its purpose: related local work principally moving wrecked units. That purchase proved prescient when COVID-19 forced Soza and company to shift their hauling mix.
Turner Transport has dealt with the blows the market's thrown its way by diversifying the fleet's capabilities and its customers. Eric Turner had prepared himself for the pandemic, too, of a fashion, following his experience of the Great Recession more than a decade ago and its disastrous effects on the car market. Turner began purchasing refrigerated trailers a few years ago as a potential backstop. The auto market may fall of a cliff, but "everybody has to eat," he said.
When the pandemic hit, he had some of his drivers drop their car-haul units, pick up reefers and keep rolling with refrigerated products on the hook.
"Luckily, we have that going for us," Turner said.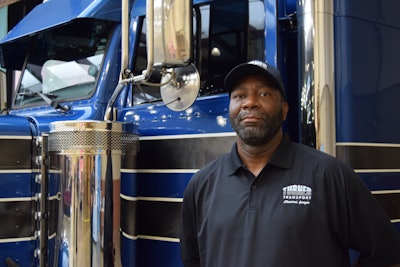 He's is now up to five trucks operating on the car-haul side of his business, four trucks on the reefer side. By diversifying, he was able to keep all of his drivers employed throughout the pandemic. "We're still at the same number [of employees] as before the pandemic."
It hasn't been easy, though, Turner added. "It was a struggle," he said, compounded by longer-term freight-rate declines that haven't been limited to his customers. With higher equipment and insurance costs, that makes car hauling especially challenging for those who would enter the market today.
[Related: Car-haul configurations and costs: High-mount trailers v. stinger-steer setups, insurance requirements, more]
Turner said when he started out two decades ago, he could get a load out of Orlando going back to his Atlanta home base, "and we could get $350-$375 per car all day long. Now, they're down to $150-$175 a car." Leverage a close relationship with a receiving dealer who "knows you're always going to be on time" and you might get $200 a car, he added: "you did real good" if you got that.
Turner added that he used to be able to get $650 a car from the Manheim Auto Auction in Pennsylvania, but that's down to $350 a car now.
Bunting, owner-operator of Indiana-based B Line Transport, said he won't touch anything that goes for less than $3 a mile. His goal is to generate $1,000 in revenue per day, or $5,000 a week. That's a number he's comfortable with to be able to pay his bills and keep a healthy profit.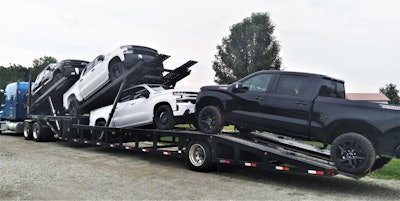 "When things are good and I can keep that thing loaded, I should run around making $3-$5 a mile on all miles," Bunting said.
There can be a decent amount of deadheading in car hauling, Bunting noted, but the most successful haulers keep those miles as low as possible.
"I recently dropped outside of Atlanta and have a good relationship with a guy at the BMW plant in Greer, South Carolina," Bunting said. "That's a 100-plus mile deadhead, but the freight is there and it pays good."
Next in this series: Operational, equipment considerations when learning the car-haul ropes
Associated podcast: The promise -- and challenges -- of the car-haul trucking niche