Previously in this series: Operational considerations when learning the car-hauling ropes
Car-hauling equipment is considerably more expensive than general freight equipment, making it even more difficult for someone to jump in without prior experience and connections. Insurance, maintenance and fuel costs run higher with aerodynamics, tire-wear and cargo-coverage challenges.
When it comes to fundamental equipment choices, most Class 8 car haulers make the decision at some point whether they want to stick with a high-mount trailer, which maxes out at eight cars per trailer, or opt for a stinger-steer setup, which allows for up to 11 vehicles but also commits that tractor to hauling vehicles only.
A high-mount setup is a traditional tractor with the fifth wheel over the drive axles. A stinger-steer has a head rack, usually holding three cars, that attaches to the tractor, and the fifth wheel is behind the drives near the ground. A stinger trailer's essentially the only type of rig that can effectively pair to that fifth wheel, so stinger-steer setups are bound to car hauling.
There are advantages to both, and the decision really comes down to how much you want to commit any one truck-trailer combination to the niche.
Eric Turner of Georgia-based Turner Transport has had both throughout his 21 years hauling vehicles. At one time, he had five stinger-steer 10-car trucks in his fleet. But during the Great Recession, he decided to make a shift, selling off all of his stingers. He wanted to keep his options open if the economy tanked in such dramatic fashion again.
[Related: 2019 GATS Best of Show: 'Showtime' steals the stage]
"I went back down to one truck," Turner said. When conditions improved, he "went the high-mount route. ... If the economy ever went bad again, I could drop the trailer and pick up a reefer or a dry van or flatbed. Right now, you look at all the guys with stingers – a lot of those guys lost those trucks when the pandemic hit with nothing to move."
As noted in the first part of this series, Turner was able to turn to refrigerated freight as a lifeline during the most difficult parts of the early pandemic. "If I had had that stinger, I'd be in the same boat again that I was back then," he said.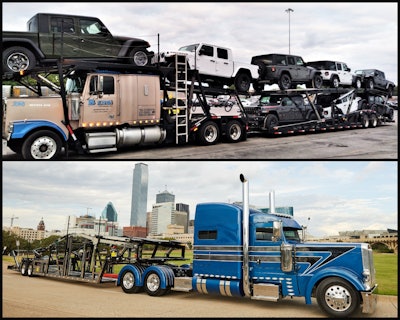 Bunting, on the other hand, took the opposite tack after the Great Recession. He pulled a high-mount seven-car trailer up until 2009, when he bought the principal stinger he still runs today – a 2006 Western Star (pictured above) with a nine-car stinger setup. The Cash for Clunkers federal rebate program in 2009 led to Bunting making the most money of his career hauling used cars.
While he appreciates the flexibility a high-mount gives an operator – another aspect of that is the ability to simply rent a tractor for a week to keep rolling if the truck's down for maintenance – he noted "cars pay in numbers. Stingers are more expensive to buy, but the way they're built, they carry the weight better. The fifth wheel being where it is, they are the best at distributing the weight evenly." That makes it simpler to stay legal on axle weight than an operator with a seven- or eight-car trailer. You've got more options on how to configure a load, he said.
He added that trucks spec'd out of the factory as stingers will also almost always have a 14,000-pound front axle, allowing for a vehicle to be placed above the tractor. "The weight on the front axle allows you to be legal," he said.
However, stingers themselves are also considerably heavier empty than typical combinations. Bunting said his 2006 Western Star with a 2019 Cottrell nine-car trailer that includes a 3-car head rack weighs 45,000 pounds empty.
"You're not really putting heavy stuff on them, but they're still very easy to get overweight," he said, especially hauling big dually and other pickups. "You start hauling Teslas and electric cars with those big batteries, you're definitely going to be overweight. Will nine vehicles fit on my trailer? Yeah, but I might be at 84,000 pounds, depending on the cars."
When looking at a stinger-steer setup, tractor and trailer altogether, Bunting said, brand-new haulers are "bumping $350,000-$400,000." A friend of his recently got into a 2022 Peterbilt car hauler through a lease-purchase program, and his payments for the first three years are $6,000 a month. "And that's before he puts the first drop of fuel into it. His insurance is easily $1,000 a month. He's out $7,000 a month before he hauls his first load or drops the first fuel into it."
Soza's high-mount, eight-car Cottrell 5308 XL trailers run his business about $125,000 brand-new apiece, he said. Turner, who hauls with high-mount, eight-car Wally-Mo trailers, said he priced out a new trailer earlier this year and it was $110,000.
Soza noted the electric-car advantage as well. "Stingers are only taking seven or eight electric cars because of the weight," he said. With a high-mount trailer, "we can still do seven or eight electric cars and be fine with weight."
Maintenance, fuel, insurance costs in car haul
Tires, particularly in the steer position, will wear fast for a stinger setup, said David Bunting, given more weight on the front of the truck. "Stingers are all low-profile tires," too, he said. He said tires wear so fast he "stopped keeping track of how many miles I was getting on tires" when anger got the best of him. "If you get two years out of a set of tires, you did fantastic."
He's tried many different types of tires and has now settled on running steer tires on his drive axles because they last longer.
Fuel costs can run higher, too, with a lower miles per gallon average than many freight niches. Open trailers with no aerodynamic features drag mileage down considerably.
"If we get four or five miles to the gallon, we're getting lucky on the car hauling side," Turner said. "On the reefer side, we're getting seven to eight miles to the gallon."
Bunting said having a car on the roof of the tractor also impacts fuel mileage for stingers. "You back a Jeep Wrangler over the hood, and it's like shoving a billboard down the highway backwards at 70 miles an hour," he said. "There's nothing more non-aerodynamic than a Wrangler backed onto the hood."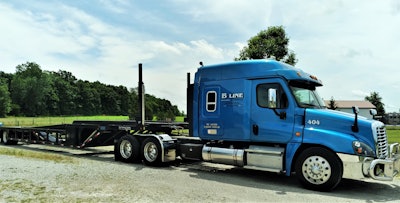 When it comes to insurance, pricey commercial auto liability coverage is required at the minimum $750,000 for car haulers, as in other niches, with many customers requiring $1 million in coverage, also common all around trucking. Yet car haulers often have to carry considerably more cargo insurance than a general freight hauler.
"Car haulers usually start at $250,000 [cargo coverage] and work their way up," Soza said, well above general freight levels. "That's a huge expense for us. When I first started, insurance for just my truck when I was doing bottom dumps before car hauling was about $8,000 a year. I got into car hauling and had to boost my cargo, and it went from $8,000 to $12,000 a year. And not only is cargo more expensive, but our comprehensive that covers our equipment is more expensive."
Turner's several new-car contracts, including one with Bentley, necessitate $800,000 in cargo coverage on four of his five car haulers and $1.3 million in coverage on his personal rig – the 2015 Peterbilt 389 and eight-car Wally-Mo pictured above. He uses that rig for the Bentley contract. He's got a standard $100,000 in cargo coverage for his reefer loads.
"Truck and trailer on the reefer side with $100,000 is $1,700 a month per truck and trailer," including liability and other insurance, he said. "On my car hauler side at $1.3 million in cargo for truck and trailer, I'm paying $3,900 a month," a more than $25K annual added expense.
Bunting noted that there seemed to be a dearth of insurance companies that will insure car haulers. He's been with Northland Insurance for 14 years and recently renewed for $8,700 a year for all of his coverages.
The anchor story in this three-part series looking at the car-haul freight niche: Turmoil in the auto market, long-term rates challenges buff the shine off earning potential in car hauling
Associated podcast: The promise -- and challenges -- of the car-haul trucking niche