Trucking news & briefs for Monday, Oct. 18, 2021:
Volvo and partners bag award for electric-trucks demonstration
Volvo Trucks North America on October 14 accepted a 2021 Climate Leadership Award for its Volvo LIGHTS (Low Impact Green Heavy Transport Solutions) project in Southern California. The "Innovative Partnership" award was presented by the Center for Climate and Energy Solutions (C2ES) and the Climate Registry (TCR) during a virtual event to showcase and recognize corporate, organizational and individual leadership in reducing carbon pollution and addressing climate change in operations and strategies.
The Volvo LIGHTS project is a collaboration between 14 public and private partners to develop a blueprint to successfully introduce battery-electric trucks and equipment into the market at scale.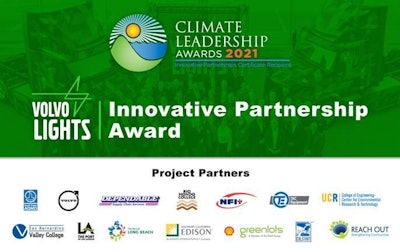 During the multi-year project, Volvo Trucks North America demonstrated its Volvo VNR Electric trucks in daily Southern California fleet routes with NFI and DHE. The demonstrations enabled Volvo Trucks to gain valuable real-world operating insight that contributed to the successful commercialization of the Volvo VNR Electric model in December 2020.
TEC Equipment, Volvo Trucks North America's largest West Coast dealership, provided local maintenance and repair services to DHE, NFI, and several additional fleet customers that are leasing VNR Electrics through the Volvo LIGHTS project. The hands-on experience gained during the project led to TEC Equipment becoming the first Volvo EV Certified Dealer in North America, now serving customers who have purchased VNR Electrics outside of the Volvo LIGHTS project.
Through the project, NFI and DHE also deployed battery-electric yard trucks and forklifts at their freight facilities, with procurement support from CALSTART. Greenlots supported the installation of networked charging stations to help ensure the fleets have access to reliable power, while Southern California Edison analyzed the impacts of charging on the grid. The ports of Los Angeles and Long Beach provided infrastructure planning support to help facilitate early adoption of battery-electric trucks for port drayage.
Academic partners Rio Hondo College and San Bernardino Valley College, meanwhile, offered heavy-duty electric truck tech training, with first students graduating in May 2021.
The program was made possible by an award to South Coast of $44.8 million from the California Air Resources Board as part of California Climate Investments (CCI). CCI is a statewide initiative that puts billions of Cap-and-Trade dollars to work reducing greenhouse gas emissions, strengthening the economy and improving public health and the environment – particularly in disadvantaged communities.
[Related: Freightliner delivers first battery-powered Cascadias]
DAT sees record van rates, slight dip in volume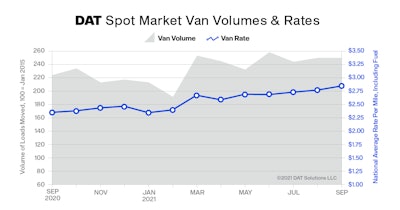 As also reported at this link with a close look at linehaul rates (minus a fuel surcharge), all-in dry van freight volumes and rates as recorded by DAT Freight & Analytics, operator of the DAT network of load boards, are showing similar patterns. Very little in the way of downward seasonality was seen in a tight freight market as of the end of September.
Both spot and contract rates set new records last month, with dry van rates at an all-time high of $2.85 per mile, a full 48 cents over the same month last year. Reefer spot rates hit $3.25 per mile, up 10 cents compared to August and 68 cents higher year over year. The spot flatbed rate averaged $3.09 a mile, up 1 cent month over month and also up 68 cents year over year.
Contract rates mostly echoed the record-setting figures in spot rates with a national average of $2.85 per mile for vans, up 3 cents over August. Since last month, contract reefer rate went up 3 cents to $2.97 per mile and flatbed remained unchanged at $3.30.
After a 1.5 percent drop-off in load postings to the DAT network and a 4.5 percent drop in trucks posted, the national average van load-to-truck ratio hit 6.3, down from 6.5 in August. The ratio sat at 5.4 in September 2020. The reefer load-to-truck ratio dropped from 14.9 in August to 13.5 as the harvest waned, and the flatbed ratio rose from 44.1 to 47.9 amid a surge in home construction, DAT said.
Overall, the slight drop in volume pales in comparison to the decline of 7 to 10 percent which is more typical from August to September.
SmartHop dispatch service debuts mobile app
The SmartHop partially-automated dispatch provider launched its first mobile application to help partner carriers select loads from the comfort of their smartphone. With the SmartHop App, carriers can select loads from SmartHop freight partners with minimal searching, the company said.
"SmartHop is a mission-driven organization, and our goal is simple: helping carriers and small fleets operate more efficiently and profitably," said Guillermo Garcia, company founder and CEO. "With the launch of our mobile app ... , we're excited to take our company to the next level and help independent drivers and owner operators succeed in today's tough but opportunity-rich environment."
Available on the Apple Store and Google Play store today, the SmartHop app offers assistance in several areas:
Suggested Loads: Alerts sent directly to drivers' phones with suggested loads picked just for them. View the load and strategy details, or dismiss it with a click.
Load Strategy: The "Strategy Details" option shows a map visualization of a load strategy with multiple loads that work together to create higher future earnings, the company said.
Load Details: All the information drivers need to know before accepting the load, including whether there are multiple pick-ups or deliveries.
Load Bidding: If drivers are unsatisfied with the rate, this function allows for negotiation through the app. SmartHop evaluates any new bid and notifies the negotiator if it's cleared. Once verified, drivers can accept or dismiss the load.
Driver Profile: See miles, revenue per mile and other earnings, tracked directly on a profile page.
SmartHop also announced two new key hires, as its team continues to expand to support small trucking companies, the company said. Tamara Clay joined as the company's Head of People, and Valentina Marastoni-Bieser as Head of Marketing.
[Related: Indie dispatcher's growing pains meet an owner-op in search of service after 'every man for himself' pandemic crunch]